If you live alone or just can't cook edible food, then there is only one solution that most people who deal with this resort to – ordering online.
In such scenarios, most of us end up ordering food from Zomato, after all, it is the most convenient platform. But after a video of a delivery guy from Zomato eating food meant for delivery went viral, you may want to start cooking food at your home again. People are not just pissed, they are shocked at the blatant violation on the part of the delivery guy.
Video source : Economic Times  
In the video, one can see the delivery man sitting on a bike wearing a Zomato shirt and carrying Zomato delivery bag. After that he goes on to eat out of a food parcel meant for delivery. Then he keeps the box back in the package and takes out another one. After eating from the second box, he seals it and keeps it back inside. He is then seen adjusting the sealing of a smaller packet after which he prepares to leave.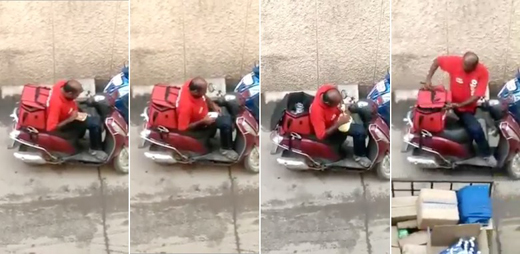 The video was widely liked and retweeted on social media. While many shared their concern over the services provided, others trolled Zomato savagely.
Initially, when the video went viral on social media it wasn't clear if the man indeed belonged to Zomato. But Zomato later confirmed that the man was working with it. And that he was a delivery person in Madurai.
We take food tampering very seriously.

For more details: https://t.co/cHuLX1Bs4n

— Zomato India (@ZomatoIN) December 10, 2018
"We have found that the video was shot in Madurai, the person in the video is a delivery partner on our fleet. We have spoken to him at length – and while we understand that this was a human error in judgement, have taken him off the platform," the company said in a statement.
Despite of the official statement from Zomato, people has not stopped trolling it. Check out some of them here :
You should also start paying properly to your delivery staff, so that they can buy their own food. Nobody likes to do such act

— Random Guy (@randomadmi) December 10, 2018
I too faced the same problem. The portion of the dish was too small. Raised complaint too through chat. But received a mere "we regret" message.

— Kumar Pal Jain (@ikpjain) December 10, 2018
The portion of your food was short because of the below reasons pic.twitter.com/JYSLuN5ffj

— Santhosh.R ™ (@sanbigshow) December 11, 2018
Not going to order anything from @Zomato

— Just-Ice of India (@Sickular_Indian) December 10, 2018
Doesn't really matter! Do you take food delivery executives seriously? Do you actually do a background check on them?

— Sulagna Das (@sulagna_reborn) December 11, 2018
This is really bad. I got the same result after they delivered food.i was shocked after open i found my food was eaten by zomato and even they forgot to throw out chicken bones and kept it in my parcel. Really its too bad day.
after that i never ordered again.

— Mohammed gibraan (@MGibraan) December 11, 2018
I strongly condemn the actions of the Zomato delivery guy who got caught. I mean seriously…who the fuck eats Biryani with spoon.

— Raunaq Mangottil (@CinemaInMyJeans) December 11, 2018
#Zomato : Are we eating the leftovers? pic.twitter.com/90DMdXIVIj

— Saran Bhatia (@saran_) December 11, 2018
no thanks.. Will make sure buying food only from stores… Lol that video I saw… Will never order food online..

— dr. kaushal (@Kushluvkush) December 10, 2018
Wow what an arrogant apology. No thanks I will never ever order food thru @Zomato

— Fancyfinancier (@fancyfinancier) December 11, 2018
@deepigoyal I ordered food, completely in bad shape, told the customer service guys about the situation, no action even after 30 mins of talk, no refund processed. Order ID : 1604794265
Kindly help pic.twitter.com/r8Ij856oQu

— Akshit Mittal (@akshitm27) December 11, 2018
Not even from @Zomato we should not order from.the @swiggy_in @UberEats and any other food delivery online service.

— Ankur Tiwari (@AnkurDk) December 11, 2018
What do you think on the apologize tweet from Zomato ?? Comment your views below !!