Zomato Planning To Introduce "10 Minutes Delivery"!! Consumers Not Happy
CM / Updated: 2022-03-21
22:16 IST
By Dhiwaharan
Deepinder Goyal, founder of Zomato food delivering app, on Monday, announced that his firm is planning to introduce "10 minutes" delivery soon through a press note. The announcement received backlash from the online users who also consume the app to order food, despite Deepinder Goyal promised that the lives of delivery partners are not going to be put at risk to implement the initiative.
"Before we even talk about this, we will start with a clarification to fulfil our quick delivery promise, we do not put any pressure on delivery partners to deliver food faster. Nor do we penalise delivery partners for late deliveries. The delivery partners are not informed of the promised time of delivery. Time optimisation does not happen on the road, and does not put any lives at risk" Deepinder said in his post.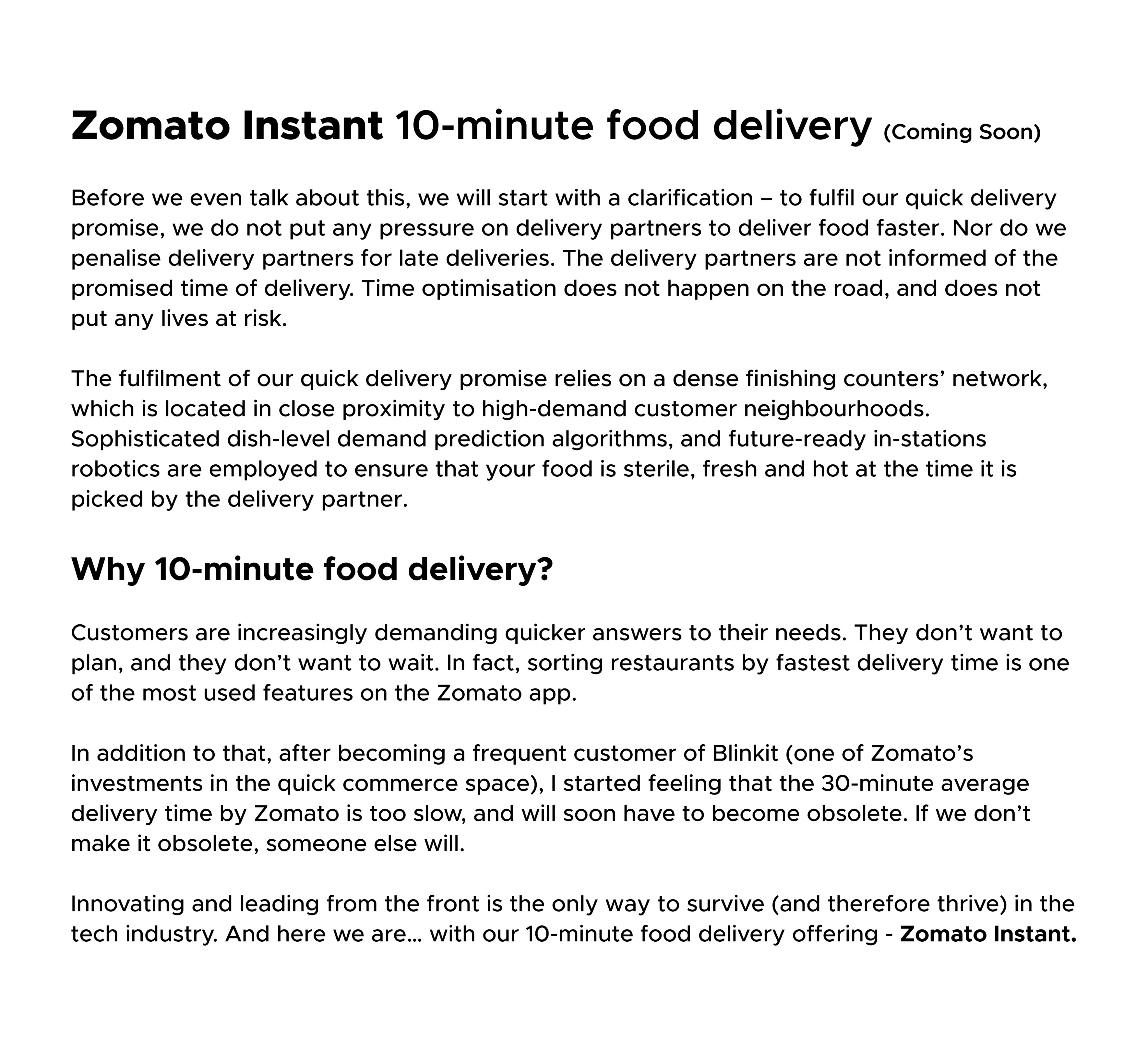 "The fulfilment of our quick delivery promise relies on a dense finishing counters' network, which is located in close proximity to high-demand customer neighbourhoods. Sophisticated dish-level demand prediction algorithms, and future-ready in-stations
robotics are employed to ensure that your food is sterile, fresh and hot at the time it is
picked by the delivery partner" he added.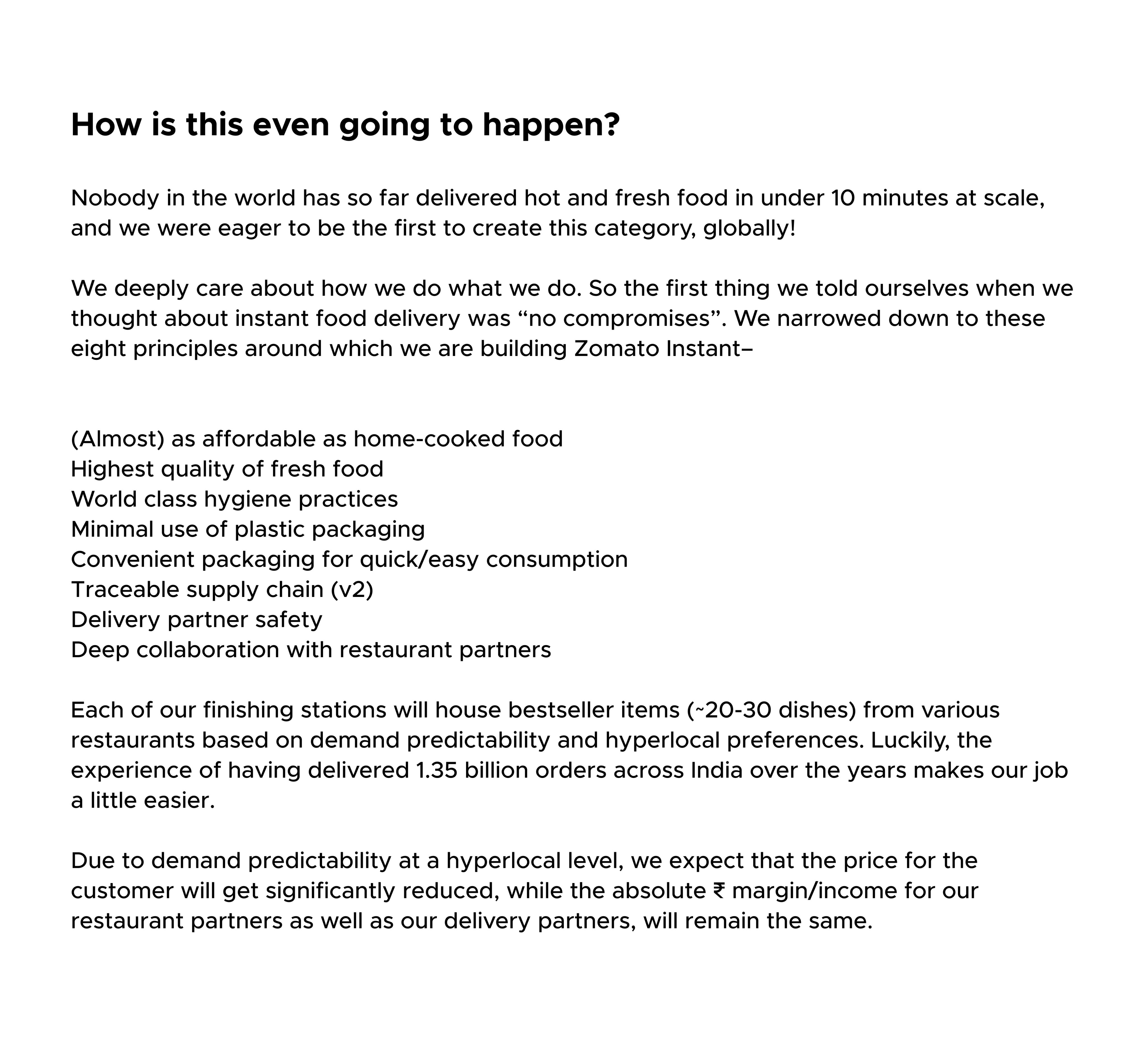 On addressing why he implementing such idea in Zomato, Deepinder said "Customers are increasingly demanding quicker answers to their needs. They don't want toplan, and they don't want to wait. In fact, sorting restaurants by fastest delivery time is one of the most used features on the Zomato app. In addition to that, after becoming a frequent customer of Blinkit (one of Zomato's investments in the quick commerce space), I started feeling that the 30-minute average delivery time by Zomato is too slow, and will soon have to become obsolete. If we don't make it obsolete, someone else will"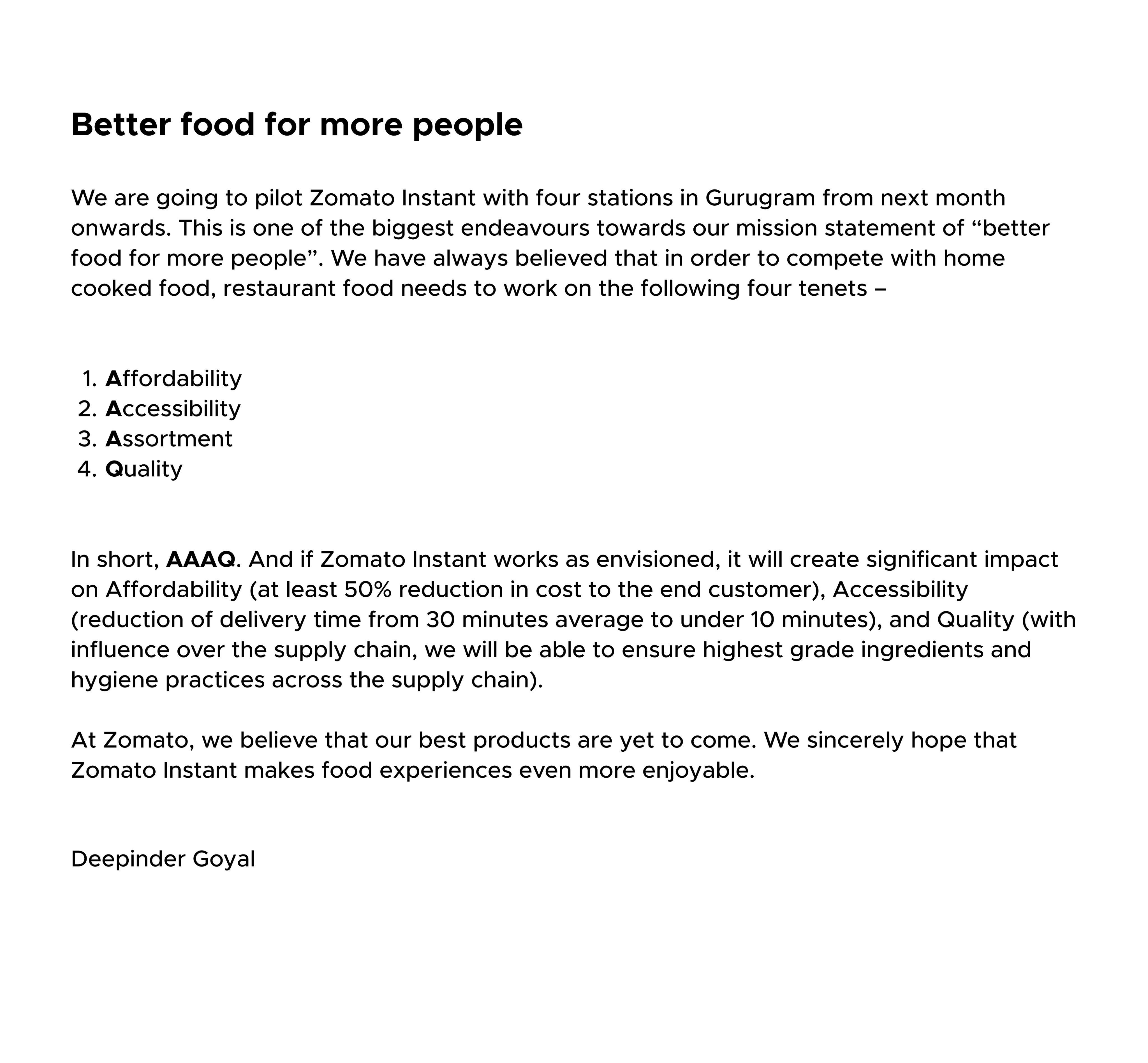 "Innovating and leading from the front is the only way to survive (and therefore thrive) in the tech industry. And here we are.. with our 10-minute food delivery offering – Zomato Instant" the post read.
Check out his tweet below :
Announcement: 10 minute food delivery is coming soon on Zomato.

Food quality – 10/10
Delivery partner safety – 10/10
Delivery time – 10 minutes

Here's how Zomato Instant will achieve the impossible while ensuring delivery partner safety – https://t.co/oKs3UylPHh pic.twitter.com/JYCNFgMRQz

— Deepinder Goyal (@deepigoyal) March 21, 2022
The implementation didn't go well among many of the consumers as they believe that Zomato instant will put the lives of delivery partners at risk. Check out some of the reactions that raised against Deepinder Goyal below :
This is extreme. If a person can't even plan his own food delivery for next half hour, such ppl don't need any more comfort in life. They need discipline. This is cruelty to ur staff Deepinder. You can't control how restaurants work or riders behave on road. Stop it. https://t.co/ZrYZQTCBsV

— Ashu (@muglikar_) March 21, 2022
Please stop this. Already your guys are threatening other motor riders on the road. We can wait for even hours. No worries. @zomatohttps://t.co/XmVBSVGgIR

— Dhanalakshmi (@Dhanalakshmi123) March 21, 2022
Irrespective of whatever is written in the opening paragraph, i have zero doubt in my mind that this will put too much pressure on delivery partners. Brace yourself for more rash riders around you. World is going bonkers. https://t.co/46htu2RKyQ

— Anup (@YNWA_AR) March 21, 2022
Zomato Strategy
– Start Grocery Delivery
– Shut Grocery; Invest in Grofers
– Rename Grofers to BlinkIt for 10 min delivery
– Loan $150m to BlinkIt
– Start own 10 min Food Delivery
– Reports: Merge BlinkIt with Co?
– Back to square 1, with 10 min option added, millions burnt. https://t.co/BGVyVKXNxS

— Mangalam Maloo (@blitzkreigm) March 21, 2022
First of all…. Completely unnecessary. No one opens zomato to order food with a growling stomach. Even then… They can wait for 30 mins.
Second…. When will you start recognising your delivery executives as Employees??

— Lin-Manuel Verandah 🏳️‍🌈 (@SANDIPANMITRA6) March 21, 2022
So @deepigoyal you are directly responsible for all accidents and all rash driving that this is stupid idea of yours is going to cause.
No one needs food in 10mins but the delivery guys family needs that man or women alive for their next meal
Be a sensible person and stop this https://t.co/RNvyl2MkR9

— Shankaran_ (@shankaran_5) March 21, 2022
Don't do this please. People will not die if they wait an extra 20 minutes for food. Your delivery partners may die trying to deliver on time. https://t.co/4riBIzrpBp

— Sumanth Raman (@sumanthraman) March 21, 2022
Not one person in quotes or comments has praised this. Not one!

Who are Zomato actually catering to?
Or are they trying to create a completely new product and disrupt the market, making chaos the new normal? Or are they paving way for drones that renders thousands jobless? 🤔🤔 https://t.co/CCGXuWfHbu

— Cricketjeevi (@wildcardgyan) March 21, 2022
Highly unnecessary
Highly risky
Highly undercooked food unless and until you wanna eat maggi or precooked stale food!

No one needs this shit. https://t.co/eAsNwbobdI

— Gorguntepalya Grinch (@Numb_Skull) March 21, 2022
Zomato drivers on road https://t.co/UfNej9sm7w pic.twitter.com/99b2kQ32ut

— Laxminarayan_1990 | GTSR 🚩 (@LotusBlooms_04) March 21, 2022
"nobody has so far delivered hot and fresh food under ten minutes" YES BECAUSE WE DO NOT NEED IT https://t.co/Uq763MVXQf

— s (@yoongienthusias) March 21, 2022