Zoho Owner Sridhar Vembu's Estranged Wife Accused Him Of Abandoning Her & Their Child!!
Written by Dhiwaharan Published on Mar 14, 2023 | 18:53 PM IST | 406
Follow Us
Comments: 0
Zoho's co-founder Sridhar Vembu who recently made the decision to leave California and move to Mathalamparai village in the southern Indian state of Tamil Nadu. Zoho a business software provider valued at nearly $5 billion by Forbes. His reason for leaving California was to focus on providing rural employment opportunities and encouraging cross-fertilization of ideas among his employees. Vembu's efforts have earned him accolades, including the Padma Shri, one of India's highest civilian awards, and praise from Prime Minister Narendra Modi. However, the reason for his departure from California was not solely due to his vision for rural initiatives.
also read :  Tamannaah Clarified About Her Relationship With Vijay Varma !!
In August 2021, Vembu filed for divorce from his wife of 29 years, Pramila Srinivasan. According to a source close to Srinivasan, Vembu contacted her via WhatsApp in November 2020 to inform her of his desire for a divorce. In the divorce case filed in California, Pramila Srinivasan claims that Vembu deliberately disposed of a large portion of his Zoho stake in a complex transaction that moved Zoho's intellectual property to India and ultimately placed the majority of the shares with his sister and her husband, without informing or obtaining consent from Srinivasan.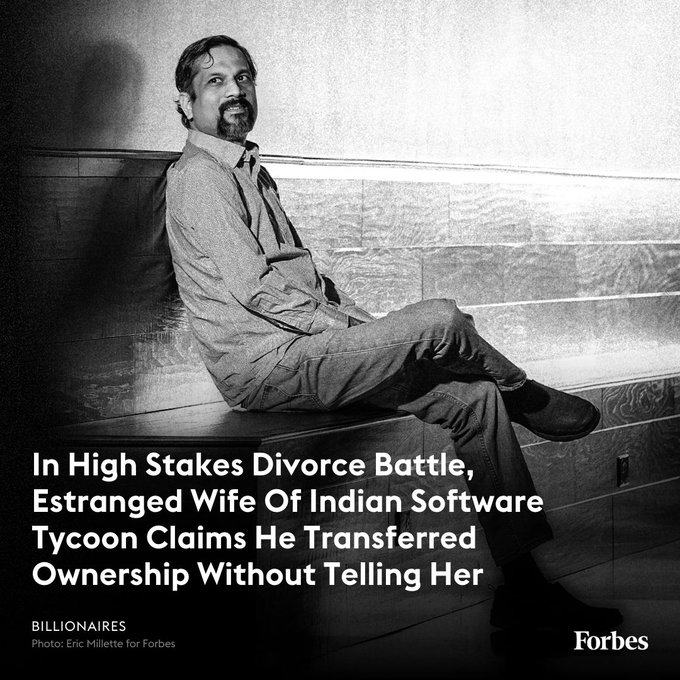 "My husband of 29 years not only abandoned me and his son with special needs in 2020," Pramila Srinivasan stated in a January court filing, "he decided to make fictitious transfers or 'sales' of our most valuable community asset to his family members without their paying any cash or other consideration, and without ever telling me or asking my permission." her statement read.
Pramila Srinivasan's lawyer, John Farley, commented that "the community property law in California does not allow a spouse during marriage to secretly dispose of assets without obtaining the other spouse's consent. After all 'community' property in effect means jointly owned-a duty to be transparent with your spouse and not to engage in secret transactions to try to evade the 50-50 legal requirement."
also read : Sai Pallavi Rejected "Thunivu" & "Leo" ?? Check Why !!
Divorces among wealthy couples can be complicated and acrimonious, with battles over hidden assets, forged artwork, and other unusual disputes. However, what makes this story unique is how and why Zoho's cofounders and biggest shareholders agreed to a series of transactions that not only valued the company and its intellectual property at a low figure but also resulted in them having smaller stakes in the company. Vembu's sister Radha, a product manager at Zoho, owns a 47.8% stake in the company, currently worth an estimated $2.2 billion. Sekar, Vembu's brother, owns 35.2%, worth $1.6 billion. Vembu owns only 5%, worth $225 million. The family is now worth at least $4 billion, and was ranked No. 48 on Forbes' 2022 list of India's 100 Richest under Sridhar's name due to his prominence as founder and CEO.
In a court filing, Vembu stated that "Media reports about my net worth are highly exaggerated because they are based on assumptions and suppositions, not facts. To get facts, private financial information about ZCPL [Zoho India] would have to be disclosed to the media-and ZCPL, as a private company, does not do that." However, the company must disclose its financials and shareholdings to the Indian Ministry of Corporate Affairs, which makes this information available in a searchable database and is the basis of Forbes' valuation of the family's fortune.
also read : "Inbanithi-ku Thanks Sollunga" – Udhayanithi's Sarcastic Comment About His Son
Forbes attempted to contact Radha and Sekar, but was unable to reach them. Vembu's lawyers declined to comment. In a deposition, Ram Srinivasan, the siblings' paternal uncle, claimed that Radha holds the shares for Vembu and that "Sridhar asked me to hold it."
#BREAKING | ஸ்ரீதர் வேம்பு மீது அவரது மனைவி பிரமிளா ஸ்ரீனிவாசன் பரபரப்பு குற்றச்சாட்டு!#SunNews | #SridharVembu | #Zoho | #PramilaSrinivasan pic.twitter.com/u0RZ41iPlY

— Sun News (@sunnewstamil) March 14, 2023
The divorce case filed by Pramila Srinivasan sheds light on the complex financial dealings of Zoho's co-founders and shareholders.
source : forbes