Zee Tamil Serial Actress Gave Birth To A Baby Girl !!
Follow Us
Comments: 0
Serial Actress Nakshatra Welcomes a Baby Girl into the World – A Joyous Moment for Fans
In the glitz and glamour of the entertainment industry, the personal lives of celebrities often captivate the public's attention. Among the popular actresses gracing Zee Tamil Television, Nakshatra holds a special place, having gained fame through her lead role in the widely acclaimed serial "Yaardi Nee Mohini." Over time, Nakshatra's journey became intertwined with controversy, courtesy of her relationship with Viswanathan, which eventually led to their marriage and the exciting news of her pregnancy.
Also read: Janhvi Kapoor Caught Photoshopping Her Physique!! Netizens Can't Keep Calm
Throughout her time acting in the series, Nakshatra faced various challenges due to the controversies surrounding her relationship. However, she continued to shine on screen, showcasing her immense talent and dedication to her craft. Fans eagerly followed her journey, with photos and videos documenting her pregnancy being widely shared and discussed among her loyal fanbase.
Now, the moment everyone has been waiting for has arrived. The news has emerged that Nakshatra has given birth to a beautiful baby girl, bringing immense joy to her well-wishers and admirers. This heartwarming announcement has sparked a wave of congratulatory messages and best wishes flooding in from fans and fellow industry professionals alike.
POST OF NAKSHATHRA
The arrival of a newborn child is a momentous occasion, marking the beginning of a new chapter in Nakshatra's life. It is a joyous moment that symbolizes hope, love, and the promise of a bright future. As the news spread, fans eagerly awaited a glimpse of the newest addition to Nakshatra's family.
Also read: Pooja Hegde Tried To Commit S*icide ?? Shocking Statement!!
True to her generous nature, Nakshatra, in collaboration with a renowned magazine, decided to share her happiness with her fans. A beautiful photo of Nakshatra cradling her newborn daughter graced the magazine's cover, capturing the essence of a mother's love and the profound bond between parent and child. The image radiated pure bliss and left everyone in awe of the magical journey of motherhood.
SCREESHOTS OF CELEBRITIES WISHING NAKSHTRA ON HER POST
As the photo circulated online, social media platforms were flooded with heartfelt messages, blessings, and adoration for Nakshatra and her little bundle of joy. Fans from all walks of life rejoiced, expressing their immense happiness for the actress and her family. The photograph became an instant sensation, embodying the sentiment of celebrating the miracle of life.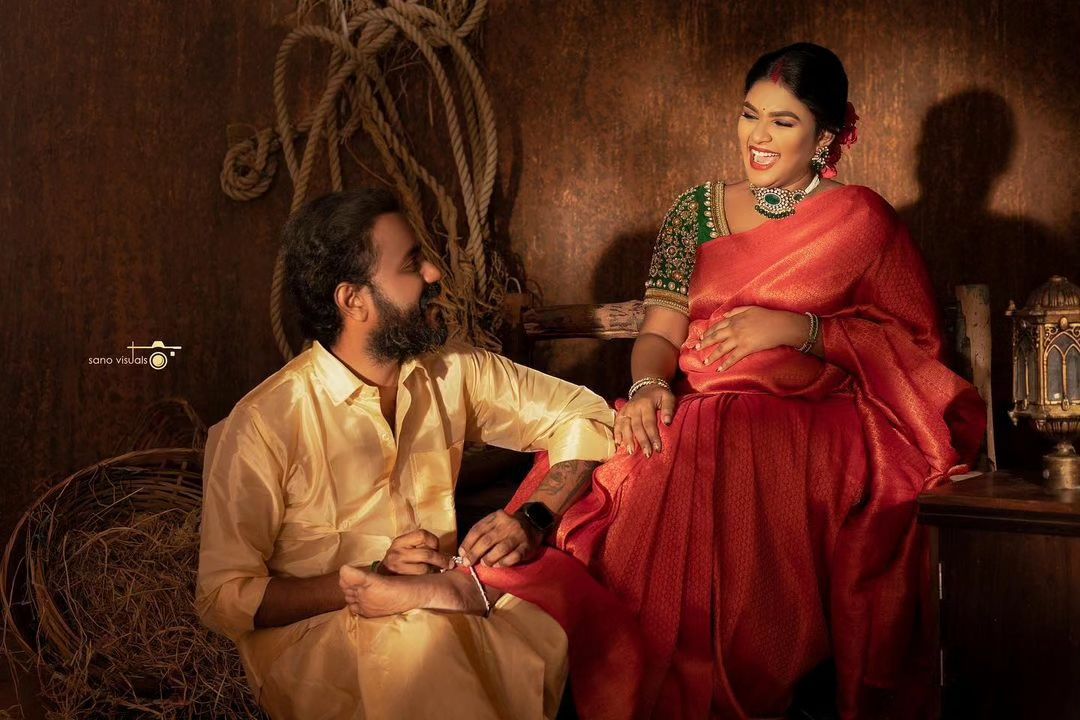 Nakshatra's journey, filled with highs and lows, has undoubtedly been an inspiration to many. Her ability to navigate challenges and maintain her professionalism amid controversy has garnered immense respect from her fans. With the birth of her daughter, Nakshatra's life has taken a new direction, one that will undoubtedly bring her boundless joy and fulfillment.
Also read: Kalidas Jayaram Got Thrashed For Tagging His GF In This Story !!
In the coming weeks, as Nakshatra adjusts to the role of a mother, her well-wishers eagerly await updates and glimpses into her life with her newborn daughter. Every step of her journey will be cherished and celebrated, as fans continue to show unwavering support for the talented actress they have come to adore.
In the realm of entertainment, moments like these serve as a reminder of the human side of celebrities. Nakshatra's decision to share her joy with her fans further solidifies the special bond she shares with her admirers. Through her openness and willingness to embrace her audience, she has created an enduring connection that transcends the barriers between the screen and real life.
As the excitement surrounding Nakshatra's new chapter unfolds, her fans stand united, ready to shower her and her daughter with endless love and support. The birth of a child is a testament to the beauty of life, and Nakshatra's journey serves as a beacon of hope and inspiration for those who have followed her career.
View this post on Instagram
In this moment of pure joy and celebration, Nakshatra's fans join her in cherishing the arrival of her baby girl. The love and admiration she has garnered throughout her career continue to flourish, making her fans even more excited to witness the next chapter in her life, both on and off the screen.