Articles
Yuzvender Chahal Rolled On Ground In Pain !! Glen Maxwell Trolled Him Brutally !!
India vs England, Glenn Maxwell, Yuzvendra Chahal, troll, Neymar Internet is always ready to have some fun and it didn't miss the chance when Brazilian footballer Neymar Junior rolled on the field in pain after the Mexican footballer Miguel Layun stepped on his ankle during the pre-quarters of FIFA Football World Cup 2018. The scene gave enough fodder to netizens and Internet was flooded with memes on Neymar Junior's overdramatic reaction.
While netizens didn't spare Neymar, English cricketer Glenn Maxwell was in no mood to spare Indian cricketer Yuzvendra Chahal when he did a Neymar.
[wp_ad_camp_1]
In yesterday's India Vs England cricket match, Yuzvendra Chahal was bowling England batsman Ben Stokes who played the ball towards the mid-wicket and ran for single.
The ball was fielded by Hardik Pandya and when he threw it back to Chahal, ball hit the latter's knee. As the ball hit him, Chahal was on the ground rolling in pain.
[wp_ad_camp_1]
For taking a dig at Chahal, Glenn Maxwell posted the video on Instagram story with caption, "Neymar".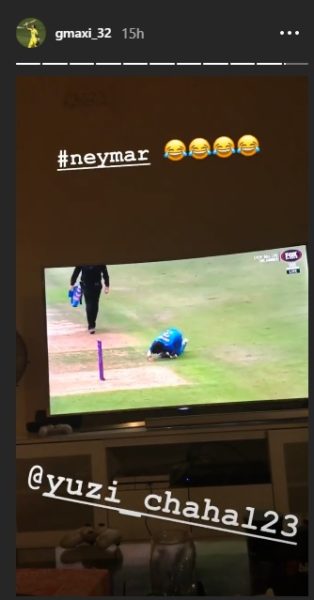 India took lead in the ODI series by 1-0 as it defeated England by 8 wickets in the first ODI. Indian batsman Rohit Sharma played a superb knock of 137 runs off 114 balls and Kuldeep Yadav took 6 wickets to help India win. Virat Kohli was all praise for Kuldeep Yadav, as he said,
"As clinical as it can be. We knew it was a really good wicket but wrist spin in the middle overs would be tricky. When they have 10 overs then know they have the skills to have an impact. Kuldeep was outstanding, I don't think I've seen a better ODI spell in a while. We want him confident because we know he can be a matchwinner – 50 over cricket, if you don't get wickets it's very difficult."
When he was asked whether Kuldeep will be a part of test side, he said,
"There might be a few surprises there, we have a few days to pick the Test side. Looking at the England batsmen struggling we might be tempted to do that. The weather has been lovely, very welcoming. It's been good so far. It doesn't feel like we away from home. There's some tough cricket in front of us."
[wp_ad_camp_1]
What is your take on Glenn Maxwell's dig at Yuzvendra Chahal? Do let us know.