Ace music composer Yuvan Shankar Raja replied to a fan who expressed his disagreement with the religious posts he has been uploading in his official social media account. He who is fondly called as "Yuvan" by fans, asked the follower not to follow his social media handles if he dislikes the posts. The screen shot of the musician's reply in Face book is going viral in other social media platforms such as Twitter, Instagram etc.
[wp_ad_camp_1]
Yuvan is a son of legendary music director Ilayraaja and debuted through Selvaraghavan's "Thulluvadho Ilamai". Despite of entering the industry with his father's influence, the music director worked hard and gained a separate fan base for himself. Today, he is one of the very few music composers who enjoys a fan base equal to a mass hero.
In February 2014, Yuvan announced through his Twitter account that he had embraced Islam religion and acquired the name "Abdul Khaliq". He got married to Zafroon on the 1st January of 2015 and the couple had a baby girl on 7th April 2016. They named her as Ziya. Apart from updating about his upcoming works, Yuvan Shankar Raja is also posting religious quotes in his social media handles.
[wp_ad_camp_1]
On Tuesday, Yuvan uploaded a quote of Quran in his Facebook handle where he enjoys 2.3 million followers. "But they plans and Allah plans and Allah is the best of planners" read the post Yuvan shared. Check out the screen shot of his post below :
Many of his followers criticized the musician for uploading post embracing his religion. Check out some of their reactions below :
In a way of replying to all these comments, Yuvan replied to a follower to unfollow his page if the posts didn't go well with him. "Is this fan page or else religious preaching page. We all follow you because of your music not to hear your preaching. Shall I need to follow ?" a fan asked to which the musician simply replied "No, you don't need to follow"
[wp_ad_camp_1]
Another reply of the musician saying that his faith is his right is also doing rounds in social media platforms.
Check out some of his other replies :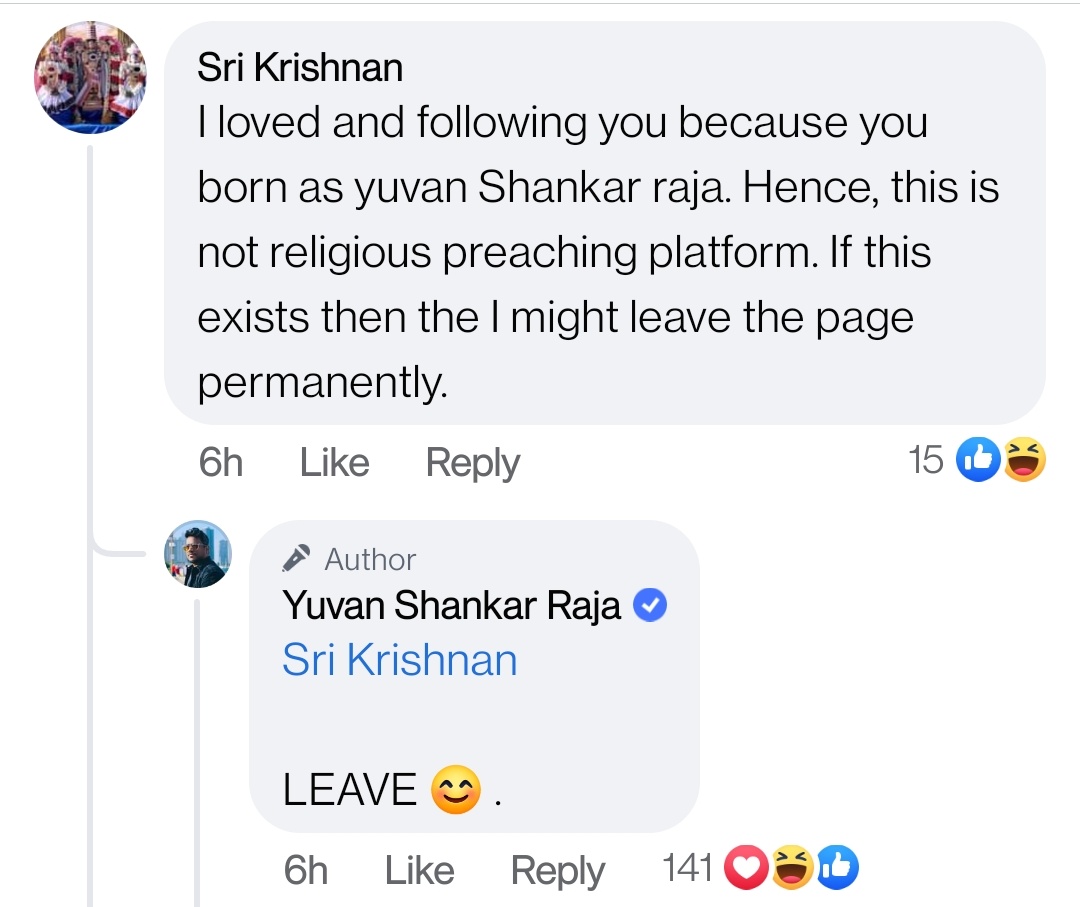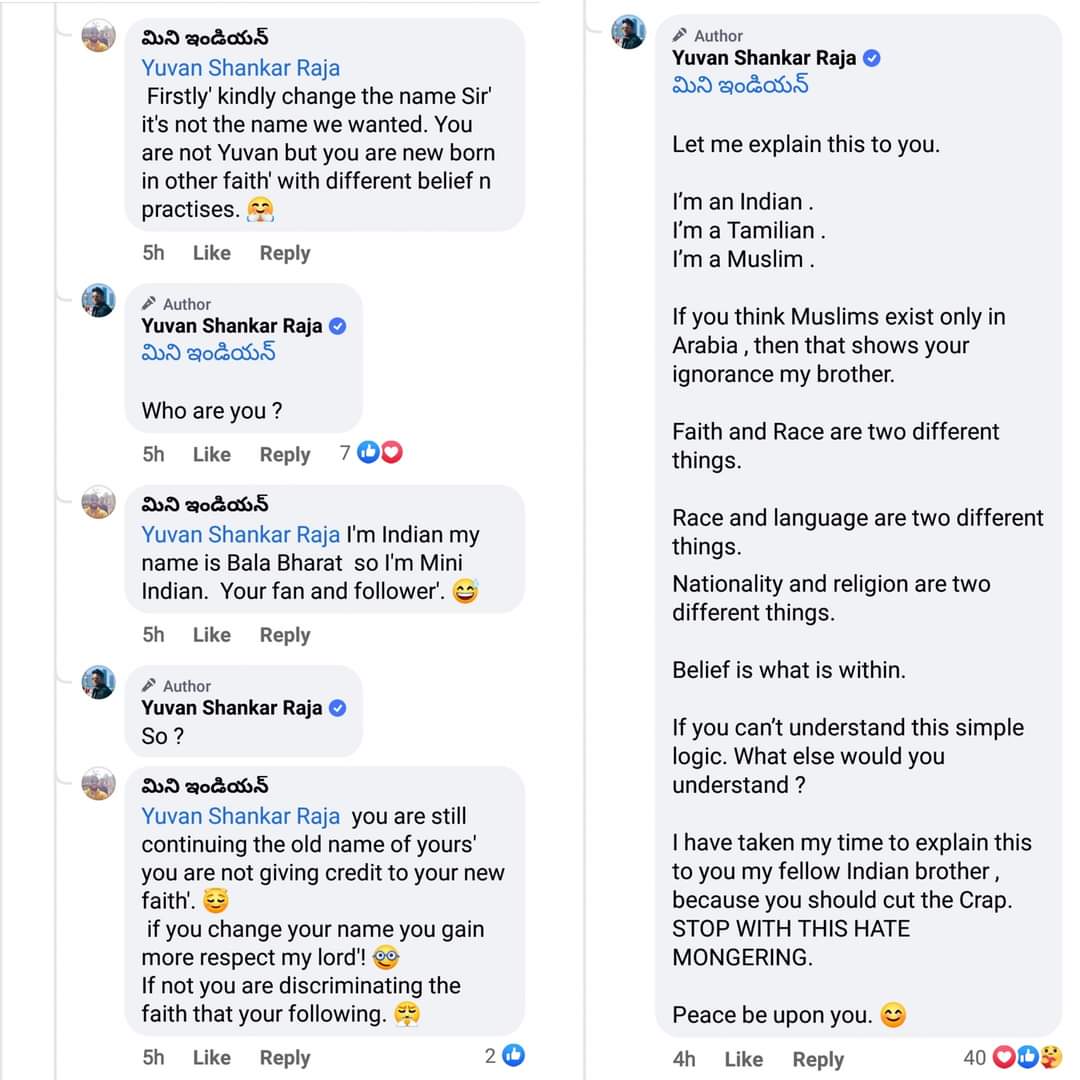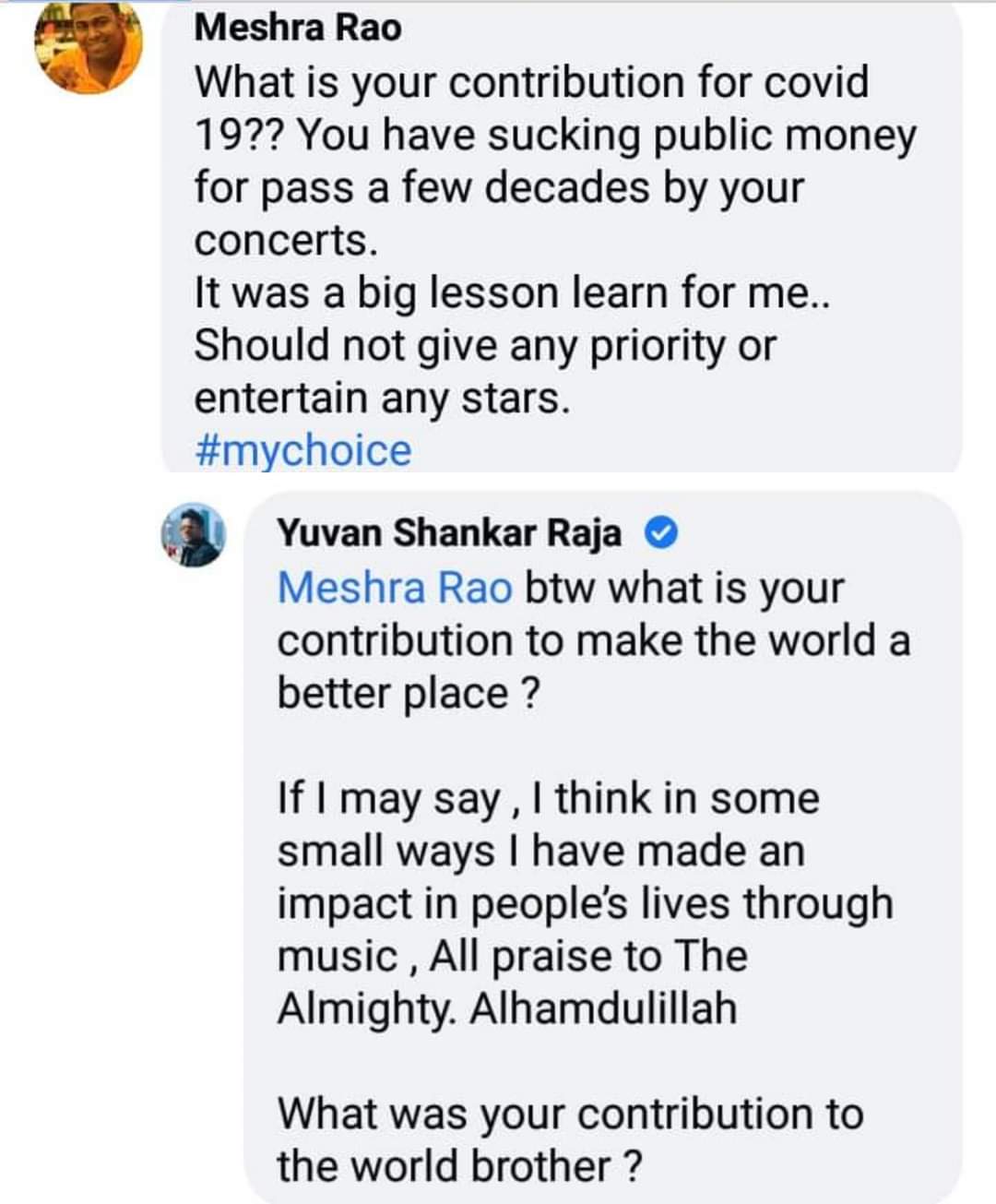 "To many of the questions that raised within me including where our soul goes in our afterlife and about the inequality in our society between rich and poor, I got the answer in Quran. Like our family and our country, the entire universe requires a leader. I felt it deeply while reading Quran." Yuvan once said while answering to a question on why he turned Muslim.
Yuvan Shankar raja, one of the prominent music directors of Kollywood film industry, has composed for more than 100 films in a span of 23 years of his musical career. He has acquired a huge loyal fan base for himself through his work. The forty one year old music composer is currently working on several projects and has turned as a film producer as well.