Youth Smiled At Camera After Setting A Girl On Fire !! Outrage Erupted
Written by Dhiwaharan Published on Aug 30, 2022 | 03:06 AM IST | 118
Follow Us
Comments: 0
Ankita Singh, a class 12 student from Dumka of Jharkhand died after her stalker named Shah Rukh poured petrol on her from distance and set her on fire. After being admitted to hospital with 90% of her body suffering burn injuries, Ankita died on Sunday. Now, a video of the accused smiling at the camera of media while getting arrested has caused an agitation among the public.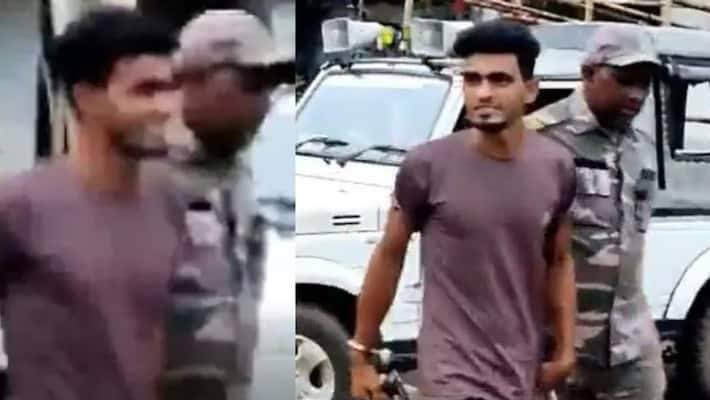 Ankita, daughter of a single father who was earning just Rs. 200 per day, was aspiring to become a police officer while she was alive. During her final moments, Ankita said that the accused had called her on her mobile around 10 days ago, pestering her to become his friend. "He called me again around 8 PM on Monday and said that he would kill me if I don't talk to him" Ankita said.
"I informed my father about the threat, after which he assured me that e would talk to the man's family on Tuesday. After having our dinner, we went to sleep. I was sleeping on another room. On Tuesday morning, I experienced a sensation of pain in my back and could smell something burning. I found him running away when I opened my eyes. I started screaming in pain and went to my father's room. My parents doused the fire and doused me to the hospital" the teen girl informed the Police hours before her death.
OMG. My heart sinks. When life begins, her life was ended by Shahrukh.
We failed you, Ankita.
ॐ शांति। pic.twitter.com/reIf0A9JRq

— Vivek Ranjan Agnihotri (@vivekagnihotri) August 30, 2022
The accused, reportedly poured petrol on her while she was sleeping in her bedroom. Named as Shah Rukh, the miscreant poured the inflammable fuel on her from the window of her room. The 19 year old succumbed to her burn injuries even after getting admitted to the hospital immediately.
In a video that surface online recently, the accused Shah Rukh was seen smiling at the camera nonchalantly when he was handcuffed and was being taken to a police vehicle.
See the shameless #Smile of Shahrukh. He has no regrets after burning a Hindu girl to de@th, even after being arrested. #JusticeForAnkita pic.twitter.com/LQ1rJAMOy9

— Akhilesh Kant Jha (@AkhileshKant) August 28, 2022
The video created huge outrage among the public who called the accused out for his shameless smile. "The videos of #Ankita , her family's screams are so disturbing. I can't recover from it. The culprit is seen smiling in a video. I hope he is punished till he forgets to smile. Outrageous. I hope Ankita is in a better place than this hell" a social media user said after seeing the video whereas another one wrote "After taking life of an innocent girl "Ankita" this muπdeπeπ "Shahrukh" have audacity to smile and posing attitude even in police custody. Disgusting!"
Shahrukh Hussain. Stalked his neighbour Ankita, then burnt her alive.
She died after 5 days in agony. He's smiling in custody.
Sickening pic.twitter.com/PRCwsShhqU

— Padmaja joshi (@PadmajaJoshi) August 29, 2022
The videos of #Ankita , her family's screams are so disturbing. I can't recover from it. The culprit is seen smiling in a video. I hope he is punished till he forgets to smile. Outrageous. I hope Ankita is in a better place than this hell. 🙁

— Shivani Bazaz (@shivanibazaz) August 30, 2022
Look at the regret-free smile on the face. He is the same Shahrukh who set sister Ankita ablaze. This sums up his thinking and upbringing well. #JusticeForAnkita #AnkitaSingh #AnkitaDemandsJustice https://t.co/I9hIwMbLNC

— Babu (@Babu_Mani16) August 29, 2022
Look at that demonic smile,
This Impotent person burned a girl alive,who's Name Is Ankita,
Just because she rejected his Proposal,
I don't see any fear in their eyes,due to justice system of India,
But still we have to ask#justiceforAnkitaKumari
pic.twitter.com/g7qoWCZfBs

— John Coffey 💮 (@ArjunKaFan_) August 29, 2022
After taking life of an innocent girl "Ankita" this muπdeπeπ "Shahrukh" have audacity to smile and posing attitude even in police custody. Disgusting!#JusticeForAnkitapic.twitter.com/NrNClcTHKn

— Pooja Sangwan 🇮🇳 (@ThePerilousGirl) August 28, 2022
Look at his smile. No any guilty, no regrets. This guy Shahrukh should be given capital punishment & should be made to go through the same agony that Ankita went through. He should be burnt alive. That would be justice for her. #JusticeForAnkita https://t.co/ejUlZxeO7t

— #BiggBoss_Tak👁 (@BiggBoss_Tak) August 29, 2022
That is an outrageously evil smile you have, Shahrukh. No one deserves such a tragic fate. My heart is with Ankita's parents and loved ones at this moment. The authorities must ensure the severest punishment for this deranged monster. #justiceforAnkitaKumari

— Khalid Anis Ansari (@KhalidAAnsari4) August 29, 2022
#LoveJihad
Blot on Humanity!🤬
Only a monster can smile wickedly after committing such a heinous crime ! 😡The culprit #Shahrukh burnt #Ankita alive just for saying "No" who died last night .
We demand extreme punishment 🙏#JharkhandNews#hangtilldeath #JusticeForAnkita pic.twitter.com/4IeaEWAtPf

— Sona Uniyal (@UniyalSona) August 29, 2022