Young Pakistani Women Condemning Pulwama Attack !! Pictures Going Viral Across India!!
Written by Dhiwaharan Published on Feb 20, 2019 | 18:37 PM IST | 72
Follow Us
Comments: 0
While the Pulwama terror attack in Jammu and Kashmir has raised tempers across India and Pakistan's government has refused to own up its role, it is the young Pakistanis who are coming out on social media and condemning the deadly strike that left 40 CRPF personnel dead.
[wp_ad_camp_1]
After the Pulwama incident, what was most shocking was the fact that the Pakistani government refused to take any responsibility for the attack.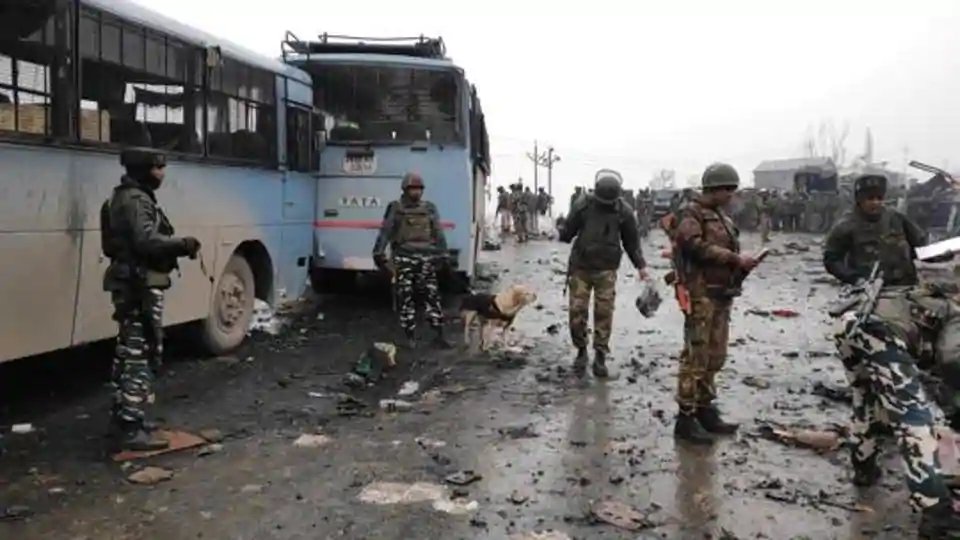 The militant group Jaish-e-Mohammed is suspected to have been backed by the Pakistan army. Despite this revelation, Pakistan PM Imran Khan issued a public statement stating that India had no solid evidence against Pakistan.
Following the Pulwama tragedy, Indians have practically declared war on Pakistan and the hatred between the two nations seems to have reached its saturation point.
A young Pakistani journalist and Indo-Pak peace activist, Sehyr Mirza, posted a picture of hers on Facebook with a placard which read: "I am a Pakistani and I condemn Pulwama terrorist attack. #AntiHateChallenge #NoToWar" Mirza further tagged the picture with the message: "I won't trade humanity for patriotism", clearly implying that she won't blindly follow the Pakistan government narrative on Kashmir just for the sake of supporting her country.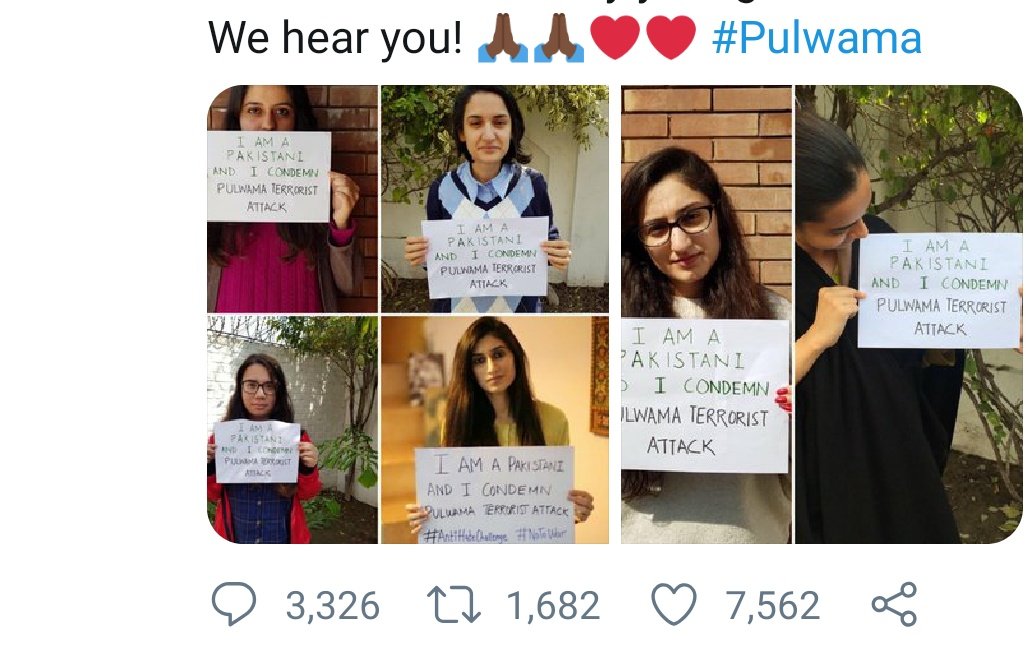 [wp_ad_camp_1]
Sehyr Mirza, an Indo-Pak activist and a journalist posted a picture of herself holding a placard which said "I am a Pakistani and I condemn Pulwama terrorist attack. #AntiHateChallenge #NoToWar"
Many other young Pakistanis posted similar messages on Facebook and supported the campaign. Their pictures were also posted by Sehyr Mirza.
Check out some of the other young women's pictures here :
1.
2.
3.
4.
5.
6.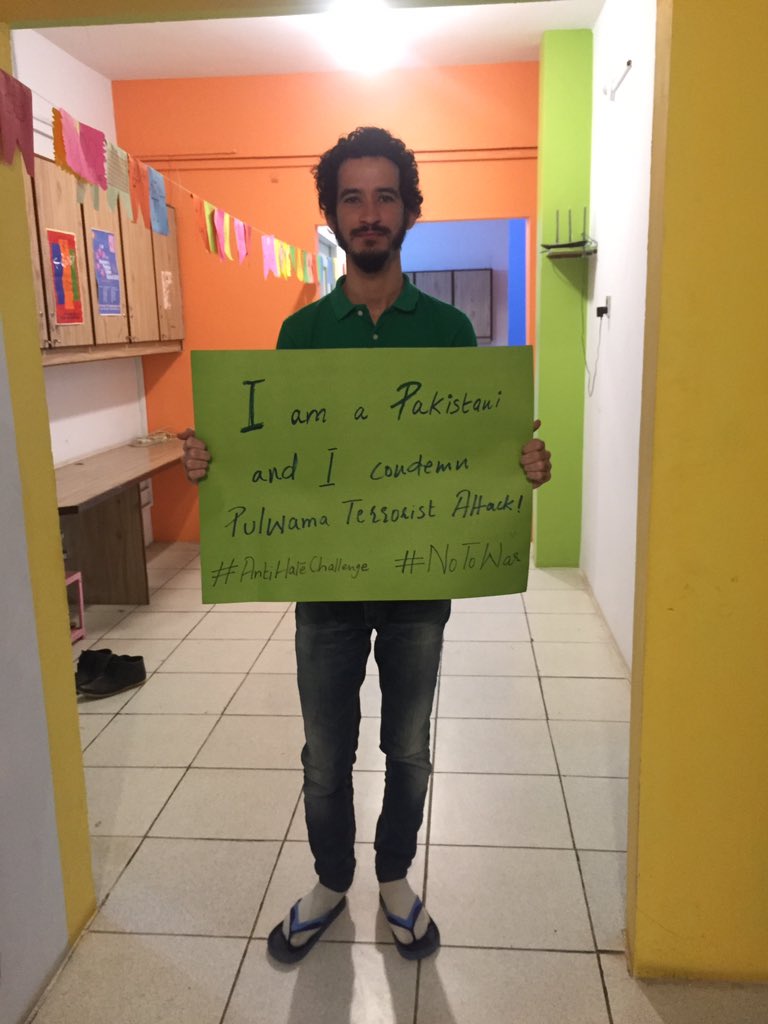 [wp_ad_camp_1]
The #AntiHateChallenge was widely circulated on social media and Bollywood actress Swara Bhaskar lauded the initiative by young Pakistanis.
Thank you friends from #Pakistan for this message of condolence and peace. Laudable initiative by young Pakistanis. We hear you! 🙏🏿🙏🏿❤️❤️ #Pulwama pic.twitter.com/pJIZKI2c5O

— Swara Bhasker (@ReallySwara) February 19, 2019
Some Pakistanis have started #AntiHateChallenge to condemn the attack and to show solidarity with their Indian friends. pic.twitter.com/tUrhQ43dh6

— Tayyab Memon (@TayyabMemon) February 19, 2019
I am pakistan and i condemn Pulwama Attach.#AntiHateChallenge #WeStandWithIndia #NoToWar #CondemnPulwamaAttack
Kindly post or share it as much as. Possible, because we love humanity. No any war. And InshaAllah this post will change their way of thinking. Try to spread love.

— kuldeep soni (@kuldeepsoni123) February 19, 2019
I Condemn Pulwama Attack: Pak Women Launch #AntiHateChallenge pic.twitter.com/FgoJRNqzQk

— Gulmohar (@Gulmoha99443364) February 20, 2019
Spread the language of peace and harmony worldwide. #AntiHateChallenge #phulwamaattack #Phulwama pic.twitter.com/Q6z4ACM4Xc

— TaRiQ MaDaNi (@iTariqM) February 20, 2019
The people should stand in solidarity to isolate the terror groups.. A very right move @SehyrMirza.. #AntiHateChallenge #NoToWar #PulwamaAttack https://t.co/e13d3uhIu7

— Dr.Karpora Sundara Pandyen P (@ksp4friends) February 20, 2019
This is the guesture world needs. Thank you @SehyrMirza for a move that matters a lot. #AntiHateChallenge #NoToWar pic.twitter.com/TYCveC8g7b

— Prince (@theprincejha) February 19, 2019
Pakistan-based dreaded terror group Jaish-e-Muhammed of Maulana Masood Azhar has claimed responsibility for the Pulwama terror attack. However, Pakistan PM Imran Khan today asked India to provide 'actionable intelligence' on the perpetrators of the deadly attack. This despite the fact that Masood Azhar is in Pakistan is public knowledge.