You Just Can't Miss These Hilarious Gambhir Memes That Surfaced After Thala-Thalapathy Meet !!
By Dhiwaharan
Gambhir became a troll material among netizens ever since he started degrading India's world cup victory and Dhoni's last ball six in the historic 2011 World cup finals. The cricketer who has been insisting Indian cricket fans to move on from the victory, changed his cover picture to himself lifting a bat during the World cup finals of 2011 on Dhoni's birthday while every other cricketers were wishing the former Indian captain, a happy birthday. These activities from the former cricketer and current politician left Indian cricket fans no choice other than trolling him.
[wp_ad_camp_1]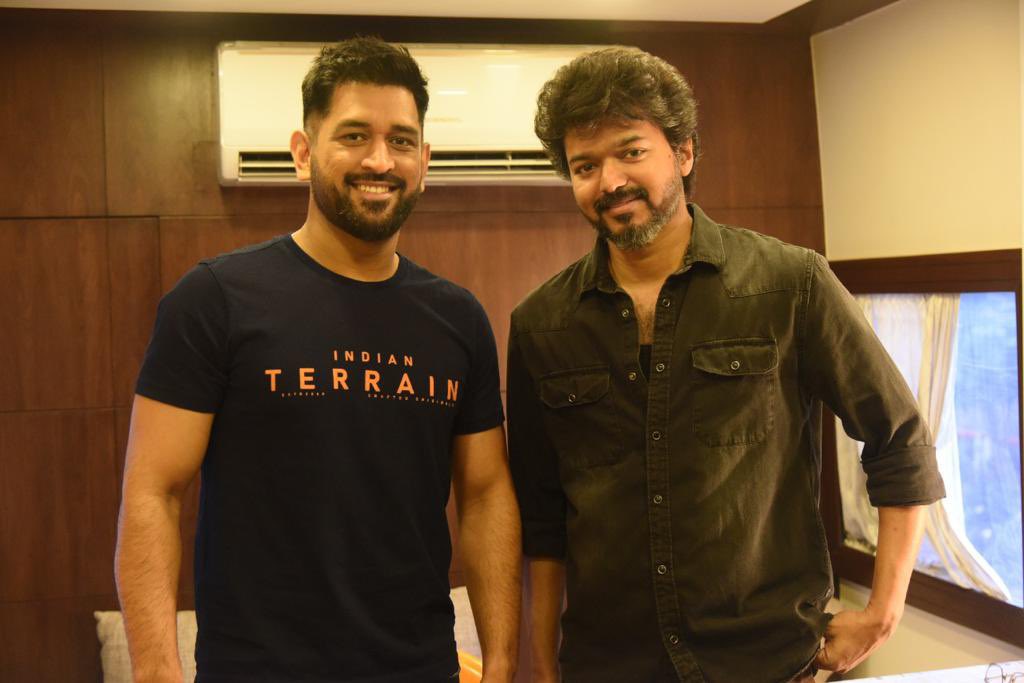 Now, after the picture of Mahendra Singh Dhoni meeting Tamil actor Vijay went viral in social media platforms, fans have been creating a fictional story of Gambhir trying to meet Thala Ajith to compete with the former. It is very well known that Ajith is a a rival of actor Vijay and fans making fun of Gambhir fantasizing that he would try to meet Ajith to change his profile picture in his official social media handles.
A series of pictures that shows actor Vijay who is fondly called as Thalapathy by his fans and former Indian captain and current captain of Chennai Super Kings MS Dhoni together are going insanely viral in social media platforms with the overwhelming reactions of fans flooding the feeds. The meeting between the duo took place as both of them were shooting at Gokulam Studios that is located at Chennai for their upcoming projects.
It has been reported that Vijay was busy shooting for his upcoming film "Beast" at Gokulam studios where Dhoni made his presence for the shoot of a commercial. The last time Dhoni and Vijat met each other was, during the inaugural season of India premiere league. Actor Vijay was appointed as the brand ambassador of team Chennai Super Kings which is being led by Dhoni till today. The old pictures of the duo together are also trending in social media platforms right now.
While the mutual fans are celebrating the pictures, a whole lot of memes trolling Gambhir are flooding in the feeds as well. On the 10th anniversary of India's world cup victory, Gambhir said "There were 13 or probably 14 unsung heroes in that win! Munaf, I, Harbhajan Singh, Virat Kohli, who got a hundred in the first game, Suresh Raina, who played a crucial knock against Pakistan" said Gambhir. "Do you think that only one individual won us the World Cup? If one individual could have won the World Cup, then India could have won all the World Cups till now. Unfortunately, in India, it's only about worshipping certain individuals. I've never believed in that. In a team sport, individuals have no place. It's all about contributions," the former cricketer said.
[wp_ad_camp_1]
In a previous occasion, Gambhir, while replying to a media which celebrated Dhoni's six, said "worldcup2011 was won by entire India, entire Indian team & all support staff. High time you hit your obsession for a SIX."
Just a reminder @ESPNcricinfo: #worldcup2011 was won by entire India, entire Indian team & all support staff. High time you hit your obsession for a SIX. pic.twitter.com/WPRPQdfJrV

— Gautam Gambhir (@GautamGambhir) April 2, 2020
What added fuel to the fire ignited in fans is, the way he made some significant changes to his official Face book profile on the 40th birthday of former Indian captain Mahendra Singh Dhoni.
If you are going to be salty, be as salty as Gautam Gambhir…. Go big or go home… pic.twitter.com/IbWGscyCH4

— Gappistan Radio (@GappistanRadio) July 7, 2021
These activities of the cricketer, caused hilarious trolls against him after Dhoni meeting Vijay. Several memes show Gambhir trying to take picture with Ajith to change his profile picture whereas a meme tickled the laughing bone of fans by showing how Ajith who loves privacy would react to it. Check out some of the reactions below :
gambhir'na to suresh chandra :
ippo ni enna pannura nanum thala ajith'um odane meet panni photo edukurathuku arrange pannura pic.twitter.com/uEc65QkEYR

— i_karthi (@weirder__) August 12, 2021
Gautam Gambhir Updated his Cover Picture 🔥🔥🔥#ThalaThalapathy ❤️#Master @actorvijay #Beast pic.twitter.com/or70pLyQLr

— f u e d a l (@Unngal_Rio) August 12, 2021
Finally met with world's best actor and dancer Ajith ♥️ . Forget 1983, 2007 or 2011, this selfie is bigger than any World Cup! pic.twitter.com/KABf6677Ro

— Ķ. (@07914KARTHIK) August 12, 2021
Photoshop will say this is haters 🥵 pic.twitter.com/orA2wAONvL

— Shittier Tamil Movie Details (@TamilDetails) August 12, 2021
[wp_ad_camp_1]
Gambhir on the way to Ajith's home… pic.twitter.com/32AtRam8BH

— ℳя. வில்லங்கம்🧘 (@Vineethian) August 12, 2021
Meanwhile : pic.twitter.com/F4JZd5kQcJ

— john vijay (@vjyv7) August 12, 2021
Gambhir Be like 😂😂🔥#Master #Beast pic.twitter.com/qx6AxKTuYd

— SRidhar D (@Sridhar_sw) August 12, 2021
Gautham Gambhir New Pro Pic 🤣😂@actorvijay #Master #Beast
pic.twitter.com/XuNV8npfyZ

— cozᴮᴱᴬˢᵀ (@thattgr) August 12, 2021
🤣🤣🤣🤣🤣 pic.twitter.com/Sq13V1sTbB

— James Stanly (@JamesStanly) August 12, 2021