You Just Can't Miss Chennai Crowd's Response To PM Modi's "Namasthe" !!
Written by Dhiwaharan Published on Jul 29, 2022 | 22:05 PM IST | 137
Follow Us
Comments: 0
The response from Chennai crowd for Prime Minister Narendra Modi's "Namasthe" at the Chennai Chess Olympiad 2022 event is several kind of reactions in the micro blogging social media site. The crowd, after responding to Narendra Modi's "Good Evening" and "Vanakkam", stayed mum while he said "Namasthe". Tamilnadu based online users believed that the crowd indirectly conveyed a message about the imposition of Hindi language in the state.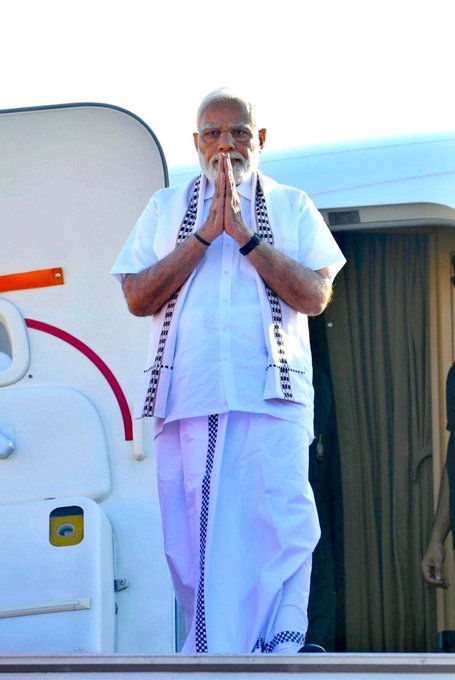 Several celebrated personalities from various notable industries such as cinema, politics, sports took part in the inaugural event of Chess Olympiad 2022 which took place in Chennai. From Prime Minister Narendra Modi to Tamil Superstar Rajinikanth, many iconic personalities attended the event through which state government of Tamil nadu is going to host International chess players from 187 countries.
Videos of Chief Minister MK Stalin and Prime minister Narendra Modi exchanging thoughts and sharing a happy moment, Child Prodigy Lydian Nadhaswaram playing piano blind folded in front of the guests, a video explaining about Tamil history through the background voice of Kamal Haasan kept surfacing in the internet platforms.
There could not have been a better place to host the 44th Chess Olympiad than Tamil Nadu, which is India's chess powerhouse. pic.twitter.com/w5tPJhjdNL

— Narendra Modi (@narendramodi) July 28, 2022
One of the videos shows Prime minister Narendra Modi, while starting his speech, greeted the crowd with "Good Evening" to which they responded with a huge cheer. After that, Prime minister Narendra Modi said "Vanakkam" in Tamil to which the crowd responded with a cheer that is even more louder. After that, he said "Namasthe" in Hindi and the auditorium maintained a pin drop silence.
Here's the video :
The message is clear.,we are ready to say good evening and Vannakam.,,not namasthe..That is, we like two language system not three. pic.twitter.com/LFOr4nZw9e

— E=MC² (@Twitt25460412) July 29, 2022
Check out some of the reactions that surfaced for the incident below :
ஒரே அசிங்கமா போச்சு குமாரு… யாருகிட்ட இந்தி பேசற… pic.twitter.com/hbilTpFf8T

— Gowtham (@Gowthamsuju) July 28, 2022
இருக்குறதுலயே தரமான சம்பவம் இதுதான்

— Moyeesan (@Moyeesan3) July 28, 2022
No response for 'namasthe'.
Sorry it's Tamil Nadu.
We are different. https://t.co/1YluQcbbhU

— ProudHuman (@DURAICHARLES) July 28, 2022
Namasthe moment 😂 https://t.co/ScWsGpfHcg pic.twitter.com/sxxf3m56tY

— ' (@Dreamer17__) July 29, 2022
இதுலாம் எவ்வளவு பெரிய கேவலம் தெரியுமா?? @BJP4TamilNadu 🤦‍♂️ https://t.co/mCGn5UBpCK

— Gopinath Karunakaran (@Gopinath_90) July 29, 2022
இதான் தமிழன்…
எப்போ என்ன செய்யணும் என்பது நன்றாகவே தெரியும்… https://t.co/80y62mocU9

— Manikandan Vembu (@iamkutty030497) July 29, 2022
மோதியே வந்து முட்டி மோதினாலும்
இங்க இந்தி பருப்பு வேகாது. https://t.co/rB3AN11cdV

— 🇮🇳 Barakkath (@Barakkath_007) July 29, 2022
The Chess Olympiad is being held in Chennai for the first time and the tournament is going to take place in Mamallapuram. Players from over 187 countries are participating in the Olympiad with three Indian teams each in the open and women's sections. Prime minister Narendra Modi inaugurated the event at the Nehru Indoor Stadium on 28th of July in the presence of Tamil nadu chief minister MK Stalin while the matches will begin from 29th July and ends on 10th of August.
To get the opportunity of hosting the event, State Government was pretty much fast in making decisions, said the officials of All India Chess Federation (AICF). While Bharat Singh Chauhan, secretary of AICF said that took the Tamilnadu government just a few hours to decide on hosting the prestigious 44th Olympiad at Mamallapuram near Chennai.