Articles
"Yashika Expressed It To Me First, I'm Proud Of The Way Prachi Handled It" Mahat Opens For The First Time After BB Eviction !!
Initially, when everyone in the Bigg Boss Tamil 2 house was in the 'getting to know each other' phase, the friendly nature of Mahat was liked by most of the inmates. But as the days went by, Mahat's temper and his proximity to Yashika came under the scanner. Finally, it was his spat with Mumtaz that got him eliminated last week. Not that this has really deterred the spirit of Mahat, who has come to terms with his faults. "When I came out, I saw people trolling me. I never thought so many people would be shouting at me," he says, adding, "But still, a considerable number of people were also supporting me. It is a learning for me and I am thankful for this opportunity," says Mahat, as he talks about his experience and more :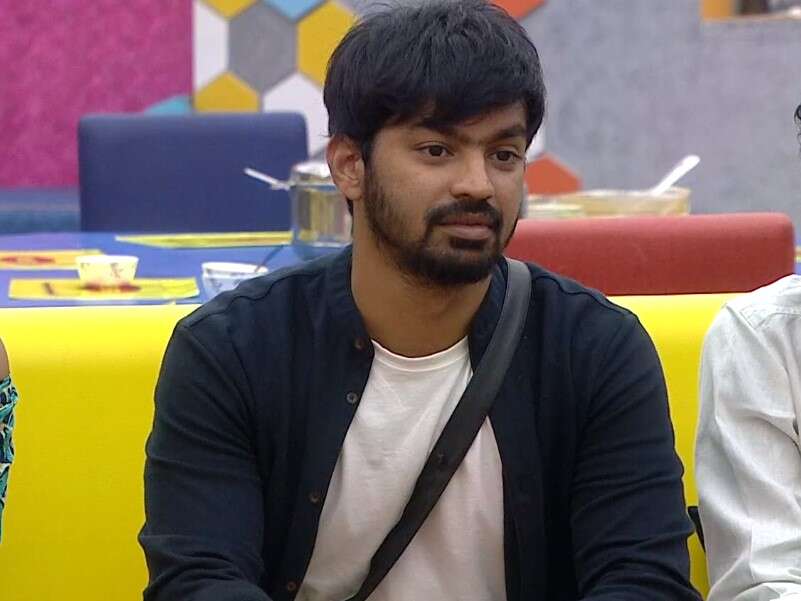 According to his interview to Chennai Times , Mahat talked about his chemistry with Yashika. He said "See, I love Prachi (Mishra) and she is my life. I mean every word of it. When you are inside the house for 70 days and move closely with someone, you will get infatuated. Yashika expressed it to me first and I told her that I really liked her, too. Yes, I was infatuated, but I never said that I will be in a relationship with her. Many people might feel the same way if they are put in a situation like that. But how many people will say this openly? I wanted to be true to myself, but people say that I am the bad guy because I was honest. I don't know what to do (smiles).
[wp_ad_camp_1]
When I was inside the house, everything seemed like an illusion. I felt like my world will end there. Once I came out, I realised that it was indeed an illusion! As a human, I did feel that way and I am not denying it. Yes, Yashika is a sweet person, but Prachi is my girl.
[wp_ad_camp_1]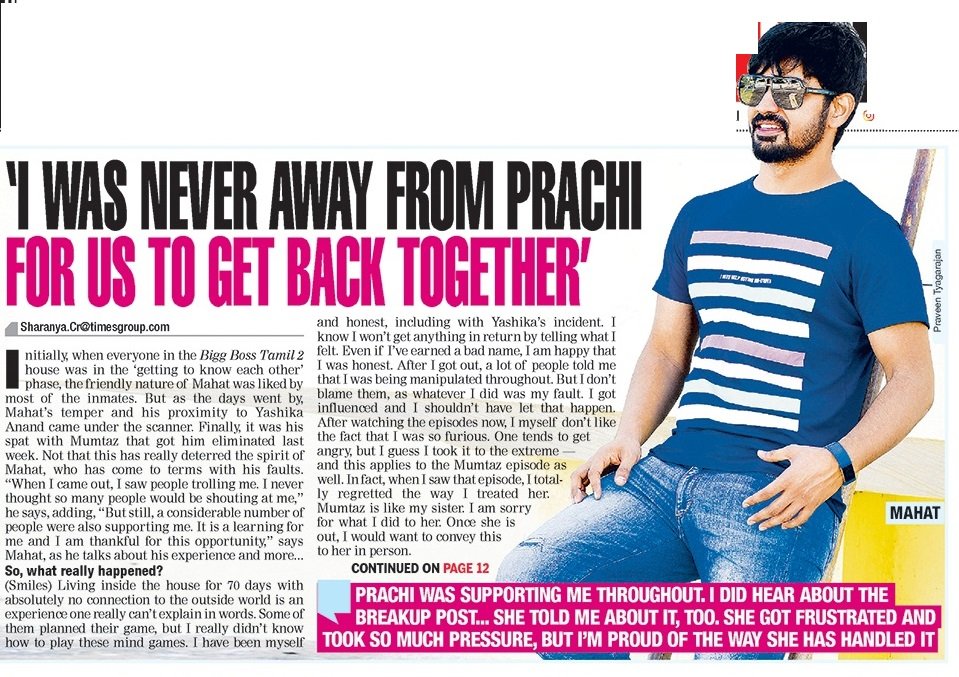 Prachi was supporting me throughout. I did hear about the post once I got out. In fact, she told me about it, too. She got frustrated and has taken so much pressure. But I am proud of the way she's handled all of this. I wasn't there with her to explain things. So, as a human, she was naturally ticked off. After I came out, I spoke to her and told her how it was for me. She understood me and I am only blessed and lucky to a girl like her.
[wp_ad_camp_1]
When he was asked so he patched up with Prachi again he said "I was never away from Prachi to get back together now… I'm in a relationship with her.
He also said Simbu's reaction on his Bigg boss experience. He said "I still have the Bigg Boss hangover. Simbu was quite upset. In fact, he was the one who was showing me videos of how I was being manipulated. Nevertheless, he was proud that I was honest, something that he asked me to be before I went inside the house. After doing several supporting roles, I'm now getting plenty of offers to play the lead. I'm yet to hear the scripts, though. I'll be announcing my projects soon.