Yash Dayal Of Gujarat Lions Caught In Controversy For His Deleted Insta Story !!
Written by Dhiwaharan Published on Jun 05, 2023 | 11:28 AM IST | 72
Follow Us
Comments: 0
Yash Dayal, the Gujarat Titans' pacer who gained notoriety for conceding five sixes in an over to Rinku Singh during the IPL 2023, finds himself embroiled in a significant controversy. Dayal stirred public outrage after sharing a highly sensitive story on Instagram related to the Shahbad Dairy murder case. Despite his apology, fans continue to criticize him for allegedly spreading hate. Furthermore, Dayal's performance on the field has suffered, and his chances of returning to the game this season appear uncertain.
also read : "Arnav Pretended As A G*y & Cheated A Man" – Divya's Shocking Accusation
Yash Dayal, the young left-arm pacer for the Gujarat Titans, became the center of attention for all the wrong reasons following a controversial Instagram story he posted. The story revolved around the gruesome Shahbad Dairy murder case, where a 16-year-old girl named Sakshi was brutally attacked and killed. Dayal, realizing his mistake, promptly deleted the story and issued an apology, clarifying that it was an unintentional act. However, his attempt to quell the controversy did not prevent fans from lashing out at him, accusing him of spreading hate.
After Dayal's unfortunate performance against Rinku Singh and the Kolkata Knight Riders, where he was hit for five consecutive sixes, his cricketing career took a severe blow. The immense pressure and criticism he faced resulted in a decline in his health. Dayal fell ill, losing 6-8 kilograms, and was unable to regain his form. Furthermore, a viral infection added to his woes, making his condition unfit for playing. Despite being an integral part of the team last season with nine appearances and 11 wickets, Dayal's poor outing this year has significantly impacted his chances of returning to the field.
Here's the screenshot of his deleted Insta story :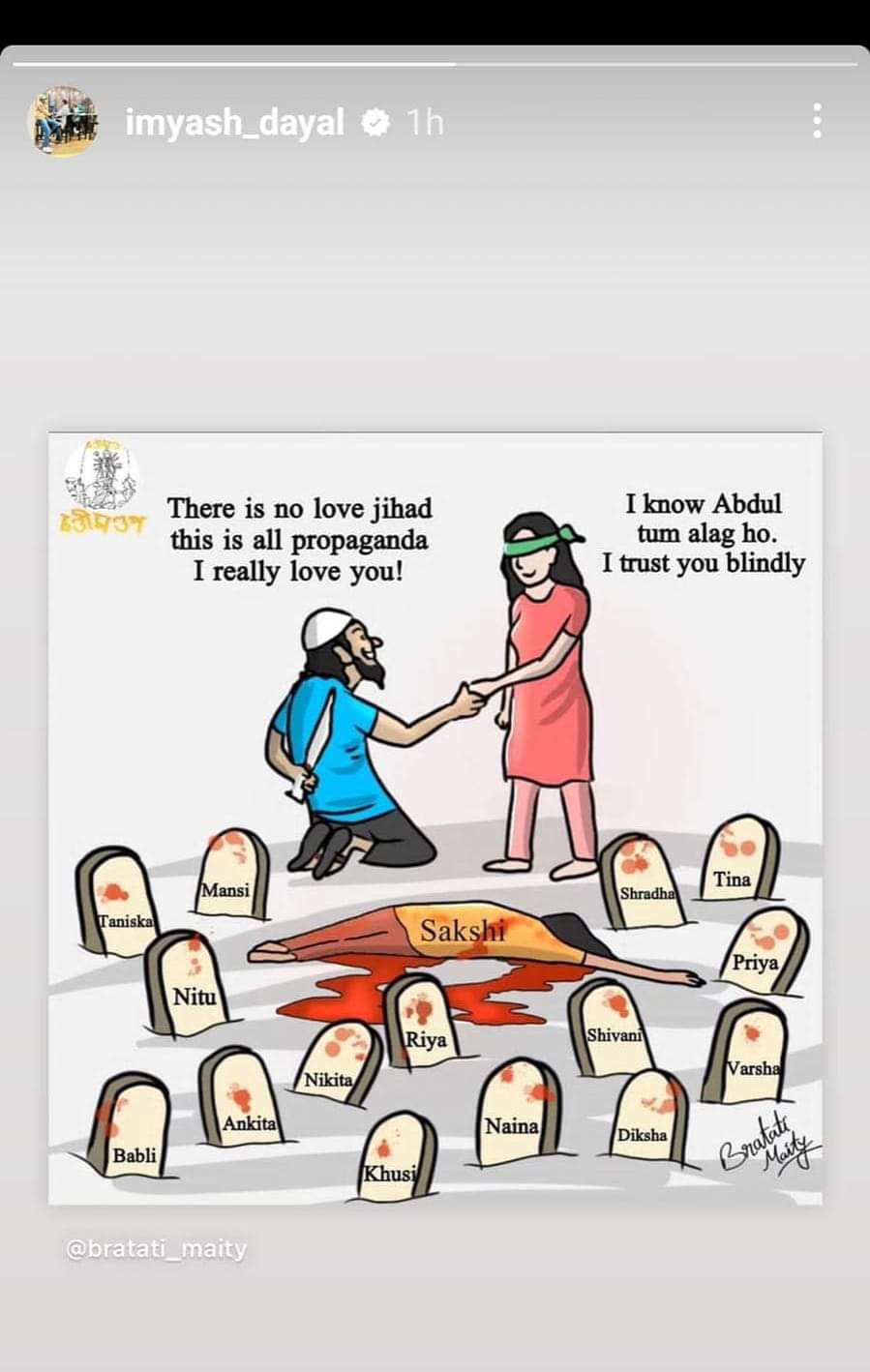 In the aftermath of Dayal's devastating performance, his mother, Radha, expressed her distress by refusing to eat. However, the Gujarat Titans unit rallied around Dayal, offering support and encouragement during this challenging time. Hardik Pandya, the team captain, expressed sympathy and emphasized that Dayal's recovery would require an extended period. Chandrapal, Dayal's father, disclosed that he had a heartfelt conversation with his son, reminding him that even renowned bowlers like Malinga and Stuart Broad had experienced similar setbacks in their careers. The team's efforts to console and uplift Dayal demonstrate their commitment to helping him regain confidence and form.
also read : 50 வயதிலும் திருமணம் ஆகாத 6 தமிழ் நடிகைகள் !!
Yash Dayal's IPL 2023 journey has been marred by controversy and a significant decline in performance. The Instagram story incident involving a sensitive murder case, coupled with his poor outing against the Kolkata Knight Riders, has impacted his career trajectory. However, with support and determination, Dayal can bounce back and rediscover his form in the future.
"Guy's apologies for the story it was just posted by mistake plz don't spread hate.  Thank you, I have respect for each & every community n society" read the description of his next story.
Check out some of the reactions that surfaced for Yash's story :
He is Yash Dayal, GT bowler.

He plays with bowlers like shami, Rashid and Noor Ahmad for GT.

In IPL 2023, when KKR needed 29 runs in last over, Rinku singh smashed him for 5 consecutive sixes.

Today He has posted this Instagram story on his account.

Maybe Rinku knew already… pic.twitter.com/VIk5AHwXy0

— Dr Nimo Yadav (@niiravmodi) June 5, 2023
Gujarat Titans Fast Bowler Yash Dayal Issues Apology For Sharing "Islamphobic" Post. pic.twitter.com/nGMD6h6Skl

— Ahmed Khabeer احمد خبیر (@AhmedKhabeer_) June 5, 2023
also read : Manikandan Of "Jai Bhim" Fame Charges In Crores?? Actor's Comment Is Trending
Yash Dayal who plays for Gujarat Titans in IPL his teammates are Md Shami, Rashid Khan and Noor Ahmed, He is the same fellow who has been hit for 5 consecutive 6's by Rinku Singh. This is his Instagram story today. pic.twitter.com/PWWliRATkW

— Gabbar (@Gabbar0099) June 5, 2023