WWE Superstar Hulk Hogan Getting Married At The Age 69 !!
Written by gokul krishnan Published on Jul 27, 2023 | 01:52 AM IST | 88
Follow Us
Comments: 0
wrestling superstar Hulk Hogan has announced his plans to tie the knot for the third time. The 69-year-old icon recently revealed that he proposed to 45-year-old yoga instructor Sky Daily, and she enthusiastically accepted. Taking to social media, Hogan shared the exciting news with his followers, exclaiming, "She was crazy enough to say yes, brother!" (per CNN). The couple's romance began in early 2022, shortly after Hogan's separation from Jennifer McDaniel, his second wife of 11 years.
Clarifying any doubts about his relationship status, Hogan posted on his social media in February, "Yo Maniacs, just for the record, the Facebook and Instagram posts are of me and my girlfriend Sky. I am officially divorced, sorry I thought everyone already knew."
also read: Mumbai Man Arrested For Rap*ng A Woman Whom He Met On PUB-G Game!!
Hogan's first marriage was to Linda, whom he wed in 1983. Together, they share two adult children, Brooke and Nick. The Hogan family became household names when they starred in the reality show "Hogan Knows Best," which aired on VH1 from 2005 to 2007. Unfortunately, the same year the show ended, the couple filed for divorce, marking the end of their 24-year-long marriage.
Following his divorce from Linda, Hogan found love again with Jennifer McDaniel, and they married in December 2010 after almost three years of dating. However, their relationship faced its own challenges, and Hogan filed for divorce in 2021. According to TMZ, part of their settlement required the WWE legend to buy McDaniel a car.
Now, with the past behind him, Hogan is ready to embrace a new chapter of his life with Sky Daily. Despite their age difference, the couple seems happy and excited to start this journey together. Hogan's followers have shown an outpouring of support and best wishes for the couple's upcoming nuptials.
also read: Karnataka : Bike's Untimely U-Turn Caused Huge Accident!! CCTV Footage Out
Sky Daily, a yoga instructor, is known for her dedication to health and wellness. Her passion for yoga has allowed her to build a significant following on social media, inspiring many with her fitness journey and spiritual insights. As she steps into the limelight alongside Hogan, her popularity is only expected to grow.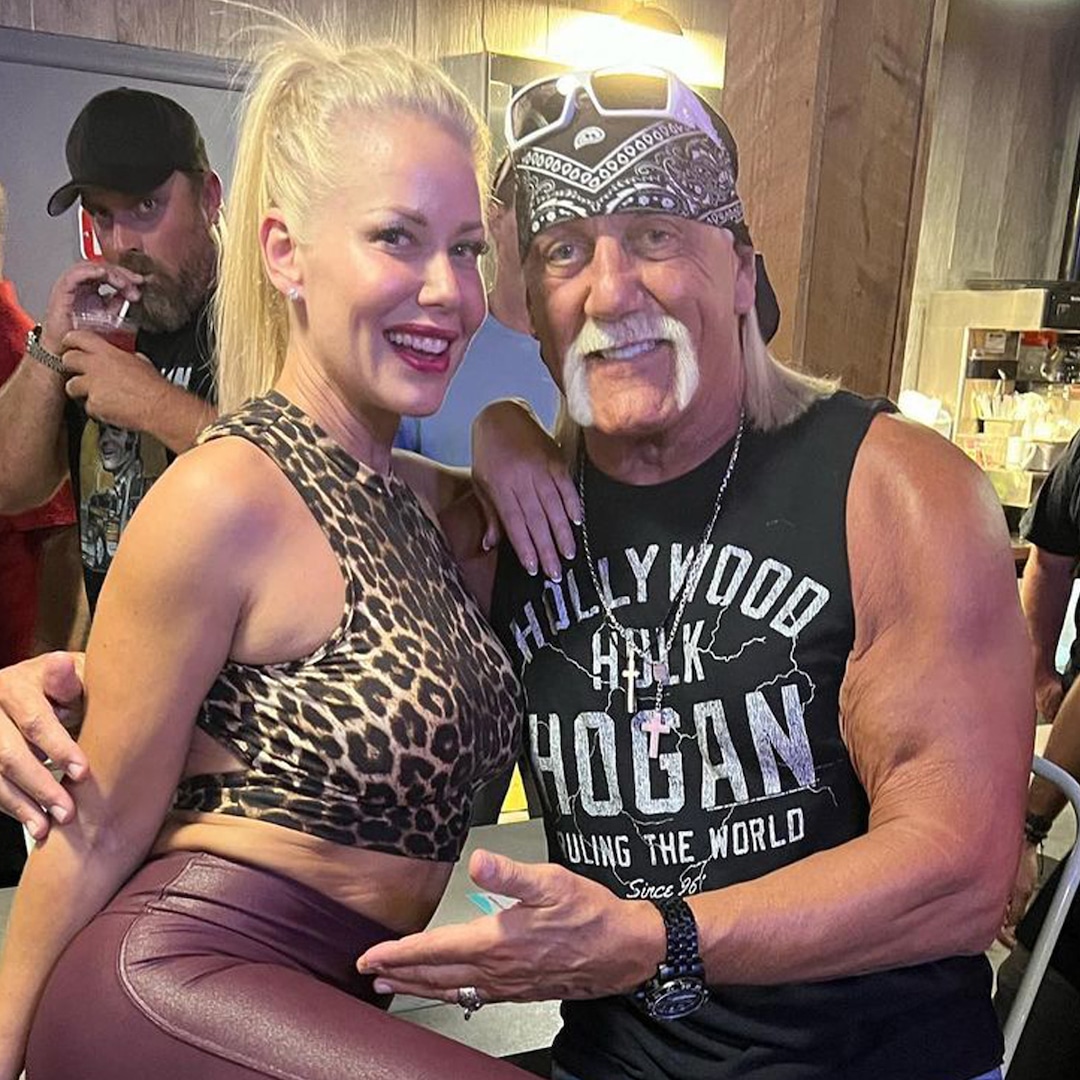 The wrestling legend's career is a storied one, filled with incredible highs and challenging lows. Hogan, whose real name is Terry Gene Bollea, became a household name in the world of professional wrestling. Throughout the 1980s and 1990s, he captivated audiences as the charismatic and patriotic character "Hulk Hogan." His battles in the ring, as well as his appearances in movies and TV shows, earned him a dedicated fan base and cemented his status as one of the most recognizable figures in pop culture.
also read: Dulquer Replied To A Fan's Question On Acting In A Video Song!!
However, Hogan's journey wasn't without controversy. In 2015, a scandal erupted when a leaked sex tape featured Hogan making racist remarks. The incident led to his termination from WWE and a considerable public backlash. In the aftermath, Hogan underwent sensitivity training and worked to rebuild his image and reputation. Over the years, Hogan has also faced several health challenges, including multiple back surgeries and hip replacements. Despite these setbacks, he remains determined to stay active and involved in the world of wrestling and entertainment.
Here is the tweet below:
பிரபல ஓய்வு பெற்ற மல்யுத்த வீரர் ஹல்க் ஹோகன் (69), ஸ்கை டெய்லி (45) என்ற பெண்ணை மணந்தார்!#SunNews | #HulkHogan | #SkyDaily pic.twitter.com/kAYPj1RSq2

— Sun News (@sunnewstamil) July 26, 2023
As Hogan prepares for his third marriage, he reflects on the lessons learned from his previous relationships and the importance of finding happiness and fulfillment in his personal life. He hopes that this union with Sky Daily will bring him the love and support he deserves, while also providing a strong foundation for a lasting partnership.
Here is the video below:
Hulk Hogan's announcement of his upcoming marriage to Sky Daily marks an exciting moment in the wrestling legend's life. As he embarks on this new journey, fans and well-wishers from around the world eagerly await the couple's wedding day. Hogan's legacy in the world of wrestling will forever be etched in history, but now, he looks forward to creating a new legacy of love and happiness with his soon-to-be wife, Sky Daily.