An extortion racket involving a four-member gang and the dozens of women they sexually assaulted and blackmailed has been unearthed in Tamil Nadu. Dozens of women were befriended on Facebook and then lured by the gang and sexually assaulted. The men would film these incidents and then resort to blackmailing the victims to not report the incident otherwise threatening to release the video online.
[wp_ad_camp_1]
The members of the gang have been arrested after a complaint was filed by a 19-year-old girl who came forward and told her story of the incident. A police officer involved in the investigation said in part, "They harassed women in moving vehicles, hotels and even a farmhouse near Anamalai forest. The victims are from Chennai, Coimbatore, Salem and many parts of Tamil Nadu."
The case has sparked outrage among politicians and celebrities in Tamil Nadu after there were suspicions of a political link to the case. A local member of the legislative assembly V Jayaraman denied any links to the case. It came in response to reports that his son was allegedly involved in the crime network which included the gang in question regarding this case.
[wp_ad_camp_1]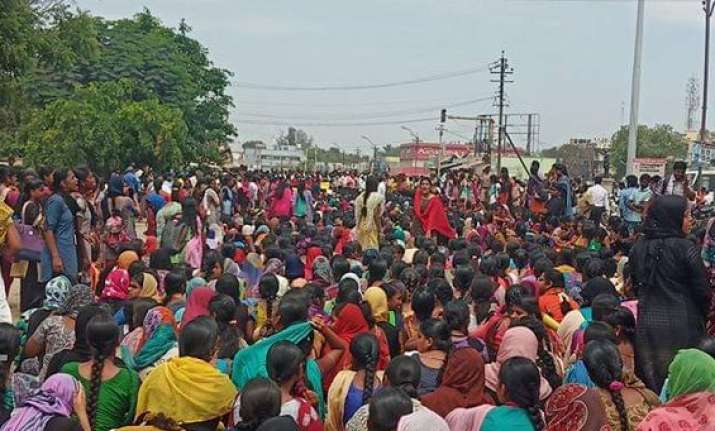 The matter came to light and received huge attention only after the release of the video of the victim screaming to leave her alone to the culprits. Now a famous Tik Tok user Gabrella has done a video of reenacting the exact Pollachi situation.
That's enough cringe for this year. Thanks Lady Kaala. pic.twitter.com/j844G0Yux4

— The Dankness Tamil (@DanknessTamil) March 12, 2019
In the video she is doing an act of a girl talking to her boyfriend who asks her to come in person in order to meet. The girl accepts his proposal and denies after hearing about the Pollachi incident is what she tried to convey through her video. But it completely went wrong once the separate clip of her imitating the Pollachi victim went viral. The netizens expressed uttermost hatred against the video and severely condemned her.
கெரகம்..
ச்சை 😣😣

— மனோ🍀 (@ManoMagikk) March 12, 2019
இந்த மாதிரியும் சிலர் ச்சை

— HBD Suresh machi 🎊 (@SairSairam) March 13, 2019
This is messed up.. Why would anyone think of making a dubsmash or whatever of that horrific incident? Jhutha maaro BC..

— All Power to All the People! 💪🇮🇳✡️ (@maarpu2019) March 12, 2019
Kadasila ithaiyum tik tok panitingala d konthanigala 😡😡😡😡😡

— Hari Prasad (@hari_iamhp) March 13, 2019
This girl need a direct admission to #Psychiatrist ward in any #Mental Hospital.. !!

Please save her 😒😒 #MultiplePersonalityDisorder #AttentionSeekers

Possible #bipolardisorder too

— Sankar_Tweets (@Sankar__Tweets) March 12, 2019
அறிவு கெட்ட முண்டம்..
கொஞ்சமாவது புத்தி வேணா…

— Hamsa (@Hamsa59032071) March 12, 2019
[wp_ad_camp_1]
Now she has came up with an explanation video saying that she did it only to create awareness. She also request the social media users to watch the full video in which she has not acted with the victim's voice but with her own voice. Gabrella is known for her Tik Tok videos and she has done a vital role in Nayanthara's upcoming horror flick "Airaa".
Protest all over the state to get justice in the Pollachi rape case has been held. More than 700 police were deployed to monitor the situation. A rally by various social and political organisations has been planned on Tuesday evening at Pollachi.
Police have refused permission for protest rally citing law and order reasons. The rally was to be conducted by various social and political organisations.