Woman Tennis Player Adjusted Her Top Inside The Court !! Here's What Fans Reacted !!
By Dhiwaharan
A lot is being said and discussed about gender equality but one more incident has taken place which makes us believe that implementing gender quality is still a daunting task.
Alize Cornet, the French Tennis player, was lately handed a code of violation during a US Open match when she readjusted her top because she wore it from front to back. She did it on the side of the court but the umpire found her guilty of breaking a rule.
Cornet( info – @nicklester , @BenRothenberg,@ymanojkumar)(🎥Eurosport) pic.twitter.com/RlfQT3t77a

— doublefault28 (@doublefault28) August 28, 2018
However, men players never break a rule when they go topless on the tennis court as you can see player Novak Djokovic sitting topless during break but he was not handed a code of violation.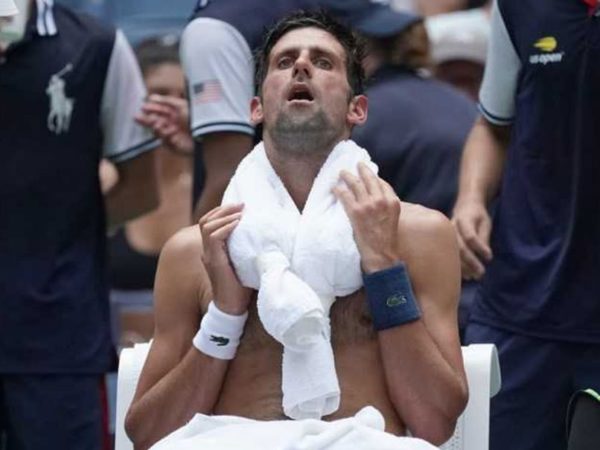 If you remember, the French Open Officials even banned the catsuit worn by Serena Williams and the reason that they gave was that one must respect the game and the place. Well, it was a fully covered dress that was worn due to health related reasons which makes it more difficult to understand how it was disrespecting the game and the place.
[wp_ad_camp_1]
If we go by the report that was published in ABC, it tells that as per the 2018 WTA rule guide, women players should change their dresses off-court and that too in the "most private location". They should have explained the meaning of "most private location" as it is very confusing to understand.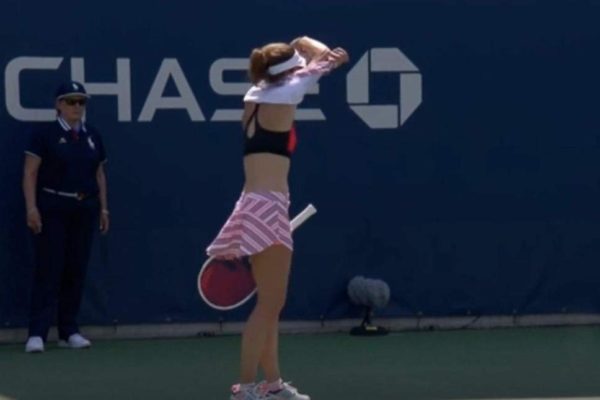 As the matter got a lot of attention, the US Open soon issued an apology stating that they are upset about the code of violation given to Cornet. They also clarified that she has been given a warning only and no fine or penalty has been imposed, just to make sure that this type of incident doesn't take place in the future.
Cornet accepted the apology but she did slam the President of the French Tennis Federation for banning the dress of Serena Williams.
[wp_ad_camp_1]
This incident has created a storm on the social media and people are not happy about it. However, some are saying that she was handed a code of violation because she changed between the points while men were seen removing their shirt in the break time or at the end of the game.
Here are some reactions:
She had on a sports bra which covers more than most swimsuit tops. Besides, why can't she take off her shirt as the men do? Gender equality? So much for our having "Come a long way baby." Slims, anyone?

— Julie Evans (@jagecrittermama) August 29, 2018
It maybe a code violation for delaying the match but unsportsmanlike conduct really? Its not like she did it to get attention.

— ArleneNars..🐍🐍bot💯 (@PovAmay) August 29, 2018
You cannot be serious! Men change their shirts on court all the time … that's ridiculous!!!!

— Joy Vaz (@joy_vaz) August 29, 2018
When will the male population finally understand that women have breasts. Why are we censored, persecuted, exploited & unfairly treated because of them. Show me 1 male player issued with a violation for changing tops?

— Sharon Smith RN DN BSc (@Sharon7409) August 29, 2018
That's an in the heat of the moment reaction, literally. Nothing wrong with it. Why penalise her?

— Jar2018 (@Jar20181) August 29, 2018
Men are allowed change – but women are not. The rule one way or other, should be applied to both sexes? I think so, myself.

— Unitedpeople (@Unitedpeople_ie) August 29, 2018
[wp_ad_camp_1]
Uhh this must be a joke??? I can't think of a single man who would EVER get offended or care about that. That's disgraceful. Awful umpire!

— Colm Sweeney (@imcolmss) August 29, 2018
She is wearing a sports bra under… Really give me a break… Guy's and their boobie issues.

— Macroloading (@MACROLOADING1) August 30, 2018
What the heck is wrong with umpire? She wa wearing more than a beach bikini

— John M (@JohnM22424493) August 29, 2018
The violation is most likely because she changed between points. nothing to do with her gender. Us women need to grow up and stop seeing abuse everywhere. below is a link of Jelena Jankovic changing her underwear at the french open. https://t.co/QC73WspBEB

— rachel corneille (@rachelcorneille) August 29, 2018
I play tennis and I don't think the umpire called it for the shirt I think they called it for the time.They have now added a 25 sec serve clock and if you pass it you get a violation of unsportsmanlike conduct. The us open's policy is that you are allowed to change your shirt

— NyleS (@blackfoothu) August 29, 2018

What is your take over the matter? Let us know.