Woman Stripped Inside Elevator To Avoid Going With Police & Caught In A CCTV Camera !!
CM / Updated: 2018-10-30
16:53 IST
By Dhiwaharan
The lobby of an apartment building in a posh Mumbai locality was the setting for high drama and fracas sometime last week. At the centre of the midnight commotion were a young woman, men from the Mumbai Police and a security guard.
[wp_ad_camp_1]
Videos — available on social media and retrieved from the building's CCTV system — show the woman, at various points, hitting a security guard, shouting and screaming at Mumbai Police officers and angrily stripping down to her underwear. What exactly happened is unclear. Who was at fault is unclear as well.
incident has taken place in the financial capital of India, i.e., Mumbai, that has once again raised questions on the working style of Mumbai Police. A girl named Megha Sharma had an argument with the security guard of the building and she alleged that she was hit by him as well.
The incident took place at around 1:00 am at posh residential complex and Lokhandwala and Oshiwara police arrived within minutes after the girl dialed the emergency number. She told the police about the incident but cops asked her to come with them to the police station despite the fact that as per the law, police can't even arrest a female after 6:00 pm or before 6:00 am. What's more shocking was that the police team arrived without a female constable. The girl refused to go with the cop while all of them were forcing her for this.
[wp_ad_camp_1]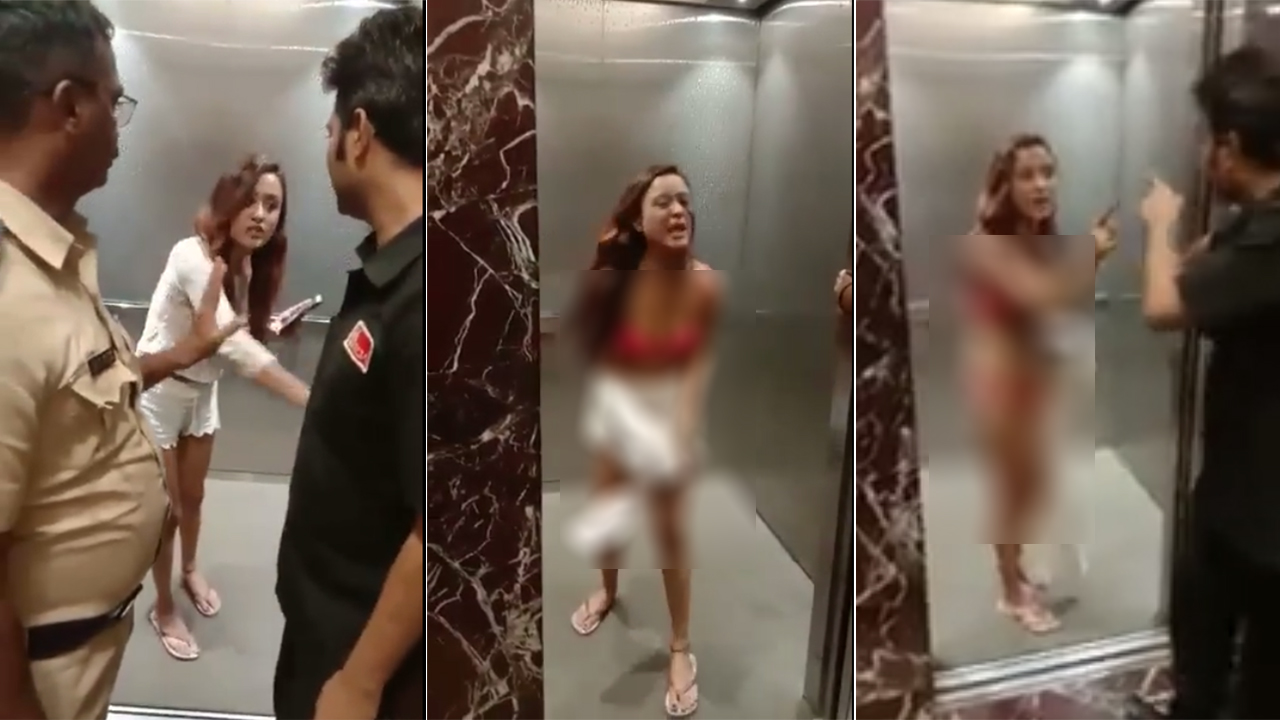 She told them that she would visit the police station tomorrow and entered the lift to go back to her apartment. Subsequently, the policemen followed her and tried to stop her. In fact, the guard against whom she had made a complaint was stopping the lift doors from closing and the cops and other men were asking her to come out and go to the police station. She tried to go back to her apartment and said that her lawyer would talk to them but when they didn't let her go, she started removing her clothes angrily while people standing over there made video of her act.
Here's what she wrote while sharing the video on Facebook:
"So yes here am I again …people doesn't know that what had actually happened…thy just saw that which this janta showed thm …if a girl getting misbehaved by a watchmen at 1am and 2,3 watchmen hitting her back and when she called a copes thr for help the cops are telling her that come to the police station at 3am that to b no lady constable was thr …requesting thm will come tomorrow til the time u can talk to my lawyer frnd …and as per the law no police guy can take a girl in the night to the police station …she got stuck in the lift area for almost 10mints in between of those bastards…all the cops and watchmen were not letting her go up …and she felt too much of scared and threatened by everyone's around her, feeling like y thy want me to take with them now when I m already saying will come tom to file a complaint against that watchmen …I thought that once I'll b out thy might rape me coz all cops were men thr …and yes a case has happened in pune that a girl had a gang rapped by these cops nly…if anyone can search on google for cops thy will get to know what thy are and who thy are …and second thing I need to ask whole janta here who is putting me an allegation without knowing the whole story that what had happened that night ,tel me one thing y those cops came thr without any lady constable when thy already knew that a girl is complaining …I was literally got scared of I m begging in front of thm, crying to go up then y thy forcefully wanna take me out at 3am in the police station which is not allowed without my permission whn I already told that i will come tom to file a complaint against that watchmen, …when those bastards were not leaving from thr thn i hav to all that if u really wanna do or something going in ur mind do it here nly thn in front of CCTV cameras but I'll not come with u guys n go to the police station now coz I don't trust those copes even who didn't had a single lady constable over thr, might be thy can take me somewhere else instead of police station…
And now u nly tel me who make videos in front of a police department , when I was doing all that …copes were thr seeing tamasha of mine but thy didnt stopped them not to take out my video …and if those cops had told me that madam u can go , n come tom to file a complaint that wouldn't had happened what I did over thr..
Seriously we girls are not safe in our own country ,in our own building n thn to b in mumbai which we say its a safest city and moreover the copes who are thr to protect us…
U know guys putting a blame on a girl its too easy but knowing the actual fact its too difficult…
Also a girl will think 100 n ten times doing all that what I did, but I'll fight for my justice til my last breath …
Posting a video to all of you who thought me wrong without knowing anything and gave me a name of feminism …
Thanx"
Watch the video:
Here's the video that was going viral and showing the girl in a bad light:
It is being said that earlier, the woman called the guard Alok on the intercom and asked him to bring cigarettes for her but when the guard refused, she came down and had an argument with him and hit him. The girl is originally from Dehradun and living in Mumbai at present.
[wp_ad_camp_1]
She has tweeted about the whole matter as well and shared a statement: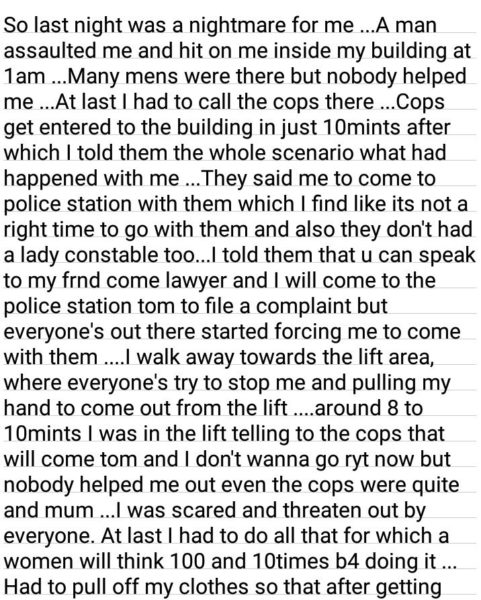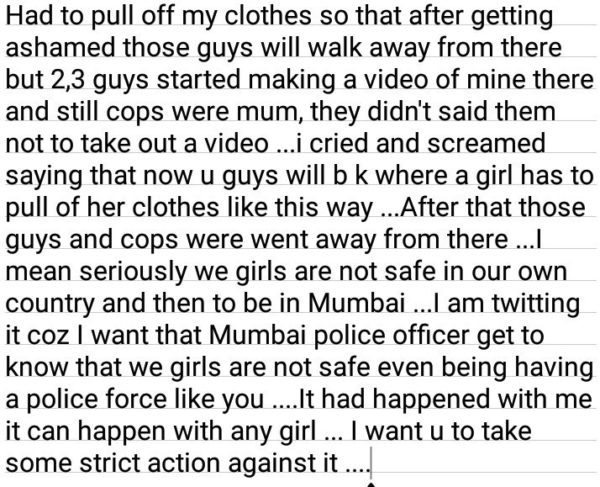 @MeTooMVMT@VijayaRahatkar @MumbaiPolice pic.twitter.com/jj59GEstrs

— Megha Sharma (@MeghaSh77484473) October 26, 2018

However, now a new video is being surfaced on web and social media which clearly shows that Megha was the one who first attacked the guard and it was not the guard who assaulted her initially. Most of the time, it is Megha who has shown more aggression and has even slapped and kicked the guard.
Nothing is clear as to what happened between her and the guard prior to the scuffle so it is absolutely necessary that a proper investigation should be conducted in this matter.
What do you think on this issue ?? Let us know by commenting here if you can could come to an conclusion by seeing the videos !!