A woman journalist was allegedly heckled by protesting Bharatiya Janata Party (BJP) workers on 2 January in Thiruvananthapuram after violence to protest the entry of two women of menstrual age into the Sabarimala temple on Wednesday, 1 January, virtually brought the state down to its knees.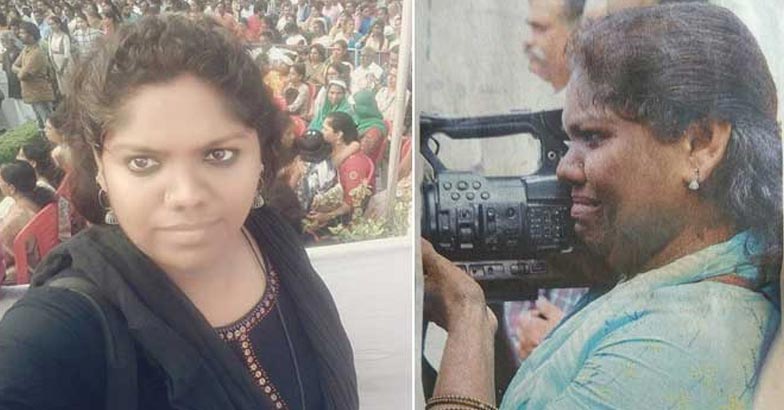 [wp_ad_camp_1]
A photo of a man pointing his finger at Shajila Ali Fathima, a cameraperson with Kairali TV, and a subsequent photo of a crying Shajila went viral on Twitter.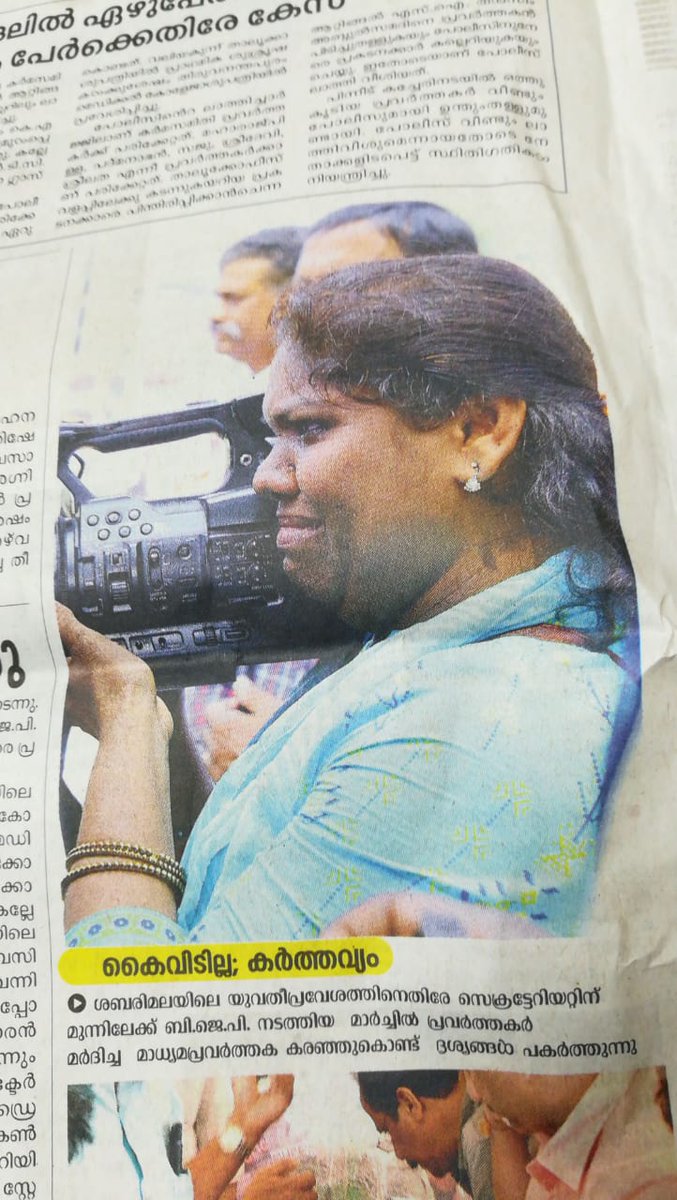 She was repeatedly attacked and abused allegedly by protesting BJP workers after two women entered the revered Sabarimala temple early on Wednesday morning.
Shajila was photographed with tears in her eyes and still holding up her camera to shoot the protests in Thiruvananthapuram as the state boiled over the women of menstruating age entering the temple that has traditionally banned their entry.
Protests and a shutdown called by Sabarimala Karma Samithi, an umbrella organisation of various pro-Hindutva groups, and the Antarrashtriya Hindu Parishad (AHP), have brought the state to its knees with hundreds of protestors running amok.
Several journalists staged a march in the state capital on Thursday to protest against the assault they were subjected to since Wednesday.
[wp_ad_camp_1]
The state was under siege as strike supporters clashed with police and the ruling CPI(M) activists at several places.
"I was shocked when I got that unexpected kick on my back. It was the worst experience in my professional career," Shajila Abdulrahman, a cameraperson who was covering a Sangh parivar protest in Kerala over the entry of two women in Sabarimala temple, says holding back her tears.
She was heckled, abused and threatened with dire consequences but her camera had kept rolling. A cameraperson wih Kairali Television, she had been assigned to get reactions from BJP leaders about Bindu Ammini and Kanakadurga's historic feat of offering prayers at the Sabarimala shrine, becoming the first women under 50 to enter the sanctum sanctorum since the Supreme Court verdict.
The protest she was covering in Thiruvananthapuram, one of many across the state, had been organised against the entry of the two women.
[wp_ad_camp_1]
"I didn't know where that kick came from. It caught me unawares and hurt my back. As I was writhing in pain, the attackers tried to snatch the camera, but I used all my strength to keep hold of it. I injured by neck in the melee," she recalled.
Shajila, is being treated for back and neck injuries in Thiruvananthapuram, but says she is not afraid of the BJP and would continue covering the party's protest against the SC verdict.
Here's how social media reacted to this shameful incident :
Yo @IndEditorsGuild, care to take this up as well? Or foot soldiers who face much more than name calling and harsh language are immaterial? Tyranny of distance eh? #Sabarimala #Kerala pic.twitter.com/oXWiT7TwRC

— Pooja Prasanna (@PoojaPrasanna4) January 4, 2019
A women journalist was assaulted by protesting BJP workers yesterday. Shilaji ali fatima, a cameraman with shajila tv had been covering the state wide protest against the entry of two womens of menstrual age into sabrimala temple.

— SHEIKH ADNAN MUSHTAQ (@AdnanKupwara) January 3, 2019
Has police booked the scoundrel threatening the woman journalist yet? There are ample proofs available for police to arrest this goon openly threatening a journalist in broad daylight. #SabarimalaShowdown

— Speakmyheart (@story_views) January 3, 2019
For shame. No one should be attacked for doing their job. ""I am not afraid of the BJP. I will continue to cover BJP demonstrations… Perhaps these people don't like seeing women in public."https://t.co/2OcKaSpuAz

— Maanvi (@Maanvi2501) January 4, 2019
😢😡😡cowardly act. media persons must be given respect, that too attacking another woman in public is highly condemnable one. our thoughts with you sister.. #media #reporters #journalists

— MakkalPathai.Org "மக்கள் பாதை" ஆதரவாளன் (@WhoIsSagayamIAS) January 3, 2019
"Shajila Ali Fatima, camera person from Kairali TV,said that she was not afraid of #BJP and would continue to cover the agitations. The journalist was lauded by netizens for her courage, despite being visibly disturbed." A true media person.
Shame on #Pliable and #PidiJournalism pic.twitter.com/YnN8umnF1J

— Congressman Gulam Mustafa 🇮🇳 (@eGulamMustafa) January 4, 2019
This is Shajila Ali Fathima, the brave woman journalist who covered the violence crying in pain after she was attacked by the RSS-BJP members. It is reported that she was hit on her neck but didn't retreat from her duty. Hats Off! @Nidhi @sardesairajdeep @t_d_h_nair @RifatJawaid pic.twitter.com/XiTVzpTRRE

— JeremyHassan (@JemHassan1) January 3, 2019
In Thrissur, three BJP activists were stabbed during a clash with workers of the Social Democratic Party of India (SDPI), the political wing of Popular Front of India, a militant Islamic outfit, police told PTI.
A 55-year-old man, who was seriously injured when CPI (M) workers hurled stones at protesters from atop their party office at Pandalam in Pathanamthitta district, died late Wednesday night.