A doctor got cheated Rs.2.5 crores by his female patient who promised him an "Aladdin Magic lamp" that would make his wishes come true. The incident took place in the Meerut district of Uttar Pradesh and a police case has been registered regarding the case. Two men linked to the woman posed as "tantriks" and have cheated the London-return doctor.
[wp_ad_camp_1]
In the Khairnagar area under Brahmpuri police station, this bizarre cheating took place. The victim who is a doctor was identified as Laeek Khan and the incident came to light after he reached police to register complaint against the cheats. Reports suggested that the two men who cheated the Doctor were arrested and the alleged "Magical lamp" was recovered.
Sameena, a female patient came into contact with the doctor in the year 2018. To do dressing followed by her surgery, the doctor started visiting her home frequently. At her home, Laeek met a "tantrik" named as Islamuddin. He reportedly made big promises to Laeek and made him believe that he has superpowers to make people wealthy. He promised the doctor to make him a billionaire.
After making him believe their lies, the "tantrik" and his friend introduced the doctor to the "Aladdin Magical Lamp". To make him fall into their trap, they even made a "jinn" appear from the "Magical lamp". The duo often made the "jinn" to appear in front of the doctor to gain his belief, reports suggests.
[wp_ad_camp_1]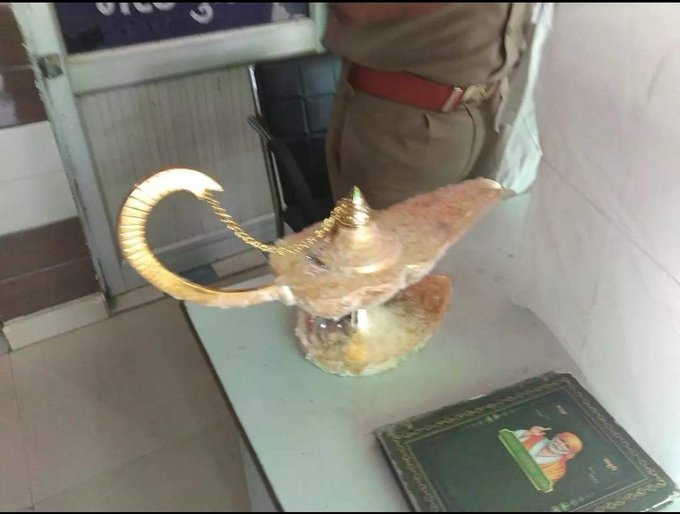 At one point, the doctor expressed his wish of taking the lamp to his home with him but the duo scared him saying that it will do bad things to him if he touched the lamp. After so many days, the doctor realized that the "jinn" was none other than Islamuddin, the husband of his patient Sameena.
The doctor reported that the accused cheated Rs. 2. 5 crores of him in total for selling the "Aladdin Magical lamp". He reportedly paid the entire money in installments. Immediately after knowing that he got cheated, the doctor approached Meerut Superintendent of Police and seeked his help to arrest the culprits.
[wp_ad_camp_1]
Amit Rai, Circle officer of Brahmpuri said that they have arrested Islamuddin and his friend Anees for involving in fraudulent. Attempts to arrest Saleema, patient of the doctor is currently underway, he updated. This incident had raised the eyebrows of the netizens who are reacting in the Internet in various ways.
Many of them wondered how could a man who studied to become a doctor and returned from London fell for such trap. "Education really is a piece of paper in literal meaning" wrote on of a twitter user on seeing the news whereas another one said "I am surprised that even in 2020, some people think that a jinn/genie in a bottle/lamp is a good buy."
Comment your views on this bizarre cheat that took place in the north part of the country !!