"Why Are You Silent Now?" Actress Questioned Over Virudhunagar Ra*pe!!
By Dhiwaharan
Actress Kasthuri who is known for opining on social issues, came up with a tweet questioning why DMK supporters who raised voice for Pollachi crimes, Hathras gang rape case and BJP Raghavan's video leak issue are silent now. She also challenged the DMK supporters to talk about the community of the Virudhunagar accused like they made fun of KT Raghavan's community.
A 22 year old woman from Virudhunagar approached women helpline to make a complain against a group of men who sexually assaulted her for 7 long months after blackmailing to leak her private videos in internet platforms. The list of the accused include three school going students and a DMK functionary.
According to the Police complaint, the woman befriended with one Hariharan alias Saravana through social media. After involving in a romantic relationship, the duo had sexual intercourse which a recorded by Hariharan.
Hariharan reportedly showed the video to his friends and they got the woman's details from him. Police said that they contacted the woman and threatened to leak the video and forcefully raped her multiple times between August 2021 and March 2022.
Police said that the action against the accused were initiated after the survivor contacted women's helpline to make a complaint. It also has been reported that the victim sought help from her neighbour named Madaswamy (37) to get out of the situation. However, Police report say that he too used the video to threaten and sexually assault the woman.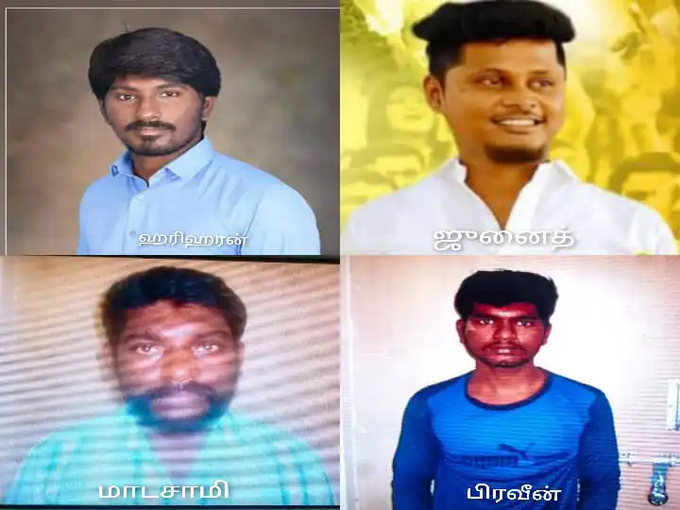 Several cases under relevant sections has been filed against the eight accused Hariharan, Madasamy, Praveen, Junaith Ahmed, one 18 year old, two 17 year old's and a 15 year old boy. Further investigations are currently underway as all the eight men were arrested by the police. Junaith Ahmed has been identified as a functionary of ruling party DMK and some reports suggests that Hariharan also belongs to DMK. The party has suspended the former, according to reports. The Police are investigating whether the accused were involved in any other similar crimes.
Chief minister MK Stalin, in a statement, said that the criminals will be punished to set an example to the entire country and transferred the case to CB CID. The DMK leader demanded results within 60 days, according to reports.
#BREAKING | எப்படி விரைந்து தண்டனை பெற்று தருவது என்பதற்கு இந்தியாவுக்கே முன்மாதிரியாக இந்த வழக்கு இருக்கும் -விருதுநகர் பாலியல் வன்கொடுமை வழக்கு குறித்து முதலமைச்சர் மு.க.ஸ்டாலின் சூளுரை #SunNews | #MKStalin | @mkstalin pic.twitter.com/Nk2KJDFpH9

— Sun News (@sunnewstamil) March 23, 2022
Meanwhile, actress Kasthuri came up with a tweet questioning the silence of DMK supporters. She challenged them to talk about the communities of the culprits and asked them to show interest in the case as they showed in Pollachi and Hathras case.
Check out her tweet below :
பொள்ளாச்சிக்கும் அசிபாவுக்கும் பொங்கிய உடன்பிறப்புக்கள் விருதுநகர் விஷயத்தில் மௌனம் காப்பது ஏன்? பெண்ணின் மானம் காக்க கூட கட்சி பார்த்துதான் குரல் கொடுப்பீர்களா? ராகவன் ஜாதியை இழுத்தவர்கள் எங்கே, ஹரிஹரன், ஜூனைத் அஹமது , மாடசாமி முதலானோரின் சமூகத்தை பேசுங்க பாப்போம்? #expected

— Kasturi Shankar (@KasthuriShankar) March 23, 2022
Check out some of the top reactions her tweet received :
— Mohammed Riyaz (@Mohamme79111517) March 23, 2022
பேச தெரிந்தால் பேசுங்கள். பொள்ளாச்சியிலும் காஷ்மீரிலும் நடந்த குற்றங்களுக்கும் குற்றவாளிகளுக்கும் ஆளும் அரசுகள் துணை நின்று அவர்களை காத்தனர். இன்று குற்றவாளிகள் கைது உடனடியாக நடந்து , கடும் தண்டனை பெற்றுத்தர வேண்டுமென முதல்வர் சொல்லியிருக்கிறார். காவல்துறைக்கு உத்தரவிட்டுள்ளார்.

— Salma (@salma_poet) March 23, 2022
ஆசிபா நடந்த தகாபாதக செயலுக்கு தேசியக்கோடி ஏந்தி இரண்டு mp தலைமையில் குற்றவாளிக்களுக்கு ஆதரவாக பேரணி எல்லாம் தமிழ் குடி மக்கள் ஓரு போதும் செல்லமாட்டார்கள்! ஆரிய வந்தேரிகளும், அவர்களுக்கு மண்டியிடும் சங்கிக்கள் தான் செய்வார்கள்!!! அந்த கயவர்களின் தண்டனை இந்திய வரலாற்றில் இடம்பெரும்

— Vijay (@vijaykumartnj) March 23, 2022
இப்பதான் தெளிஞ்சதா

1. குற்றவாளிகள் அனைவரையும் கைது செய்தாச்சு.

2. விசாரணை CB- CID க்கு மாற்றியாச்சு.

3. காவல்துறை தலைவரின் நேரடி கண்காணிப்பில் விசாரனை நடக்கும்.

4. 60 நாட்களில் தீர்ப்பு கிடைக்கமளவு விரைவுபடுத்த முதல்வரே உத்தரவிட்டிருக்கிறார்.

இன்னும் வேறென்ன மாமி வேண்டும் 😏 pic.twitter.com/yQEpmWTV8X

— Sathiya Sothanai (@Timepassna) March 23, 2022