Why Alia Bhatt's Latest Movie Trailer Received The Highest Number Of Dislikes ??
Alia Bhatt
Sadak 2
Sushant Singh Rajput
CM / Updated: 2020-08-13
12:44 IST
By Dhiwaharan
The latest trailer of Aliya Bhatt and Sanjay Dutt's Sadak 2 became the most disliked trailer on youtube as soon as it go released. The film which is a sequel of 1991 film Sadak, was directed by Aliya Bhatt's father Mahesh Bhatt. As of now, the film's trailer in youtube received 5.5 million dislikes with 1 crore 71 lakh plus views which is the most in recent times. The film is scheduled to stream on Disney Plus Hotstar on 28th of August.
[wp_ad_camp_1]
Watch the trailer here :
Along with Aliya Bhatt and Sanjay Bhatt, the film stars Pooja Bhatt, Adithya Roy Kapur and others. The main reason behind the severe backlash that the film is facing is the alleged Nepotism that exists in Bollywood. Fans of actor Sushant Singh Rajput who found dead on June 14 in his apartment, highly believing that the actor was ostracised by the film industry, most notable by the "insiders", which drove him to suicide. The "insiders" includes Mahesh Bhatt and his daughter "Aliya Bhatt". A campaign has been initiated by the actor's fans to make it the most disliked video on youtube.
71 year old Filmmaker Mahesh Bhatt and Sushant;s girlfriend Rhea were rumoured to be dating when the actress starred in his film Jalebi. While the duo rubbished the rumours claiming that they share a close bond, their pictures went viral on the internet. Many pictures involving them are questionable in nature and raised suspicion on the nature of their relationship. Looking at Bhatt's personal life, his past relations, types of movies he makes, and his media image, one cannot deny the fact that Mahesh Bhatt is a person of questionable character. Many people believe that Mahesh bhatt forced Rhea to leave Sushant.
[wp_ad_camp_1]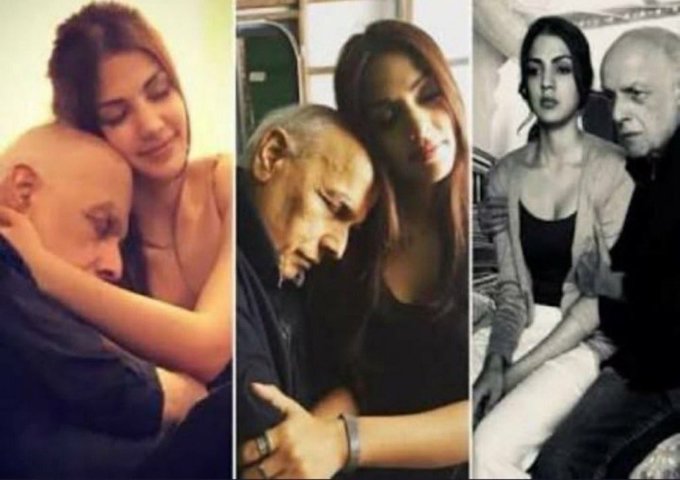 In 2018, Rhea and Mahesh Bhatt's pictures went viral in which they were seen hugging and getting close. The photos sparked controversy and were shared by Rhea herself on Bhatt's 70th birthday. Mahesh Bhatt, few days before releasing the trailer said "Today as we beginning the last leg of our journey. I feel unshackled ! I carry no burden, no weight. No reputation to hold on to. No mission to accomplish. Nothing to prove to anyone. If the film works, it belongs to all of you. if it doesn't, it's mine".
Check out some of the reactions on social media platforms regarding the trailer :
Dear people now the status of #Sadak2 trailer is this!
Likes- 1 lakh only!
Dislikes- 2 millions. Lol!
Let's create the history and make it most disliked film trailer in the world. Just open it, dislike it and close. Don't watch it pls.🙏🌹

— KRK (@kamaalrkhan) August 12, 2020
Most Liked Trailer – Dil Bechara from India
Most Disliked Trailer – Sadak 2 from India

Lol, Achievement :')

— 𝘍𝘭𝘺𝘩𝘪𝘨𝘩 🦋❤️ (Justice for Sushant) (@Shilpi_Flyhigh) August 12, 2020
[wp_ad_camp_1]
SADAK 2 trailer released*

Le viewers after pressing dislike button: pic.twitter.com/NFkAdfiyPR

— sʜᴜʙʜ̇ (@_im_Shubham_) August 12, 2020
#Sadak2 should be the biggest flop of Indian cinema! And i know the #ExtendedFamilyOfSSR can do it. #BoycottSadak2 #BoycottBollywoodFilms all films.

— mamta painuly kala (@mamta_kale) August 12, 2020
Congrats @aliaa08 for 1 million dislikes on Sadak2 trailer 👍👍👍 new world record.

— अंकित जैन (@indiantweeter) August 12, 2020
#MahaGovtBackingKillers
Bollywood, are you sure about releasing another film after so many dislikes on Sadak 2's trailer? LOL. Hope you get the message LOUD & CLEAR. After all, it's our choice, na? Nobody has forced to watch. Hope you know the name Sushant Singh Rajput now. pic.twitter.com/AVXwenwvKU

— Kay💥 (@Kay72836381) August 12, 2020
Comment your views on the film's trailer being disliked by this many users !!