The severe cyclonic storm Gaja has wreaked havoc in the delta regions of Tamil Nadu. The Tamil Nadu State Disaster Management revised the death toll to 46 on Tuesday and estimated that over 251,600 people have been evacuated to over 500 relief camps. Nagapattinam, Tiruvarur and Thanjavur are among the worst-affected regions in the state.
While actors Suriya, Vijay Sethupathy and Sivakarthikeyan donated Rs 50 lakh, Rs 25 lakh and Rs 10 lakh, respectively, lyricist Vairamuthu has donated Rs 5 lakhs. Vikram gave Rs 25 lakh towards the Gaja relief fund.
On behalf of #ActorSivakumar family #SriSivakumar @Suriya_offl @Karthi_Offl #Jyotika & @2D_ENTPVTLTD donating a sum of Rs. 50 Lakhs through NGOs towards #GajaCycloneRelief #GajaCyclone #LetsAllJoinHands #prayfordelta

— rajsekarpandian (@rajsekarpandian) November 19, 2018
Makkal Selvan #VijaySethupathi donate Rs. 25 Lakhs worth essential commodities and goods as immediate relief, he will provide emergency lamps in affected areas. His fans will help restore orchards & coconut grooves destroyed by #GajaCyclone @VijaySethuOffl @proyuvraaj pic.twitter.com/R41Q54jPDj

— Rajasekar (@sekartweets) November 19, 2018
Lyca productions, which has bankrolled the upcoming Rajinikanth-Akshay Kumar film 2.0, has donated Rs 1 crore. The film's director Shankar also gave Rs 10 lakhs for the same.
Dir @shankarshanmugh has donated ₹ 10 Lakhs to TN CM Public Relief Fund for #CycloneGajaHelp

Nice Gesture!

— Ramesh Bala (@rameshlaus) November 20, 2018
Thalapathy Vijay has deposited over Rs 2 lakh in the bank accounts of his fan club heads.
#ThalapathyVijay has deposited Rs 2 lakhs to 4.5 lakhs in the bank accounts of his fan club heads in the #GajaCyclone affected areas. Fans will take care of the relief measures and help needy people. He followed similar method during #KeralaFloods. pic.twitter.com/q23VqSyy8Y

— Rajasekar (@sekartweets) November 20, 2018
Meanwhile, fan clubs of Rajinikanth, Kamal Haasan, Vijay and Ajith have also come forward to help those in need. Rajini's fan club announced on Twitter that they will be spending the money they had saved for 2.0 celebrations on relief materials and aid.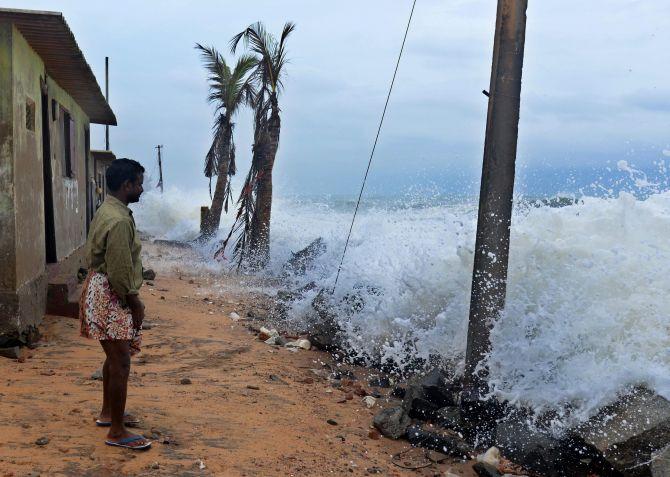 Yesterday Simbu also released a video regarding how we can donate for those affected people transparently. Now as an addition to them, Raghava Lawrenece who is not only an actor but also a socially responsible person which is evident through his social services he did earlier.  He did many social service activities in which he has aided many heart surgeries for babies.
He was also one among the supporters for the Jallikattu protest in Tamil Nadu in January 2017, who provided food, medicine and basic needs to the protesters and also promised to them that he will support them till the protests are over. He asked for an appointment with kerala chief minister Pinarayi Vijayan to donate 1 crore as relief fund for the kerala flood victims.
Now for the cyclone victims the actor has promised to build 50 huts for those who lost their entire houses due to this cyclone.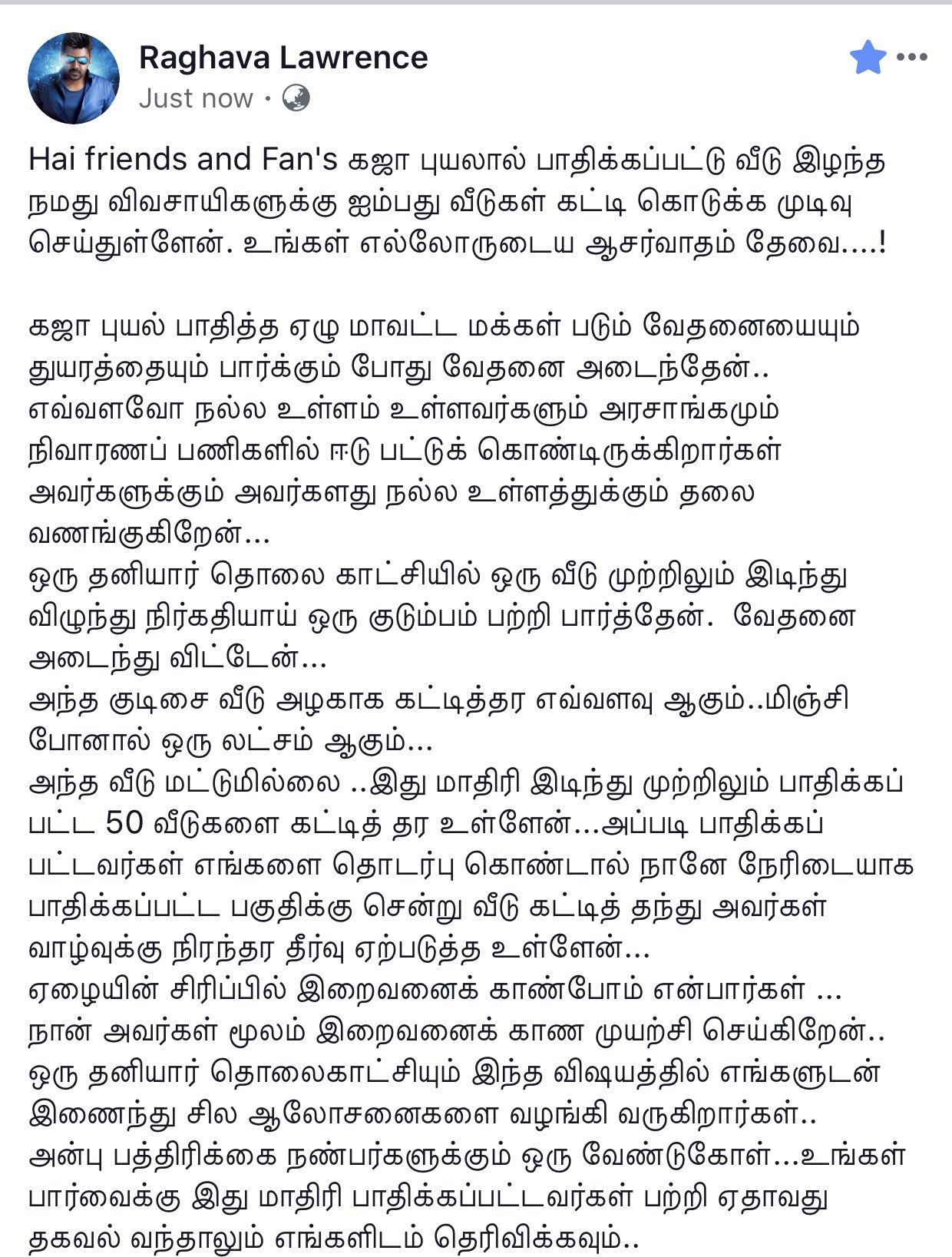 In his twitter release it is said "Hi friends and Fans, I have decided to build 50 houses for the farmers who affected by cyclone Gaja. Need your blessings. 
It distressed me a lot on seeing the disaster which affected 7 districts. I respect the government and those who worked for the relief cause. I saw a family's entire house being destructed by the disaster in TV which mentally suffered me a lot. 
I guess it will take maximum 1 lakh to build a beautiful hut. Not only for one house , I have decided to build 50 huts. A private channel also mentoring us in this matter. I request media people to help me in finding those families."
Check out some of the reactions he received :
Thank u bro.kindly help to them):- pic.twitter.com/wmJRhKpgUx

— FUN CLIP (@FunClipnew) November 22, 2018
Bro my suggestion… Instead of huts… Concrete houses build pani thandhaa Indha Mari they will not suffer in any cyclone… 50 huts ku badhila ungalaala 10 concrete houses Mudinja panunga… This will serve them long time 👌.. Just my thought bro.. Hats off fr ur works 👍

— Arun prasaath (@Arunprasaath12) November 22, 2018
பணம் இருப்பவர்கள் எல்லோருக்கும் கொடுக்கவேண்டும் என்கிற மனம் இல்லை. நீங்கள் சமூகத்திற்கும் ஆதரவு அற்ற குழந்தை களுக்கும் அயராது உதவி செய்கிறீர்கள். உங்கள் தொண்டு வளர்க உங்களுக்கு நீண்ட ஆயுளை கட்வுள் கொடுக்க வேண்டுகிறேன்.

— Truth prevails (@Kumar_go) November 22, 2018
குறைவான செலவில் வீடு கட்டும் தொழில்நுட்பங்கள் இருக்கு சார்…. இவங்கள மாதிரி ஆட்களை தொடர்பு செஞ்சி பாருங்க 50 லட்சத்தில் கூடுதலான வீடுகள் கூட கட்டலாம்..https://t.co/Z7AD2PiKdD

— நண்பன் ⚡S⚡A⚡N⚡ #SaveDelta (@sanraj2416) November 22, 2018
உங்களோட இந்த அன்புக்காகவே 1000+ கைகள் இணைவோம் தலைவா🙏🙏🙏

— தளபதிக்காக என் உயிர் 🙌 (@linnessandy) November 22, 2018
மிகப்பெரிய உதவி சார் இது… முற்றிலும் வீடு சிதைந்துபோன குடும்பங்களுக்கு இது பேருதவியாக இருக்கும்.

— நண்பன் ⚡S⚡A⚡N⚡ #SaveDelta (@sanraj2416) November 22, 2018
V.santhosh s/o s.vengadesan
Mariyamman koil street, mettupalayam village, Thiruthuraipoondi taluk, Thiruvarur district
இவர் எனது கல்லூரி நண்பர், தற்போது கஜாபுயலால் வீடு வாசல் என அனைத்தும் இழந்து தவிக்கிறார் முடிந்த அளவு உதவுங்கள் அண்ணா🙏💖💖#RaghavaLawrence #ரஜினிமக்கள்மன்றம்

— kotteeswaran.j (@kotteeswaran333) November 22, 2018
உங்கள் நல்ல உள்ளம் இறைவன் அருளால் நீண்ட ஆயுள் பெற்று நலமுடன் வாழ வாழ்த்துகிறேன்

— Udhayakumar (@Udhayak33996160) November 22, 2018
பெரிய மனசு சார் உங்களுக்கு 👏👏👏👏👏👏👏👏👏👏👏❤️

— பா.ரஞ்சித்☝️👓 (@thalaajith793) November 22, 2018
The Indian Meteorological Department (IMD) has forecasted that heavy rain will continue till Wednesday, escalating the situation. Leaders of various political parties in the state have urged the State and Central governments to provide funds and extend assistance to the people affected. Celebrities also jumped on the bandwagon via the #SaveDelta campaign on Twitter and are making significant contributions while encouraging their fans to do the same.