When Writer Sujatha Predicted Today's Situation 30 Years Ago !!
Written by Dhiwaharan Published on May 04, 2020 | 09:59 AM IST | 233
Follow Us
Comments: 0
As expected, Lockdown 3.0 got implemented by the government of India from Monday. The increase of positive corona cases in the country and to avoid it happening in the future, Indian government decided to extend the lockdown from 4th of May to 17th of the same month with few relaxations. The government divided all the districts in the country into Red, Orange and Green zones, considering the spread of corona cases. Despite the lockdown extension, the new MHA order provides several concessions in Green and Orange zones. The Red zone required to continue shut as the previous two lockdowns.
[wp_ad_camp_1]
Shops, selling liquor, paan, gutka and tobacco will be allowed in green and orange zones. People are advised to maintain six feet distance and not more than five people at a time. In the orange zones, Taxis and Cabs can be operated with one passenger. Cars can have have two passengers besides the driver and pillion riding will be allowed on two wheelers. School, Colleges and other educational centres should remain shut. Hotels, Restaurants, Malls, Theatres, Gyms, sports complexes should not function in the third lockdown as well. Meanwhile, Private offices has got the permission to function with 33% of strength, with the rest on Work from home.
Recently, an update said that India's largest IT service firm Tata Consultancy services will ask a vast majority of 75% of its 4.48 lakhs employees globally to work from home, up from the industry average of 20% today. It is notable that 3.5 lakh employees of those 4.48 lakh employees belong to India. "We don't believe that we need more than 25 % of our workforce at our facilities in order to be 100% productive" said TCS's chief operating officer NG Subramaniam. "I think it's sufficient that they (workers) spend 25% of their time in our offices" he said while addressing their presence in TCS all time.
No only TCS, many IT companies are looking forward to make their workers to be productive from their home post lockdown. As we don't have a clear picture on when the Corona pandemic is going to get over, many IT firms ordered their employees to work from home at least 2 months from the day Lockdown is removed.
[wp_ad_camp_1]
Sujatha Rangarajan, a popular writer who wrote over 100 novels, 250 short stories, ten books on science, ten stage plays, and a slim volume of poems, has predicted about this situation 30 years ago in one of his book which is doing rounds in social media now. In a book named as "Karpanaikku Appal" (Beyond the imagination), Sujatha depicted the benefits of "Work from home"
"Today if you spend $2,500, you can buy navigator from cannon. Navigator is a small table computer. A telephone, A box machine, A printer, A television screen of 10 inch are enough to bring an office to your home. The thrift you are going to make through this is limitless. Petrol will be saved, There will be no crowd in busses, We can reduce the traffic in cities. Pollution will be reduced. In future, you don't have to go to offices, the office will come to your home." the words in his book read.
In a witty way, Sujatha ended the page by writing "You have to spend the whole day with your wife, is the only problem".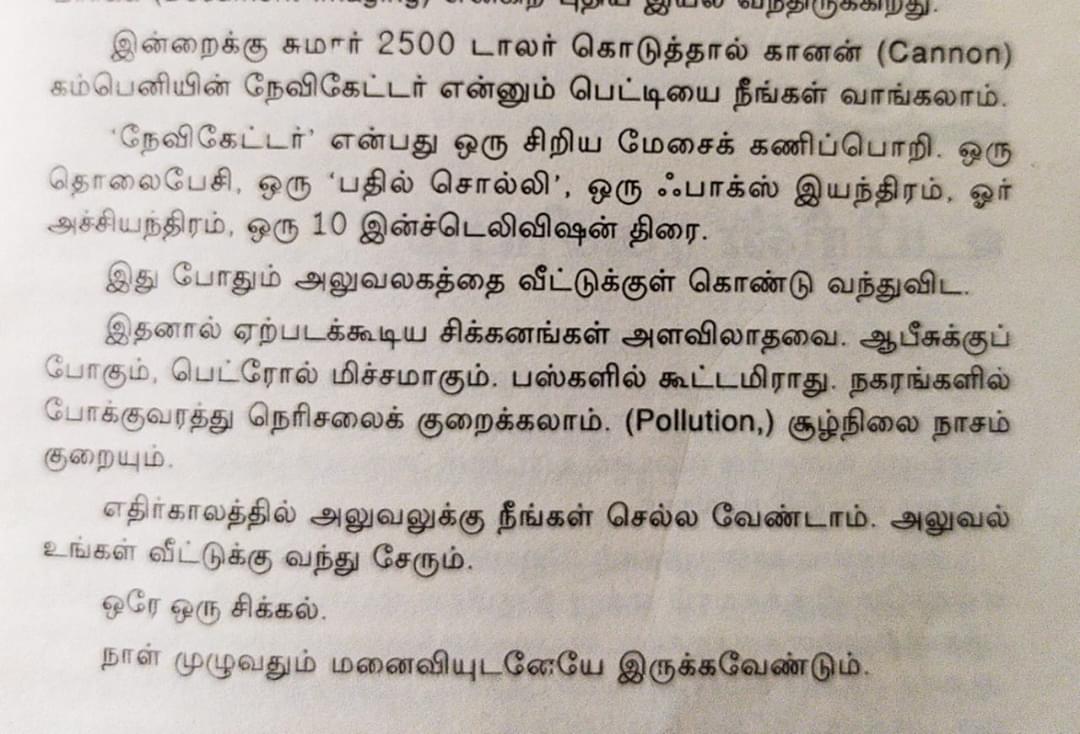 These words of the writer is being widely shared by a number of social media users who are admiring the writer for his vision. Check out some of their reactions below :
Last line _ his punch 👌👌

— சுகந்தீ! (@suganthyy) May 3, 2020
எப்படி ஒரு தீர்க்கதரிசி. Great 🙏

— 💕Shivani 💕 🌴🎄🌲🏵️🌏 (@Shivaniarun2) May 3, 2020
[wp_ad_camp_1]
சில சமயங்களில் உள்ளுணர்வு மிக சரியாக உண்மையை சொல்லி விடும். அந்த பத்தியில் கடைசி வரி மிக முக்கியமான ஒன்று. சும்மா வா சொன்னார்கள்! கற்றவற்கு வருங்காலம் புலப்படும் என்று!!

— Barani Umapathy (@Barani_67) May 3, 2020
எப்படிங்க…..ஒருவேளை டைம்டிராவல் பண்ணியிருப்பாரோ??🙄🙄

— Mohanraj (@Mohanjsadha) May 3, 2020
Since March, nearly 80% of India's 4 million IT employees are working from home and there will be no wonder if it continues till this year end.