When Cricketers Got Shamed In Public By Women !!
By Dhiwaharan
Cricketers across the globe are always under the scanner by media and fans as the game is the second most followed one in the world. Needless to say, cricket is not just a sport but a religion in country India and there are countless people who adore and worship their favourite cricketers like Gods. However, it is very well known that fame and money will not be rewarded to someone without trouble.
Cricketers have been caught in controversy on field for involving in mal-practicing and for having verbal spat with their fellow players and umpires. They have been fined, punished and some even got expelled, according to the crime they committed on field. Things they do off the field have also grabbed headlines in the past. In the upcoming list, we are going to list out the high profile male cricketers who got shamed by women in public.
Shane Warne :
The ace Australian spinner recently got passed away, has been caught in a number of controversies in his cricketing career which spanne 15 years. In 2018, it was reported that the cricketer caught sending flirtatious messages to a 24 year old girl on a dating app named "Tinder". The girl, after accusing him of sending such messages and said ""It sounds like he does this regularly," to the media.
Montey Panesar :
Reports exists saying that Montey Panesar of England cricket team, tried to lure an American woman to his hotel room after an humiliating white wash against Australia in Ashes. A young American girl accused him of tempting her to his hotel room hours after getting defeated to Australia. The cricketer reportedly chatted with her through a dating app and invited her to his room, exactly four hours after bowling the final ball in Ashes in which his team lost.
The cricketer who caught in controversy earlier for urinating in public, asked the girl to his room saying that the team members not allowed out of their rooms. Alison, who is American and in her twenties, said "I thought it was a bit strange he would be behaving like that so soon after they had lost" to the media.
Imam Ul Haq :
Pakistan cricket team's top order batsman Imam ul haq faced the wrath of public for the texts he sent to multiple women, screenshots of which did rounds online. Going by the screenshots, we can see one of a girl accusing Imam for having affairs with multiple women. The chats shows Imam saying to the girl that he could not marry her but asking her to love him. The obscene chats are expected to ruin the reputation of Imam ul haq. According to reports, a Twitter user has leaked some Whatapp chats and accused Imam of exploiting women.
So apparently Mr. @ImamUlHaq12 was dating 7 to 8 (that we know of) women and kept using them and manipulating them. He kept telling them the whole time how he's single. Some of the screenshots attached from girl 1: pic.twitter.com/UzIl98ryAw

— Aman (@LalaLoyalist) July 24, 2019
Yuzvendar Chahal :
Prominent Indian spinner Yuzvendar Chahal, once caught texting to random girl in Instagram. After a girl uploaded a picture of herself in Instagram, a message came from Yuzi's Instagram ID that read, "Nice one". When the girl replied, Yuzi quickly responded by saying saying that it was his friend who messaged her and not the cricketer himself. Later he also asked her whereabouts and apologised to her for the act.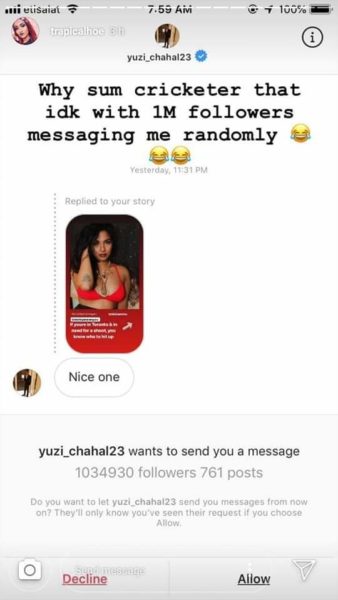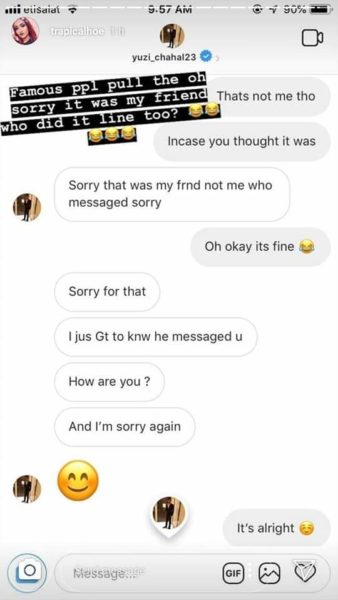 Mohammed Shami :
Top Indian pacer Mohammad accused by his wife several times in media. After accusing Shami of having multiple affairs, she also alleged that he and his family members made an attempt to take her life. However, the biggest allegation which she made was that Shami was involved in match-fixing. He was later given a clean chit by the BCCI after it conducted investigations on the claims made by Hasin Jahan, his wife.
She again accused Shami of cheating BCCI by providing fake documents to hide his real age.