Last Whatsapp Status Of Student Priya Broke Hearts!!
Chennai
Chennai Hospitals
Doctor
football
Priya
4 months ago
By Dhiwaharan
While the last rites for 17 year old Priya, a football player is taking place, a recent whatsApp status of her in which she talked about her come back from defeat in her game, is going viral in social media platforms with people expressing their dejection over her demise.
On Tuesday, the final funeral procession of Priya began from Vyasarpadi with heavy police protection. A football and a pair of boots were kept inside her coffin in a way of indicating her love towards to sport. In the meantime, one of her recent whatsapp status in which she promised a come back to her followers is being widely shared in internet platforms with many expressing their sorrow.
In the story which was posted by her prior her treatment, Priya hoped to come back after getting ready physically. "Don't feel for anything, I will give a mass entry. My game won't let me down. You people are so confident about my return" said Priya through her status which is going viral now.
A shocking report on a teenage football player Priya's demise due to the negligence of doctors has created huge outrage among the public. Announcing compensation for the family, Tamil nadu'a health minister Ma. Subramaniam has announced that the two doctors who were involved in the negligent surgery have been suspended. The minister has also assured that legal action would be taken against them.
எத்தன கனவுகள் இருந்திருக்கும் அந்த பொண்ணுக்கு 😭💔 https://t.co/ylZAZQpwOT

— மரு.அய்யா ரசிகன் 🇷🇴🇮🇳🚩🚩 (@_drrasigan) November 15, 2022
Periya nambikaiyoda Irunthu..
Neriya kannavoda Sagurathu evolo koduma 💔💔 https://t.co/duHNwfAjdp

— Ķřïśh (@Krishsk07) November 15, 2022
Cha ivlo positive ahh irunthum 🥺🥺🥺🥺 https://t.co/75FNe5Cm6u

— ƒαιzι тωιтѕ ♡ (@PranavKVFC) November 15, 2022
Priya, a 17 year old football player, died at the Rajiv Gandhi government hospital in Chennai on Tuesday, 15th of November. The college student had her leg amputated by doctors at the Rajiv Gandhi hospital after an alleged botched surgery at Periyar Nagar Government Peripheral hospital.
A First Information Report has been registered against two doctors of the Periyar government hospital, Kolathur, in connection with the botched surgery that led to the death of 17-year-old Priya.
On 7th of November, the teen girl underwent arthroscopy surgery at Periyar Nagar Government Peripheral hospital to repair the ligament on her right knee. On Monday night, doctors performed another surgery to remove some tissue. Since then, she has been unconscious and woke up and her brother and mother and met them in the ICU. Priya died of multi-organ failure at 7 : 15 am on Tuesday morning.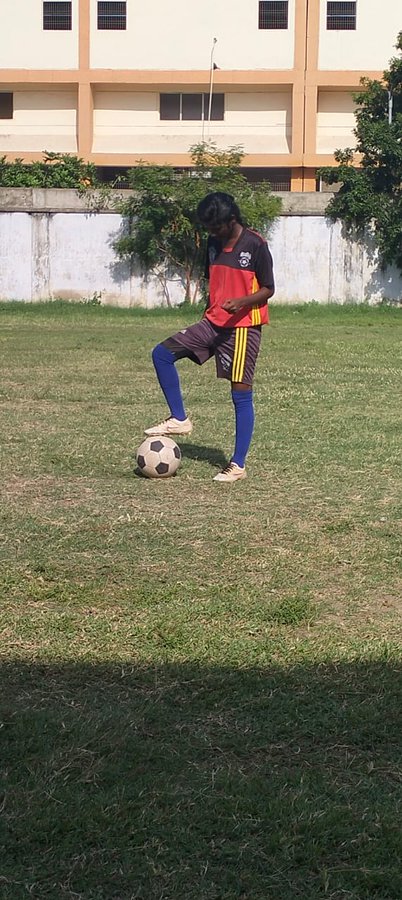 After the second follow up surgery, she was lying unconscious and on life support in the intensive care unit of the Rajiv Gandhi Government General hospital.
On Tuesday, she passed away following complications, that included heart, kidney and live failure, the health department announced. "She complained of pain in her legs hours after her November 7 surgery. I wish the doctors had taken her complaints seriously. The complications of the surgery killed her" said her brother Lawrence, who is a sports equipment salesman.
The girl's relatives said "That night she woke up thrice with complaints of severe pain but was given medicines that sent her back to sleep"