"What If I Had A BMW Car??" – Emotional Words Of Mohana Sundharam, Swiggy Delivery Partner!!
Chennai
Coimbatore
Delivery partner
Police
Swiggy
tamilnadu
CM / Updated: 2022-06-08
13:40 IST
By Dhiwaharan
Mohana Sundharam, a Swiggy delivery partner who is also running a stationary shop after working in a number of IT companies, appeared in an interview with a YouTube channel and expressed his emotions over the traumatic experience he had with a traffic police constable named Satheesh after trying to question a school bus driver who hit a woman and didn't stop his vehicle.
Sundharam who said that he got beaten only because of the vehicle he was driving and the uniform he was wearing, asked what would have happened if he was driving a BMW car at that time. The youth also said that his 7 year old daughter cried while seeing the video of himself getting beaten by the police officer.
இந்த சிக்னல்ல தான் பீளமேடு காவல் நிலையம் இருக்கு அதுக்கு முன்னாடியே நடந்திருக்கு .. கரோனவுல பாதிக்கபட்டவங்க எப்படியாவது மீண்டு வரணும்னு தான் ஒடறாங்க .‌ சுயமரியாதை எல்லாருக்கும் இருக்கு @tnpoliceoffl @mkstalin @DrSenthil_MDRD @KanimozhiDMK @V_Senthilbalaji pic.twitter.com/7Wxlllo1YH

— 🅿️🔼🅱️⛸️⭕ — 🤡 (@Dravida_oviyan) June 4, 2022
Official twitter handle of Coimbatore Police, on Saturday, came up with a press note, updating about the action initiated in the case against a traffic police who harassed a Swiggy Delivery agent. The press note said that the police officer named Satheesh has been arrested and got suspended temporarily from his posting due to the complaint registered by Mohana Sundharam, the victim.
A Swiggy delivery person named Mohana Sundharam, video of whom getting slapped by a traffic police went viral, shed tears while talking to a news channel and said that he stopped a school bus only because the driver didn't stop after hitting a woman. Mohan said that he is a graduate and is delivering food only due to his family situation. The victim registered a complaint in the police station against the traffic police for slapping him without any particular reason.
The incident happened in Coimbatore, Tamilnadu. While explaining to the media about what really happened, Mohana Sundharam said that he stopped the National model school bus after it hit a woman and went past without stopping. Traffic police who came to spot, started slapping Sundharam without asking any questions and snatched his cell phone, bike key and damaged his headset, according to the statement of the swiggy delivery person.
"I was delivering food around 5 : 30 to 6 pm yesterday and was standing near fun mall. The school bus of National model school hit a woman and went past without stopping. I stopped the bus and questioned the driver for not stopping the vehicle after hitting a woman" Mohana Sundharam said in the video.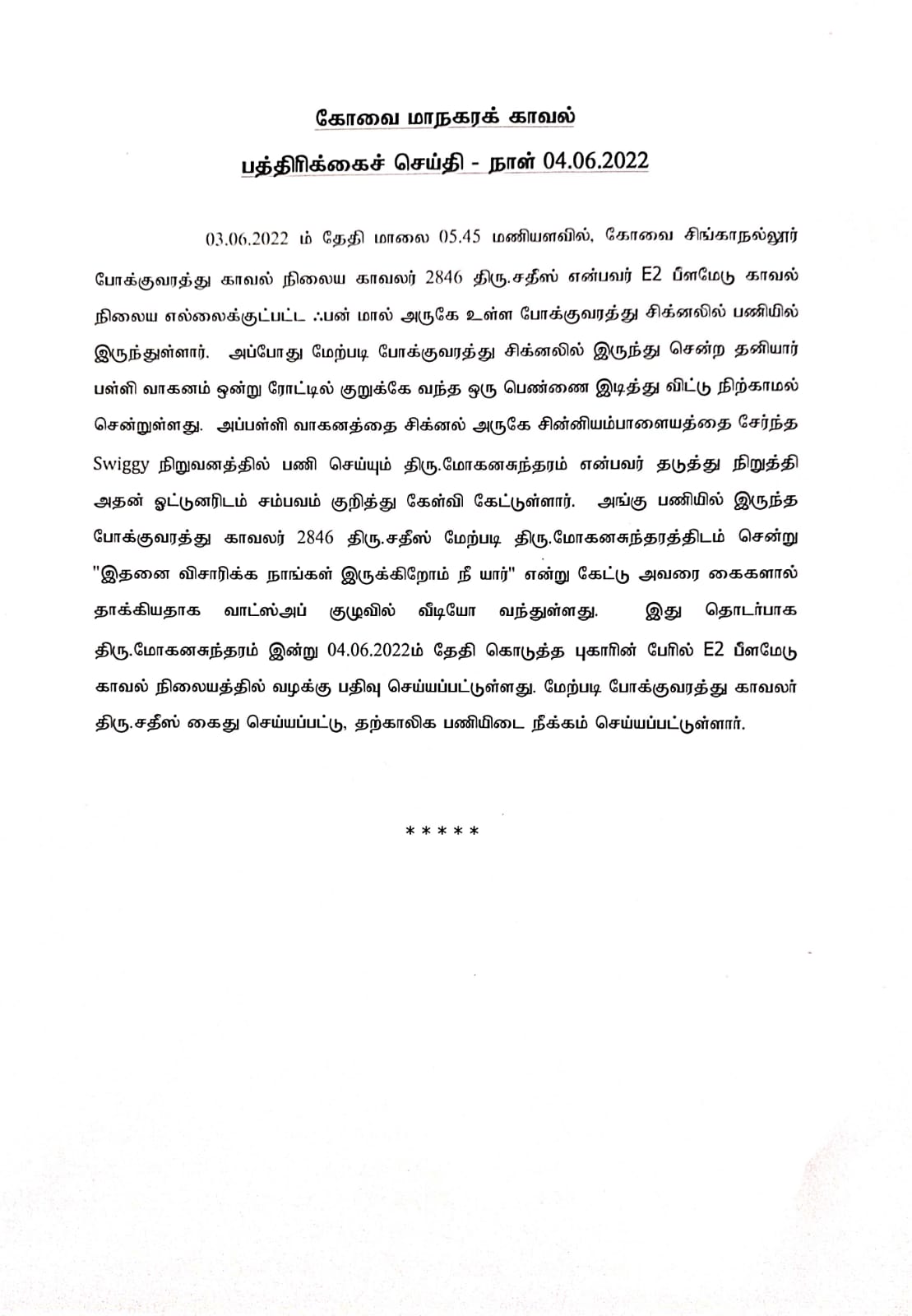 "At that time, a traffic police came to the spot and started slapping me without inquiring about what happened. "Are you a police or VIP?? How could you stop the vehicle of a National Model school?? Are you a Rowdy?" he asked me and slapped. He threw my headset away and snatched my phone and bike key" Mohana Sundharam said.
Sundharam further said that he doesn't even have money to go to hospital. "I had Rs. 500 yesterday and used 200 of it for the petrol of my vehicle. I don't even tell about this incident to my family members. Swiggy is my part time job, I am running a stationary shop" said the youngster.
"During Corona period, I couldn't pay rent and happened to join Swiggy to meet my ends. My goal is to do business and I'm working hard to pay my debts. Many Swiggy workers are educated and most of them completed B.E. I can speak 6 languages" said Mohan and mentioned about his experience in the IT field.
"Only due to my family situation, I have been working in Swiggy. In companies, there will be leave for one or two days but I can't put leave for three days. For that alone, I have been working in Swiggy and meeting my family's basic requirements. Else I would have been joined a company and would have worked in it" he further said.
In a recent interview with newsglitz, Mohan asked whether the Police would have behaved the same way if he stopped the school bus while driving a BMW car. "A delivery person could have completed Engineering, Designing or any kind of degree and will be doing the delivery job due to their family situation. But one shouldn't judge them seeing their uniform and thinking that they wouldn't have studied and no one will question if they got beaten" Sundharam said.
"Everyone should treat everyone equally. They beat me as I was riding a bike. Will the same happened to someone who owns a BMW and stopped a school bus?? Mohan further asked.
Watch the video below :
Source : newsglitz