Warne's Comment On Natarajan's Bowling Angered Fans !!
CM / Updated: 2021-01-18
19:39 IST
By Dhiwaharan
Australian former spinner Shane Warne's comment of Natarajan's bowling triggered fans to lash at out him. The former Rajasthan Royals captain, without saying it directly, has made a serious allegation on Thangarasu Natarajan regarding spot fixing. His statements has created a huge outrage in social media platforms with fans thrashing the senior bowler for his baseless comment.
[wp_ad_camp_1]
Thangarasu Natarajan has bowled 6 no balls during Australia's first innings and bowled two more on the fourth day of the Brisbane test. Warne who was in the commentary box, said that the five out of seven no balls were bowled on the first delivery of his overs and suggested something suspicious.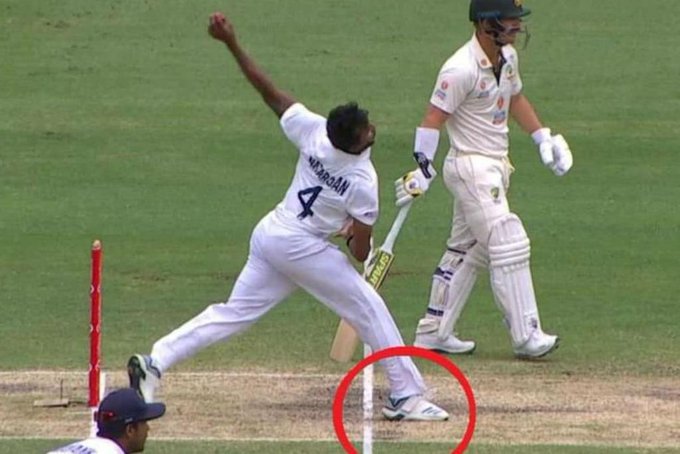 "Something that's caught my eye when Natarajan was bowling. He's bowled 7 no balls and all been big no balls. Five off them have been off the first ball and they are miles over. We have all bowled no balls but 5 off them off the first ball of an over is interesting" said Shane Warne on air.
Fans of team India shattered down the allegations and started slamming the former Australian spinner for making such a statement against the Salem based pacer. They have been posting comments reminding Warne about the background of the 29 year old and the hardship he went through to make a place in the Indian team.
"5 of them first ball coz he try hard to adjust his bowling run-up before that he is net bowler and mainly play t20s" wrote a fan supporting Natarajan whereas another one wrote "Why should Shane Warne even insinuate about spot fixing ? Natarajan is a debutant, some wrong balls are very common . Disgraceful from Warne."
[wp_ad_camp_1]
A fan went one step ahead and called out Shane Warne for not raising voice when Smith scuffed off the batting guard of Rishabh Pant
Check out some of the reactions below :
People don't bet on which ball will be a no-ball. That was not even what happened for Amir/Asif at Lord's.

— Jarrod Kimber (@ajarrodkimber) January 18, 2021
The commentary said nothing about Smith and the batting guard but Warne comments on Natarajan bowling no balls and says he is match fixing! Natarajan has been a net bowler for a while and is making his test debut.

— Joshan Basi (@BasiJoshan) January 18, 2021
5 of them first ball coz he try hard to adjust his bowling run-up before that he is net bowler and mainly play t20s 🤷🏻‍♂️

— NOPE:® (@gurmann_96_) January 18, 2021
I sincerely hope Warne doesn't say that the wickets are also spot fixing.

Natarajan no-balls were off the first balls, while the wickets were off the last. #AUSvsIND #indvaus @ShaneWarne

— Sridhar_FlashCric (@SridharBhamidi) January 18, 2021
@BoriaMajumdar @vikrantgupta73
Aussies are at it again. Shane Warne has accused Natarajan of spot fixing after bowling no balls. Warnie speaking about fixing is hypocricy of the nth order

— RP (@rajprem1) January 18, 2021
Mark Waugh & Warne were found out to be involved with bookies, passing on to them information about pitch, weather and more in return of substantial payment during Singer World Series tournament in Sri Lanka.😂😂😂😅 & this guy from the fixing of parents country talking #pakistan pic.twitter.com/kfK0MMVhDa

— Archu (@archujb) January 18, 2021
[wp_ad_camp_1]
Pretty poor of Warne to indicate that Natarajan was doing "spot fixing" by bowling those no balls. I hope BCCI takes this up seriously.

— Biswarup Ghatak (@BishOnTheRockz) January 18, 2021
Natarajan became the first Indian player to make debut in all the three formats in a singe tour and took three crucial wickets in the first innings. He also excelled in the other two formats. The 29 year old from Salem, made his place into the international side after proving himself in the IPL tournament. His performance in the TNPL grabbed the attention of IPL teams and he gained the nickname "Yorker" Nattu through his stint in the 2020 edition.
Comment your views on this baseless allegation of Shane !!