VJ Parvathy In Big Trouble After Avoiding Actor Suriya !!
Written by Dhiwaharan Published on Aug 07, 2020 | 17:42 PM IST | 120
Follow Us
Comments: 0
Online fans of actor Suriya fumed over video jockey of Galatta youtube channel Parvathy Saran for not mentioning their favourite star's name while interviewing Joe Michael regarding Meera Mitun controversy. They alleged that Parvathy is mentioning other stars such as Vijay, Ajith, Rajinikanth, Kamal Haasan with their tag names but hesitates to even mention Suriya's name in her interactions with celebrities.
[wp_ad_camp_1]
It all started when Meera Mitun, a former Bigg Boss contestant made baseless accusations against actors Suriya and Vijay. Joe Michael, a businessman by profession, stood up against Meera Mitun during her Bigg Boss times times, was approached by Galatta youtube channel to state his opinion on Meera Mitun's allegations and Parvathy was appointed to converse with him. During her interaction, Parvathy can be seen mentioning Vijay as "Thalapathy" and mentioning Suriya as "Antha Nadigar" (That actor). At one point, Joe Michael insisted Parvathy to mention Suriya as Suriya, particular clip of which is doing rounds in social media platforms.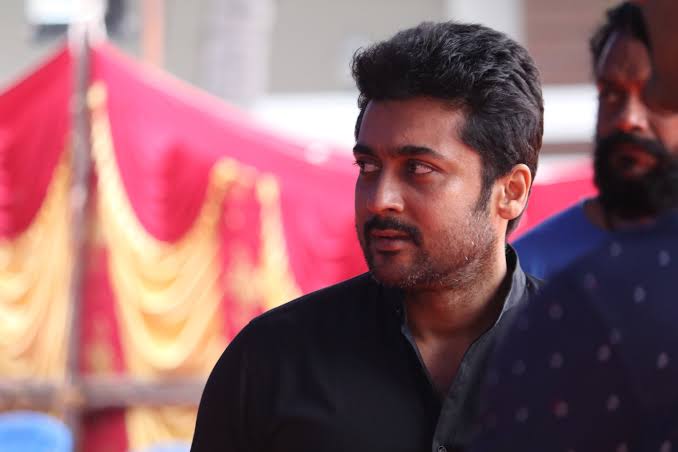 Sharing the video, fans of actor Suriya accused Parvathy for being biased and asked her to keep her personal likes and dislikes aside while doing her job. Few of the fans even asked Galatta management to fire frequently neglecting actor Suriya in her interviews. One of a fan shared a video clipping of Parvathy interviewing Telugu actor Allu Sirish where he would say that his favourite actor is Suriya after Parvathy missing to mention him in her options. "You forgot to mention the real option. I have said it in so many interviews that I am an ardent fan of Suriya sir" Allu Sirish can be seen saying.
Watch the video here :
. @galattadotcom pls change this totally biased anchor @parvathy_saran

Not for the 1st time, but it's happening very frequently. I donno what's wrong wit her in bringing #Suriya anna's name in al her interviews. Galatta, please hire unbiased/neutral persons as anchors.
Proof- pic.twitter.com/RnUObZ11c8

— Rajesh (@RajeshSuryafan) August 6, 2020
Many fans of the actor called out Parvathy for deliberately neglecting Suriya in her interviews in the micro blogging social media site. Check out some of their replies here :
Who saw the latest interview of VJ Parvathy and Joe Michael!! Super irritated with that anchor!! @Suriya_offl peru Sollavematengara!! Unaku pudikumo pudikatho! An anchor has to fair and no biasness!! No Favouritism at all!!

Who agrees!!

— DJ ALI 🇸🇬 (@Hisrath95) August 6, 2020
மீடியால இருக்கவங்க அஜீத், விஜய்க்கு சொம்பு தூக்க வேண்டியது… @parvathy_saran

எந்த எச்ச விளம்பரமும் இல்லாம எந்த எச்ச மீடியாவோட சொம்பு சப்போட் இல்லாம ஒத்த ஆளா இத்தன பேர படிக்க வைக்கிற சூர்யா அண்ணன விடவா அவனுக மேலானவங்க த்தூ !

அண்ணன் சூர்யா ஒருவரே ♥️#SooraraiPottru

— என்றும் சூர்யா வெறியனாக 👑 (@ArjanSuriya) August 6, 2020
[wp_ad_camp_1]
@parvathy_saran
Neega vj va ila VIjay fan ahh?!#Suriya is also a biggest star all india

Seen many interviews ignoring SURIYA@AlluSirish gave a perfect reply to u ,
Still doing a same mistake#SooraraiPottru

— Dinakar N K (@dinakar_offl) August 7, 2020
And also this😡😡 pic.twitter.com/w6O40EAZGi

— «Tharzan⁸⁷» (@8700_v) August 6, 2020
On seeing these reactions from the fans, Parvathy came up with a post saying that it wasn't done intentionally. "I was made aware that to some people my interviews may gave given a projection that I was avoiding Suriya sir, despite this being nothing of that sort. For those who don't know, I have always been a big fan of his movies and his social work and I can't wait to interact with him, given a chance. Please note this coming from a goof place and I in no way intent to avoid him" she wrote in her post.
Hari, "All India online coordinator of Suriya fan club" shared the came and acknowledged his phone call with her.
Check out the tweet of him and VJ Parvathy's here :
• Dear Friends,

I Had A Call With @parvathy_saran Sister 🤗 She Has Clarified Everything Was Happened Unintentionally And No Hatred Towards Our Anna. Only Love And Positivity!

Let's #SpreadLove ❤️#SooraraiPottru | #Suriya https://t.co/jkhtoG1WgY

— Hari (@Hari_AISFC) August 7, 2020
[wp_ad_camp_1]
However fans who couldn't digest her interaction with Joe, expressed their disappointment even after her clarification.
Yay. Sure Dear !!! Peace. Chill Chill. Love you guys for being so descent

— VJ Parvathy (@parvathy_saran) August 7, 2020
சூர்யானு பேர சொன்னா உனக்கு அவமானமா என்ன? ஜோ மைக்கேல் சொன்ன அப்பறம் கூட அந்த ஒரு நடிகர்னு சொல்ற. அவரை Avoid பண்ணா கூட பரவால்ல ஆனா அவர பத்தி பேசும்போது name Mention பண்ணாம அந்த ஒரு நடிகர் னு சொல்ற 😡 அவ்ளோ சலிச்சிக்கிட்டு எல்லாம் நி எங்க அண்ணாவ பத்தி பேச வேணாம்.பொத்திகிட்டு கெட 😡

— MaaRa ✈ (@Nandha_offil) August 7, 2020
It is notable that the fans of the same actor confronted actor Sivakarthikeyan for not posting a tweet wishing Suriya for his birthday. Read : Sivakarthikeyan Facing The Wrath Of Suriya Fans !! Comment your views on these emotional tweets from Suriya fans !!