Vishnu Vishal is an Indian film actor and producer who has appeared in Tamil language films. He started his acting career in the year 2009 playing the lead role in the sports film Vennila Kabadi Kuzhu, winning acclaim for his portrayal. Vishnu won further acclaim for his role in Neerparavai (2012), portraying a fisherman.
His latest venture Ratsasan continued to dominate the Chennai box office in its fifth week thanks to the rave reviews, which has given the film repeat value. The horror-psychological thriller has overtaken Dhanush's Vada Chennai to grab the numero position at the ticket windows.  The film enjoyed by the audience of Tamilnadu where as rumours also started to spread connecting the leading actor and actress.
On witnessing such rumour by a leading news website, Vishnu got really angry and lashed out on them through his official twitter account. Recently to our shock the actor in his official twitter account announced his divorce with his wife. Though he had not stated the reason in his post the actor asked the public to respect their privacy.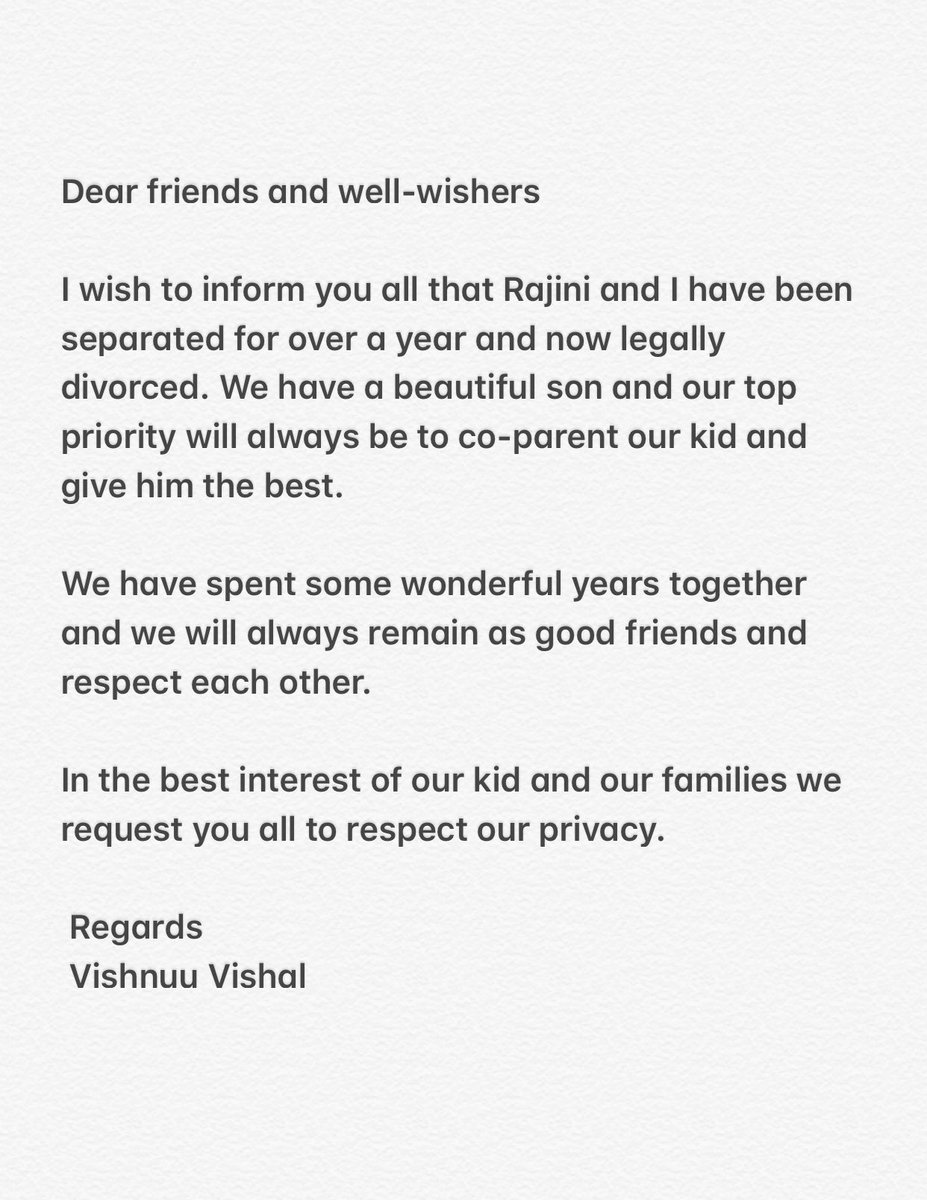 In a way of ruining his privacy, one of the leading news website spread rumours about marriage between Amala Paul and Vishnu. Speculations have been stronger than ever after the release of the film and this has prompted Vishnu to address the rumours about the wedding. Reacting to a report on Twitter, the actor lashed out and said that all the rumours were false and that he is not getting married to Amala. "Wat a stupid news..plz b responsible ..we r humans too n v hav lives n family..just dnt write anything for d sake of it [sic]" tweeted Vishnu Vishal reacting to a tabloid's tweet. Both Vishnu and Amala are separated from their respective spouses.
Wat a stupid news..plz b responsible ..we r humans too n v hav lives n family..just dnt write anything for d sake of it..🙏 https://t.co/DL88C1goVn

— VISHNUU VISHAL – VV (@vishnuuvishal) November 27, 2018
Though the tweet by the news website has been deleted, people joined Vishnu and lashed out :
Idhulam oru page neega ean bro react panringa freeya vidunga avanga oru silly boys

— ARASAN (@PoovarasanMari) November 27, 2018
Don't think abt it the news bro. Free ah vidunga

— santhosh thala (@thalasantosh) November 27, 2018
So are they called presstitutes. Aduthavan Personal life la thalayidra varaikum naadu munneradhu.

— Prashant Kumar (@acerprash) November 27, 2018
ஒரு மனிதனை பெரிய நடிகர் ஆக்கும் ஊடகம் அதே நடிகரை அது ஒரு மனிதன் என கூட எண்ணாமல் பழிக்கிறது….😈
Ignore Negativity.💪

— ⏮️⏪⏪NANDHU ⏩⏩⏭️ (@NandhuMSNair5) November 27, 2018
Don't feel bro…
இது மீடியாவோட பசி…. இவனுங்கள திறுத்தவே முடியாது…

— Mohamed Asif.SP (@MohamedAsifSP1) November 27, 2018
Bro confirm aagatha news poduraana case போடுங்க bro. அப்போ தான் புத்தி வரும் இவங்களுக்கு.

— Bĺäčk Đevil (@ajakkumama9) November 27, 2018
😁😁Ipdithan டக்குனு செருப்பால அடிச்சிரனும் பாஸ்..நாங்க ஏன் இவனுங்கள எச்சை மாமா பாய்ஸ்னு கூப்டுறோம்னு!

— SeBaA (@SeBaAOffl) November 27, 2018
File a defamation case against such team ji.. such teams are posting anything without any truth in it

— GutsyThala (@GutsyThala) November 27, 2018
இன்னும் இறங்கி திட்னாலும் திருந்த மாட்டானுங்க

— ராஜேஷ்குமார்… (@vavrajesh) November 27, 2018
It seems the news really irritated and disturbed the actor. The actor now awaiting release for his movie "Silukkuvarpatti Singam" where as Amala paul's next film is "Aadai" directed by "Meyatha Maan" Rathnakumar.