Virat Kohli's Reply To Pakistan's Babar Azam Is Trending !!
Written by Dhiwaharan Published on Jul 16, 2022 | 17:20 PM IST | 181
Follow Us
Comments: 0
Former Indian Captain Virat Kohli's reply to Pakistan's star player Babar Azam is trending in the micro blogging social media site. The Indian cricketer wished Azam the best and to keep shining and rising. As soon as making the reply, Kohli is trending at top in Twitter along with Babar Azam.
As he is facing immense flak in recent times due to his struggle over scoring big numbers, Indian star player Virat Kohli, on 15th July, got support from one of the most prominent players from Pakistan team Babar Azam. Uploading a picture of himself with Virat Kohli, Babar Azam has said "This shall too pass" as a direct message to Kohli and the tweet is trending with various kind of reactions from fans.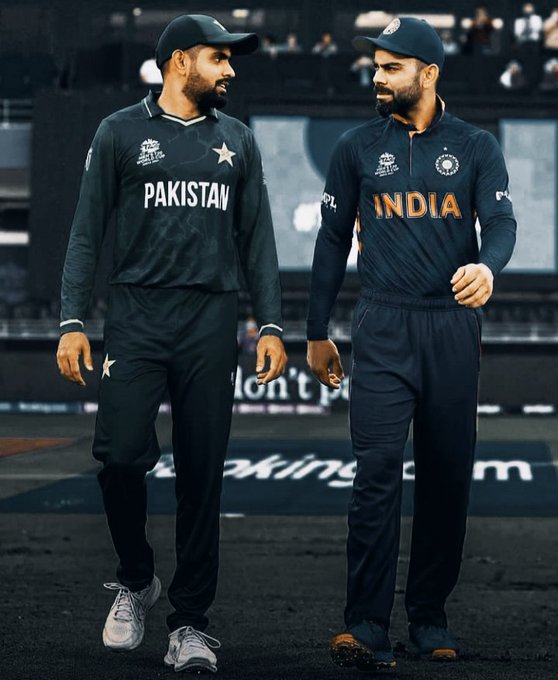 In the second One Day International match against team England, India needed 247 runs to win the match. Virat Kohli who is known for his chasing ability, started his innings with three glorious boundaries. The touch of Kohli made many fans including former Indian opener Virender Sehwag to believe that it is Kohli's day. However, the right hand batsman required to take a long walk back to the pavilion after scoring 16 runs off 25 balls.
While India's own former players were demanding Kohli to take a long break, to play domestic matches in order to improve his batting ability. However, Pakistan captain Babar Azam who is often compared to the standards of Kohli, came up with a tweet in his twitter timeline, extending his supportive hand.
Taking to twitter as soon as Kohli lost his wicket, Babar uploaded a beautiful picture of himself with Kohli and said "This too shall pass. Stay strong" and added the hashtag "Virat Kohli"
Check out his post below :
This too shall pass. Stay strong. #ViratKohli pic.twitter.com/ozr7BFFgXt

— Babar Azam (@babarazam258) July 14, 2022
The post garnered as many as 300 k plus likes from the cricket fans of India and Pakistan.  One day after the post was uploaded, Kohli came up with a reply writing "Thank you. Keep shining and rising. Wish you all the best 👏"
Here's the reply made by VK :
Thank you. Keep shining and rising. Wish you all the best 👏

— Virat Kohli (@imVkohli) July 16, 2022
Here's how netizens reacted to the reply of Kohli :
This is peak Twitter ladies and gentlemen. As they say "Class recognises class." #ViratKohli𓃵 #BabarAzam𓃵 pic.twitter.com/XDvp8W8JQo

— Azan Ahmad (@azanahmad257) July 16, 2022
What if both score a century tomorrow 🤯 –#BabarAzam𓃵 | #ViratKohli𓃵 pic.twitter.com/mZthOEqIjT

— Asad Abdullah (@asad_qureshi257) July 16, 2022
𝐶𝑙𝑎𝑠𝑠𝑦 𝑟𝑒𝑠𝑝𝑜𝑛𝑠𝑒 👌

Virat Kohli acknowledges Babar Azam's message of support and sends his best wishes 🇵🇰🤝🇮🇳#ViratKohli #BabarAzam𓃵 #CricketTwitter pic.twitter.com/vzPSnSaWAj

— CricWick (@CricWick) July 16, 2022
BABAR OF PAKISTAN🇵🇰
VIRAT OF HINDUSTAN🇮🇳
Winning hearts across the borders!

🇵🇰🫂🇮🇳#BabarAzam𓃵 | #ViratKohli𓃵 pic.twitter.com/POWETC56Eh

— Maqsood_Shah56🏏 (@itsMaqsood_Shah) July 16, 2022
G.O.A.T – to – G.O.A.T conversation 🐐🐐#ViratKohli𓃵 | #BabarAzam𓃵 pic.twitter.com/1em1xwIMOR

— The Green Army (@TheGreenArmyy) July 16, 2022
GOAT 🐐 – TO – GOAT 🐐 CONVERSATION‼️

Babar Azam tweeted: "This shall to pass. Stay strong"

Virat Kohli replied: "ThankYou. Keep shining and rising. Wish you best of luck"

Ladies and gentlemen, that's #BabarAzam𓃵 and #ViratKohli𓃵 for you🤜🏻🤛🏻 pic.twitter.com/wMnFn44CKJ

— MSQ (@callmemaryam0) July 16, 2022
Best Reply ever !!!!……..
Cricket you Beauty 🤌🤩🤩
🇮🇳❣️🇵🇰#ViratKohli𓃵 #BabarAzam𓃵 pic.twitter.com/ag2yeJg9rF

— Sid Malhotra 🇮🇳✨❣️(◍•ᴗ•◍)❤ (@SidMalh7) July 16, 2022
Britishers calling themselves but here is us seeing UNITED KINGDOM on twitter #ViratKohli𓃵 #BabarAzam𓃵 #ViratKohli #BabarAzam #Kings pic.twitter.com/UvyDduljg5

— PSL Memes (@PSLMemesWalay) July 16, 2022
If u are a cricket lover than you have to love this duo they are like messi and ronaldo of cricket.#BabarAzam𓃵 #KingKohli pic.twitter.com/4FqC8I4Exy

— zee4shan.ali7 (@zeeeshanali7) July 15, 2022
Legacy continues 🇵🇰❤️🇮🇳 #BabarAzam𓃵 #ViratKohli𓃵
Then Now pic.twitter.com/7hY88RdVJj

— Imran Ali (@ImranAli_50) July 15, 2022
Champions are talking ❤️#ViratKohli𓃵 #BabarAzam𓃵 pic.twitter.com/zpcaCuycMs

— Makhdoom Abu Bakar Bilal (@makhdoomab) July 16, 2022
Golden Words of Two Asian Kings♥️👑#BabarAzam𓃵 #ViratKohli𓃵 pic.twitter.com/r2NN6xwozm

— Aruba🇵🇰 (@arubah56) July 16, 2022