Wake up, score centuries, sleep, repeat. This has been Virat Kohli's routine these days. After leaving everyone awestruck with his batting in Guwahati a couple of days ago, the master was once again at work in Vizag in the second ODI against the Windies. In the sapping heat, Kohli walked out to bat early in the fourth over and has once again led from the front to notch up his 37th ODI ton.
[wp_ad_camp_1]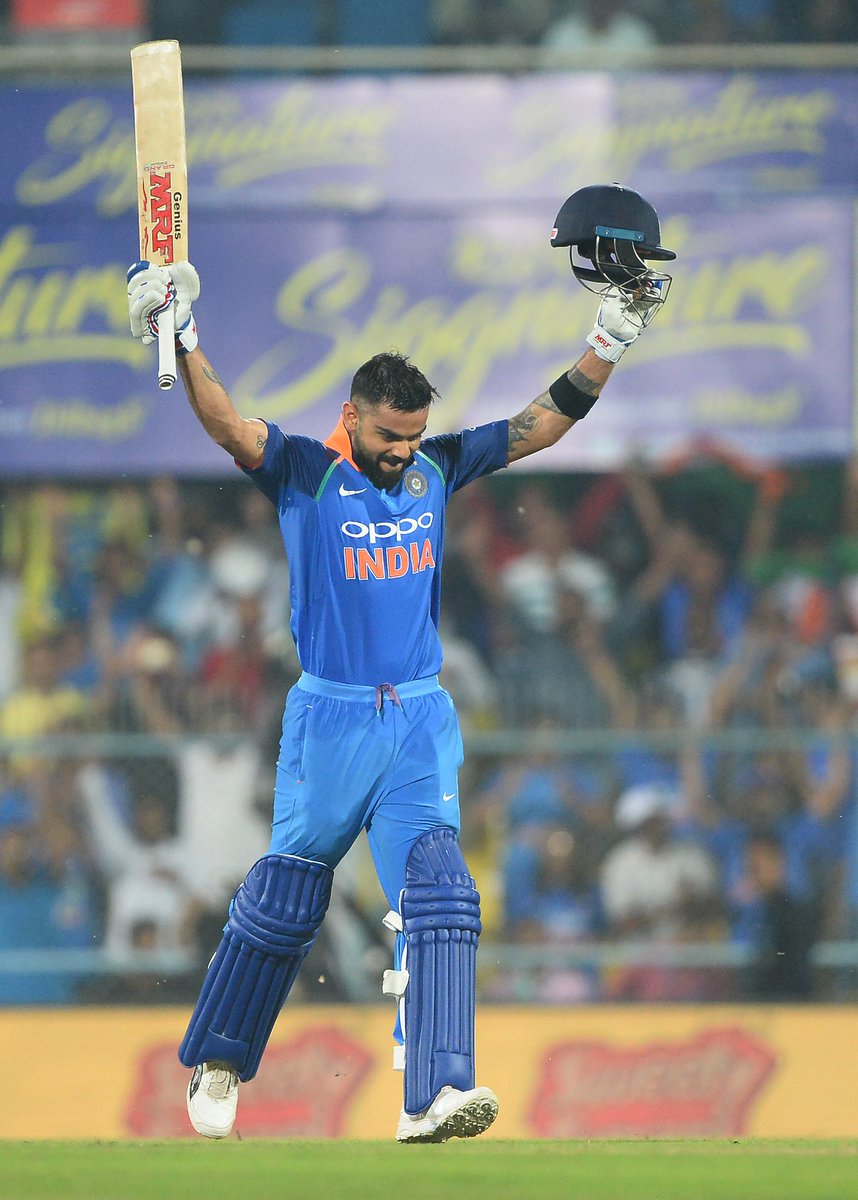 Rohit Sharma's dismissal was a jolt to India after opting to bat first. The Indian captain strode out to the middle to a rousing applause from the crowd. The stage was set for him at his favourite venue and needless to say that he didn't disappoint his fans. However, Kohli's approach was completely different today. If his previous knock was all about smashing the ball to the park, this time he was more subdued about his shot-making.
Even the pitch didn't allow him to dictate the proceedings from the word go. The 29-year-old was quick to assess the pitch and took Ambati Rayudu  with him to rebuild the innings.
Virat Kohli is breaking records for fun nowadays and he attained a few more to his name today. After reaching 30, he became the fastest to 4000 ODI runs at home and after scoring 51 more runs, the master also went past the legends to become the quickest to 10,000 runs in the format.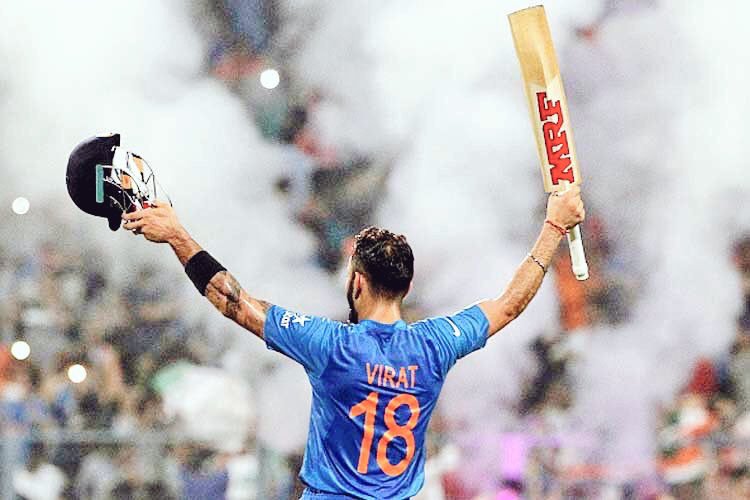 His innings had it all. The rotation of strike, a dropped catch and scintillating cover drives. Even Kohli would admit that this was not his fluent innings, but he managed to spend more time on the field finding ways of scoring runs. In the sultry heat, it was important from team's point of view for someone to stay and play a big knock and Kohli, like always, put his hand up.
[wp_ad_camp_1]
While Ambati Rayudu supported him so well. Virat Kohli just kept his calm and concentrated on manoeuvring the ball. The Caribbean bowlers kept tight lines to frustrate him but the determined Indian skipper wasn't going to give his wicket away. Eventually, he got to his 37th century to make it a total of 61 international tons in his already illustrious career and soaked in all the applause from the vociferous crowd in Vizag.
Here's how Twitter reacted to Kohli's yet another century:
Software update all the time. Virat Kohli has redefined what consistency means. Got his 9000th odi run just 11 innings ago and got his 10000 th today, to go with his 37th century. Enjoy the phenomena #KingKohli pic.twitter.com/OPhvIsBRDJ

— Virender Sehwag (@virendersehwag) October 24, 2018
1⃣0⃣,0⃣0⃣0⃣ ODI runs and in no time!! Congratulations on the record @imVkohli #Virat10k 💪

— Jasprit bumrah (@Jaspritbumrah93) October 24, 2018
#KingKohli. G. O. A. T. 💥

— Siddharth (@Actor_Siddharth) October 24, 2018
Switch on the TV, @imVkohli is batting on 144 having crossed the collosal 10k run mark. Double it up now as they would be calling for it in the dressing room. 👌🙌 #battingartist #INDvWIN

— Ashwin Ravichandran (@ashwinravi99) October 24, 2018
Congratulations to @imVkohli to achieve milestone of 10000 runs in ODI cricket 👏🏼👏🏼👏🏼 , Great player & Humble human 👍🏼 , u entertaining all fans of cricket with ur Skills , Passion & determination , stay blessed

— Mohammad Hafeez (@MHafeez22) October 24, 2018
Eat
Sleep
Hit a Century
Repeat! #ViratKohli 🔥

— Shah Faisal Khan (@SFKtweets) October 24, 2018
[wp_ad_camp_1]
Kohli scored Ton 👏

Ah… Common Tell me smthing new 😑#champion the @imVkohli

— Faizan Tweets (@Mr_Faizan_18) October 24, 2018
Virat Kohli is a scam!

— Bankerupt🌈 (@Bankerupt) October 24, 2018
Virat Kohli is the Usain Bolt of ODI cricket. THE FASTEST EVER! #ViratKohli #KingKohli

— #KingKohli (@HashTagCricket) October 24, 2018
Another Day another century!
Daily routine of virat kohli 👑
Wake up 😎
Eat🍔
Score century 💯
Sleep😴
Repeat🔁#ViratKohli #Kingkohli 👑 pic.twitter.com/Qa3ooru0Sk

— Kavi🇮🇳🌟 (@kavitweetzzz) October 24, 2018
37th ODI century and he said "it's time to 5 centuries in this series".. the another 3 coming😎
29 years old and 37th century.. such a legend.. Virat Kohli.. #KingKohli #ViratKohli pic.twitter.com/VFKpBOQKYD

— Azhar Shaikh (@shaikh_azhar_1) October 24, 2018
Probably Best Batsman of This Century 😎😎😎 #KingKohli #Kohli pic.twitter.com/lQeShF9qKb

— Konjam Nadinga Vijay 😉 (@KNVofficial2) October 22, 2018
Rohit Fans After Seeing #KingKohli Inning😁😂

Make Rohit Indian captain wale bande nahi dikh rahe aaj 😂😂😂

Proud to be fan of You Virat Kohli 😎😍
Keep Going Like This Champion Forever 🙏 pic.twitter.com/cZMgVvhkBi

— I S M A I L (@axeweyzed) October 24, 2018
This One 😂#KingKohli pic.twitter.com/TbMT6ztbgJ

— Troll Cinema ( TC ) (@Troll_Cinema) October 24, 2018
That Awkward Moment When Your Name Is Holder And You Drop Virat Kohli 😭😬😭 #INDvWI #INDvsWI #ViratKohli #KingKohli

— Sir Ravindra Jadeja (@SirJadeja) October 24, 2018
Need approval for this😜
I will never use these notes if this happened!
💯 @imVkohli #INDvsWI #KingKohli #10KforVK pic.twitter.com/BSi8lRzRQG

— VIRAT'S DHONI 🇮🇳 (@Cricketician_) October 24, 2018
#KingKohli Virat kohli , this guy is freak from outer space . @imVkohli pic.twitter.com/5AFZwmC6o4

— Yaswanth (@yaswanth__nunna) October 24, 2018
This Is How Virat Kohli Handling Old Records 😎#ViratKohli #KingKohli #INDvWI #Virat10000 #10KforVK pic.twitter.com/Q6AjdinHI9

— 💯% #SҜɪsᴍ😎 (@ArunSiva77) October 24, 2018
#KingKohli
Run machine🔥
My meme😅 pic.twitter.com/2QljynorEr

— I am Mani (@IamMani19) October 24, 2018
What do you think on these reactions ?? Comment below !!