Virat Kohli – Gambhir Fight : Actual Conversation Is Out !! WATCH FULL VIDEO
Written by Dhiwaharan Published on May 03, 2023 | 20:30 PM IST | 118
Follow Us
Comments: 0
Virat Kohli and Gautham Gambhir had a heated conversation post the match that took place at Lucknow. As expected, it was a long time coming, given the mutual dislike between the two World Cup-winning players. The incident has divided opinions among spectators, with some considering it juvenile, while others find the intense rivalry between the players exciting. However, those who believe in the 'Gentlemen's Game' think it could have been avoided.
also read : "Aishwarya Rai Should Act More, You Take Care Of Aaradhya" – Fan !! Check Abhishek's Reply
An eyewitness, who was in one of the team dug-outs, gave a lowdown of the events to PTI. Mayers had asked Kohli why he was constantly abusing them, and Kohli, in turn, questioned why Mayers was staring at him. Before that, Amit Mishra had complained to the umpire about Kohli's constant abuse of Naveen ul-Haq, who is a No. 10 batter for Lucknow. Sensing that things could turn ugly, Gambhir pulled Mayers and told him not to have a conversation when Virat made a comment.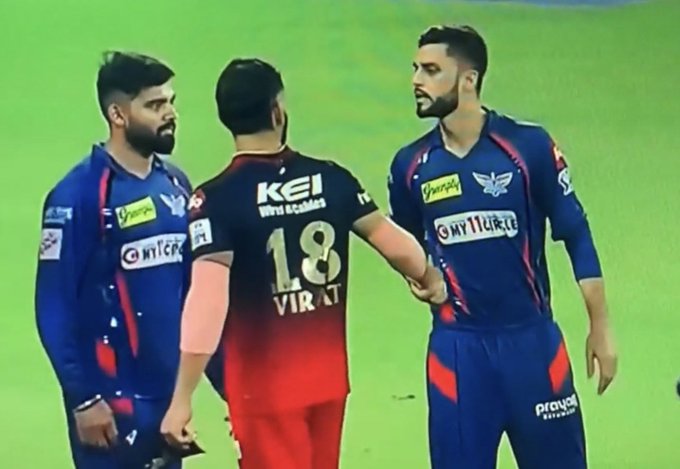 The heated exchange that followed seemed a bit juvenile, with Gambhir asking Kohli what he was saying, and Kohli denying saying anything to him. Gambhir then accused Kohli of abusing his player and, in turn, his family. Kohli retorted, telling Gambhir to take care of his family. The final reply from Gambhir was, "So now I have to learn from you."
also read : Virat Kohli's Cryptic Instagram Story After Being Fined Rs 1.07 Crore !!
During the altercation, Gautam reportedly asked, "What were you saying?" to which Virat responded, "I haven't said anything to you, so why are you getting involved?"
Gautam retorted, "If you have spoken ill of my player, it is equivalent to insulting my family," and Virat replied, "Then it's your responsibility to take care of your family."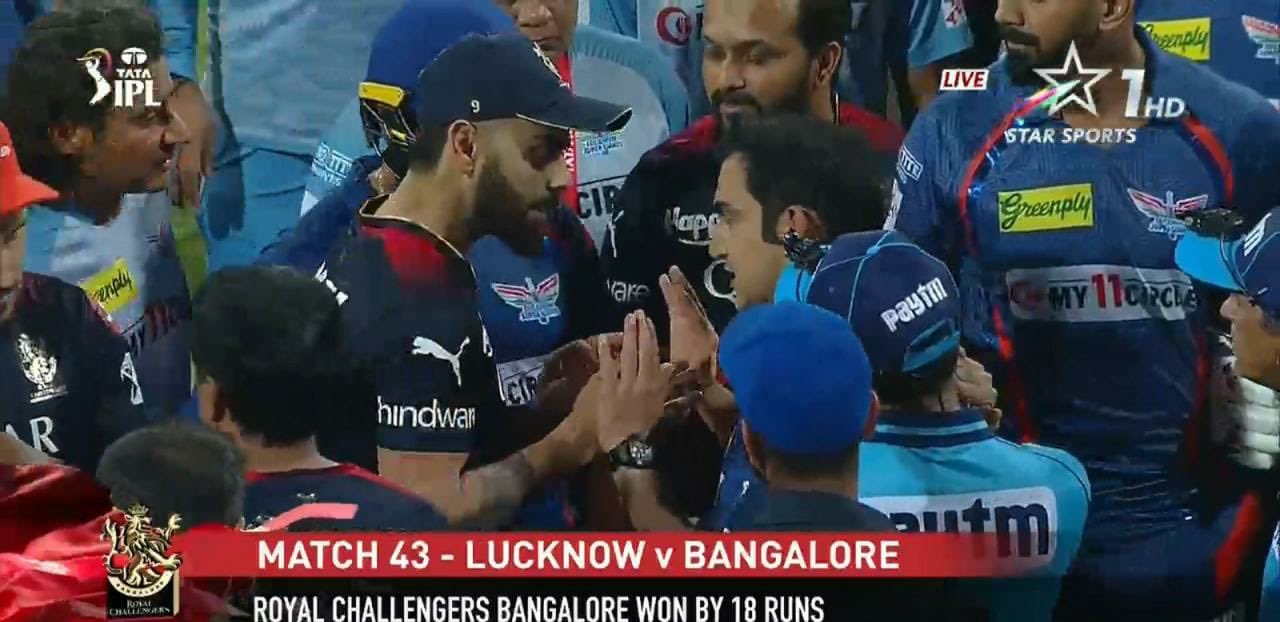 As they were being separated, Gambhir sarcastically quipped, "Oh, so now you're going to teach me something…" The witness observed that although the situation was tense and could have escalated, it seemed somewhat childish on both sides.
Watch the Video of the full incident below :
The altercation was reminiscent of a similar incident in 2013 when Kolkata Knight Riders were playing Royal Challengers Bangalore. Kohli was the superstar-in-the-making, and Gambhir, out of the Indian team, was a shrewd captain at KKR. Fast forward to 2023, and Gambhir remains a firebrand who is a TV pundit and also the mentor of a franchise where he is the remote-control skipper. Similarly, Kohli remains the skipper of RCB in spirit, although Faf du Plessis is the captain on paper.
The relationship between the two players is complicated, with Gambhir being a staunch critic of Kohli's captaincy. A former India player, who shared the dressing room with both, said that Gambhir is not a bad human being but not the easiest person to handle. The former India skipper admitted that Kohli's aggression sometimes felt fake.
also read : A. R. Rahman Stopped By Police While Singing In His Concert ??
Both players have been fined their full match fees, although it is unclear how a mentor's penalty is computed by the BCCI. Kohli has 55.4 million followers on Twitter alone, while Gambhir has 12.5 million followers of his own. The people in their close quarters are either trying to lionize them or create a false narrative.
The RCB social media team is trying to justify Kohli's aggression, which is bordering on boorishness, but in doing so, they are making themselves look silly. Gambhir's political secretary Gaurav Arora from his Twitter handle @gauravbir786 wrote that asking trolls to abuse Gambhir's daughters is an unacceptable low.
also read : Virat Kohli's Video From Dressing Room Adds Fuel To The Fire !!
In the end, the altercation was another uncalled-for bust-up, and a rivalry from which no one came out smelling roses. While some may see the intense rivalry between the two players as exciting, it is important to remember that the game should be played with sportsmanship and respect.