Viral Girl Faced Severe Harassment From BJP !!
CM / Updated: 2019-12-24
12:45 IST
By Dhiwaharan
We all have come across a girl who named as Indulekha wearing "Burqa" to protest against the law passed by the BJP government. The girl who carried a pla card saying "Mr.Modi. I am Indulekha, Identify me by my dress" . The picture of her went viral across the country and many lauded her for her courageous move to express her stand in a subtle, yet powerful way.
[wp_ad_camp_1]
Here's the picture of her carrying the placard :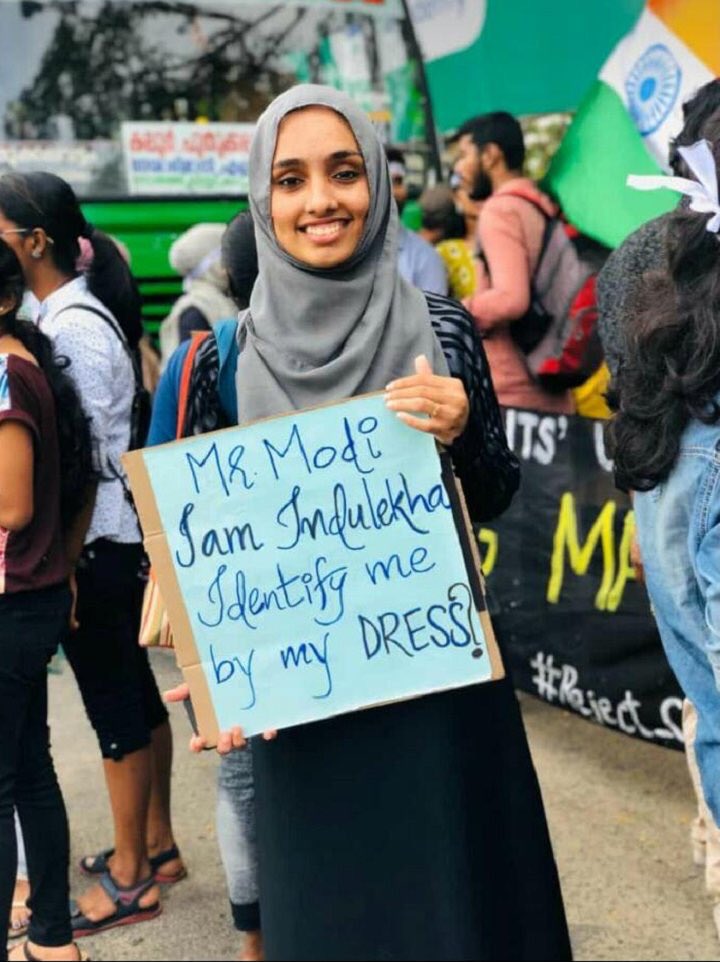 Now to our shock, a twitter user who claims herself as a senior of Indulekha in college, reported about cyber harassment the girl is facing since the picture went viral, from the ruling government for involving in such act.
Arya said that her junior is facing through a serious harassment in online due to the above picture. "It literally constituted of cyber rape" she said in her post. "This is what happens to women who protest in India. The amount of harassment they face just because they stand up for their rights is exactly why more women don't speak out. I've personally just talked to her a few times but just enough to know that she's a gem of a person" she wrote in her post by adding the screenshots of the vulgar comments, the protester received.
[wp_ad_camp_1]
Here's the screenshot she shared :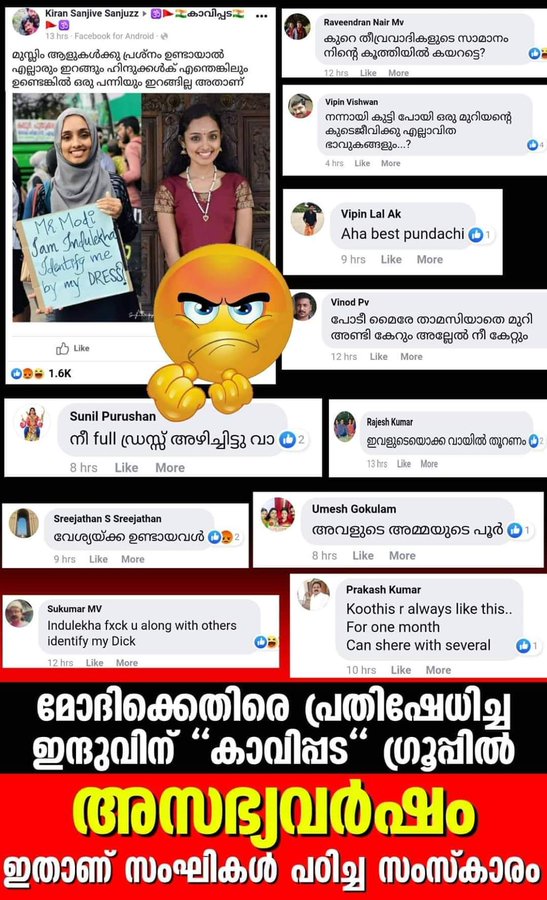 Arya said that the kid who is not even 18 yet stood up for something for the first time. She worried about the fact that the kid's courage level went down due to this activity of the Men and Women of BJP. She said that her parents are worried already due to her picture going viral and this harassment issue is stressing them more.
Check out the tweets posted by Arya below :
Indulekha is my junior in college. She faced serious cyber harassment due to this on Facebook and other social media. The BJP IT cell (men and women) commented vile and unimaginable things on her post. It literally constituted of cyber rape. 1/n https://t.co/YYbrxTdmhC

— Arya (@thecuriouself) December 23, 2019
[wp_ad_camp_1]
Doesn't deserve this. Look at these comments. They are horrible and shows exactly what BJP means by "nari tu narayani". 3/n pic.twitter.com/2SBt1D4WQ2

— Arya (@thecuriouself) December 23, 2019
She's a kid who is not even 18 yet. Imagine her plight. She just started college and the first time she stood up for something, this happens. What more is needed to demotivate her further?
Her parents are already worried now this adds to their distress. 4/n

— Arya (@thecuriouself) December 23, 2019
Indulekha protested to remove the Citizenship Amendment law which was passed in the parliament recently. The act seeks to give Indian nationality to non-Muslim refugees from Pakistan, Bangladesh and Afghanistan passed the lower House test recently. The Bill seeks to amend the definition of illegal immigrant for Hindu, Sikh, Parsi, Buddhist and Christian immigrants from Pakistan, Afghanistan and Bangladesh, who have lived in India without documentation. They will be granted fast-track Indian citizenship in six years. So far, 12 years of residence has been the standard.
When we all seeking women to speak out on issues that concerns the society and people, there are this kind of people who are finding ways to control them which is nothing less than oppression.