Vikram's Speech About The Achievements Of Our Kings Even Before USA's Discovery Won Hearts !!
Cholas
Manirathnam
Ponniyin Selvan
VIkram
CM / Updated: 2022-09-25
00:17 IST
By Dhiwaharan
Chiyaan Vikram who is currently involved in promoting his upcoming film "Ponniyin Selvan" won the hearts of fans after describing about the achievements of our kings, especially Raja Raja Chozhan even before the discovery of United States Of America. The actor's speech about the temples which were built without any kind of technology or machinery impressed not only fans but also press reporters.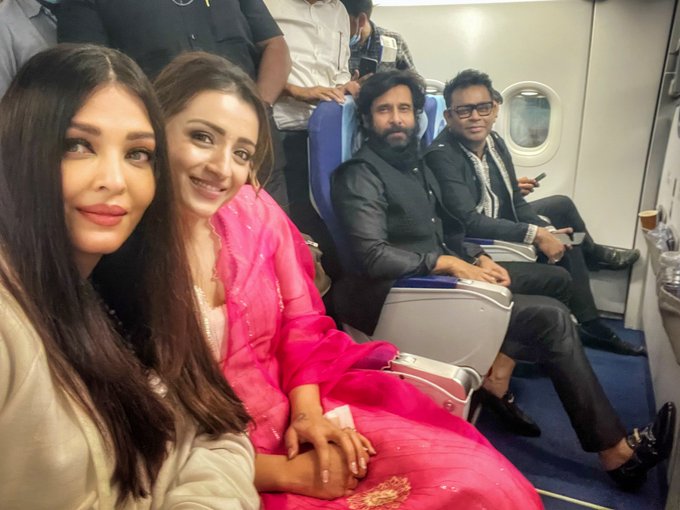 Pointing out the Leaning tower of Pisa, Vikram said "Someone said something very nicely, He said "We are actually appreciating a building that doesn't stand".  It's actually falling over and we are getting excited and taking pictures of it. But we have temples today that stand and they didn't use plaster" said Vikram during his speech.
"You know this particular stone, they had to use a ramp which was six kilometres long, which was pulled by bulls, elephants and people. Six kilometres long to get it up there, without any machinery, without any cranes, without anything" the actor further said. "Without using plaster, the building withstood six earthquakes. You know what happens when an earthquake comes. Without plaster" he added.
There's nothing like your heart beatin' in sync with a ചെണ്ട!! 💗🪘#PonniyinSelvan pic.twitter.com/T6xkdHMTrU

— Aditha Karikalan (@chiyaan) September 20, 2022
"What they have done is, they have an outer wall. Inside that, a corridor of 6 feet and then another structure which goes all the way to the top which is why it withstood such a long time, which is why it withstood earthquakes. We need to know about these things. This particular king built 5,000 dams in his time and he made awater management ministry in that time" Vikram said.
"The true soldier fights not because he hates what is in front of him, but because he loves what is behind him." So true. So beautiful. pic.twitter.com/8IOFSag8b9

— Aditha Karikalan (@chiyaan) September 17, 2022
"He conducted elections for the village leaders. He named cities after women. They used to free hospitals, He used to give people loan, He didn't just throw money at them but helped them live with dignity. This happened in the 9th century. At that time, America hasn't been discovered by Columbus till 500 years later. Think about our culture, Think about how advanced we were. We need to be proud about it. It's nothing to do with north India, South India, East India, West India, we are Indians. We need to feel proud about it. Don't you think we should celebrate the history" said the ace actor and demanded water for making such a speech.
Watch video :
#PonniyinSelvan #ChiyaanVikram 🔥
pic.twitter.com/HWwwPSZqDl

— Prakash Mahadevan (@PrakashMahadev) September 24, 2022
Here's how internet reacted to Chiyaan's speech :
#PonniyinSelvan #ChiyaanVikram 🔥
pic.twitter.com/HWwwPSZqDl

— Prakash Mahadevan (@PrakashMahadev) September 24, 2022
The passion of @chiyaan Vikram explaining the glory of Chola Kingdom.. pic.twitter.com/DZNl5gY2D0

— Ramesh Bala (@rameshlaus) September 24, 2022
Adichan paaru motha balliye Sixeru 😅
Ithu Namma list liye illaye 😜#Vikram in his elements 🔥🔥🔥
Too GUD#PS1#PonniyinSelvanhttps://t.co/FXi5BpSb6N

— Raaja (@raajaboss) September 24, 2022
It's a huge sixer from @chiyaan #Vikram🔥
Man has summed things up in like 2 mins…#PS1 is the celebration of our great Indian culture…
It's a must watch for all🖤

The Cholas Are Coming🏹
Just 5 days to go🔥#PonniyinSelvan1 #PonniyinSelvanpic.twitter.com/cX0DiYETRz

— Mictian is hyped up for PS1 (@Imictian) September 24, 2022
Chiyaan Vikram about the greatness of our Indian Culture & Heritage ❤️🔥#ChiyaanVikram #PS1 @chiyaan #PonniyinSelvan pic.twitter.com/rRB6O4zLZU

— Sreedhar Sri (@SreedharSri4u) September 24, 2022
That moment "When a last bencher showcases his talent in front of the whole class" 😁🔥@chiyaan's knowledge about our ancient temples is mind blowing 🥰 As I said earlier is there anything that #Vikram cannot do?#PS1 pic.twitter.com/D0YX08R6As

— KARTHIK DP (@dp_karthik) September 24, 2022