Vikraman Mentioned About Ayesha's Periods Issue In Weekend Episode??
Written by Dhiwaharan Published on Dec 05, 2022 | 22:42 PM IST | 118
Follow Us
Comments: 0
During the nomination process, Ayesha nominated Vikraman saying that he is not the man whom he projects. She said that the way he mentioned about her "monthly" issue in the weekend episode, made her upset and is nominating him for the same reason. As soon as the television artist made the statement, reactions over whether Vikraman did it or not is surfacing in the internet platforms.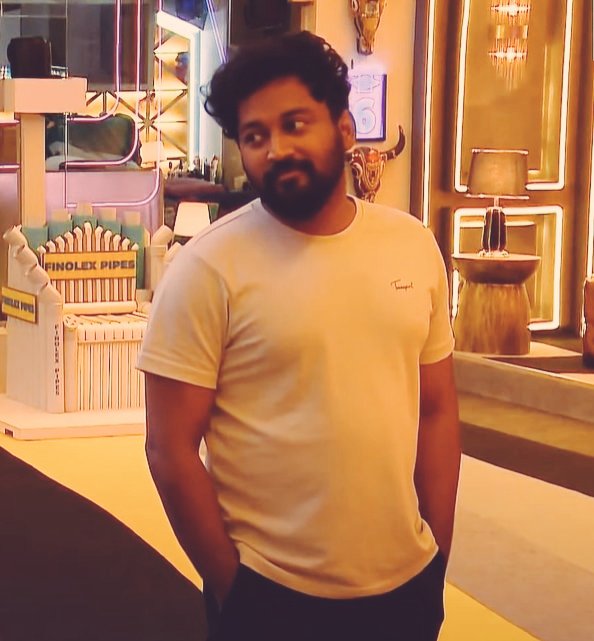 "I believed Vikram anna will always be where the justice is. I thought he would question things and would forget it right away. But last week, he proved me wrong" Ayesha said while nominating Vikraman for the eviction.
"During Kamal sir's episode, I had no problems with the other questions he asked me but mentioning about the "monthly" issue which I talked about inside the house, in front of everyone offended me" she further said.
"I never thought, a gentleman like "Vikraman" would involve himself in such things. Overall, he is not someone I believed. He is also faking few things. I felt shy when he mentioned such things about me and I don't like playing with a contestant like him who insulted me" Ayesha said during her nomination process.
Watch the video below :
#Ayesha𓃵 is first person nominate clearly 🔥 …Nethiadi Nominate,,,Vikrman Vedha Exposed by Ayesha ! #BiggBossTamil6 #Ayesha nominate always mass 🔥 #BiggBossTamil6 pic.twitter.com/36WDND0DLk

— Ƙıɴɢ (@Mikah_Amyy17) December 5, 2022
Vikraman, during his nomination turn, said that he wants Ayesha to walk out as she is using her medical condition to behave violent. "We all are facing medical issues but it's not an excuse to break things" he said.
Watch the video below :
#Vikraman in nomination mention as "Medical issue" solranga to break things,not acceptable. Indirect ah sonna kooda Taboo nu nenacha maara vendiyadhu #vikraman𓃵 illa neenga dha. Time to normalise #Ayesha didn't expect this frm U #BiggBossTamil6 #VaathiVikraman #BiggBossTamil pic.twitter.com/S3BJFiJNUi

— siva (@winsiva1994) December 5, 2022
While the followers of Vikraman defended him saying that he only mentioned as "medical issue", followers of the show were also seen criticizing him for the same reason.
Watch the video below :
Shitt bruhh Vikraman has talked about Ayesha's periods mood swings in the weekend too, prolly it got cut in the episode, Ayeshu feels embarassed for him mentioning that before everyone. #BiggBossTamil6

— Nivi (@Nivi5677) December 5, 2022
Exactly not expected from vikraman this ayesha your right saying on point 🔥🤘🙌 @ikamalhaasan #Ayesha𓃵 #BiggBoss #BiggBossTamil #vikraman𓃵 https://t.co/texLXFfy9r

— Arambikalama_nanba_nanbi (@BB6Tamil) December 5, 2022
#Ayesha behaves too too Aggressive and using a health card this .Now claiming #Vikraman mentioning it as"Medical issue" can't be accepted reason for behaviour is a problem for her. Menstruation taboo ah ? #BiggBossTamil #BiggBossTamil6 #vikraman𓃵 #VaathiVikraman #vikramanarmy pic.twitter.com/M1bVohJGvi

— siva (@winsiva1994) December 5, 2022
Wow #Ayesha is keen and clear on her points while nominating. You go girl 😎😎#BiggBoss #BiggBossTamil #BiggBossTamil6 https://t.co/91yFwPPL9u

— Bigg Boss Tamil S6 (@BBTamil_S6) December 5, 2022
#Azeem health ah use panni flower pluck pannathum #Ayesha periods issue vechi nomination la kuthurathum same category than.. Health issues excuses lam vechi innum yevlo medical card humanity card poduvanga therila #Vikraman nominated by #ayesha #BiggBossTamil6

— badri (@ba3carelessguy) December 5, 2022
what was #vikraman expecting #ayesha to do here ?

already she was on her periods and
this tribal people was violationing the rules & torturing the opponents.

but vikraman said ayesha was angry & broke the door, periods is not an excuse to break things.
WORST 👎#BiggBossTamil6 pic.twitter.com/HsIbrR7wQV

— 🦁 (@LeoPhrase) December 3, 2022
#vikraman spoke about Ayesha periods mood swings in weekend epi itseems..

They edited that part..

But still it's very worst!!#BiggBossTamil6 #BiggBossTamil

— Priyaa✨ (@im_priyaS) December 5, 2022
#Vikraman when #Shivin asked if he was 'medically unfit' to play the water polo game, ATHU UNGA KITTA PERSONALLY SONNADHUNGA!!

Vik when #Ayesha thinks she shared her being on periods/PMS with him personally, doesn't offer the same courtesy he expected from Shiv! #BiggBossTamil6

— Anne (@_AnneSays) December 5, 2022
Everyone in house kept mum, didn't ask #Ayesha when she used violence and broke things, in the name of period stress. But only #vikraman𓃵 questioned the stupidity of normalising such acts in name of women-cycle!#Vikraman– Taboo Breaker 🔥❤️👏#BiggBossTamil6 #BiggBossTamil pic.twitter.com/SXKBbPvCLX

— Kakashi Sensei (@KakshiHatake001) December 5, 2022
Justifying Women not allowed in kitchen during periods 👎

This is why Vikraman told oru violent behaviour ah periods pain dhan reason nu sonna it will send a bad notion & add to stigma around it#biggbosstamil6 #ayesha https://t.co/fU92ejaVrp

— குறுக்க இந்த கௌஷிக் வந்தா (@Muthupa70736318) December 5, 2022