Vikatan's "Sarpatta" Review Irked Fans Who Loved The Film !!
By Dhiwaharan
Review and the mark provided by Vikatan magazine to the recently released "Sarpatta Parambarai" film disappointed a number of fans who loved the movie while watching it on "Amazon Prime" online streaming platform. The Vikatan review has a huge viewership and the readers would always be keen on knowing about the marks that is going to be given to certain films. Now, "Sarpatta" review from Vikatan had gained the attention of the audience and many expressed their disagreement through their tweets and posts.
[wp_ad_camp_1]
"Sarpatta Parambarai" which focusses on a boxing clan that was successful at one period, facing down fall due to a raise of a couple of star boxers namely "Vembuli" and "Dancing Rose" from the opposite clan. "Kabilan", an ordinary daily wager who is an ardent fan of the game, happens to enter the podium to save the pride of his clan and his master "Rangan". With Arya playing the lead role, an ensemble cast that includes Pasupathy, John Vijay, Dushara Vijayan, Kalaiyarasan, Sanchana Natarajan, John Kokken, Shabeer, Anupama Kumar, Kaali venkat playing the supportive roles.
With majority number of positive reviews, the film is being widely watched by the fans across the globe. Characterizations and Castings are being highly lauded by the audience and critics. The film is also being appreciated for its art work as many could be seen lauding the period drama for bringing the mid 70s in front of their eyes.
The film was well received by the audience and by the critics. Many reviewers, including "Blue Satta" Maaran appreciated the film without pointing out a flaw. Now, through their review, Vikatan had said that the film gives a feel of ending at the interval where Kabilan beats Vembuli and the second half extends without an aim. "Dialogues aren't strengthening the story as well. Practice less Kabilan transforming into a brave man, Old mother sentiments etc are bothering in the second half" the review read.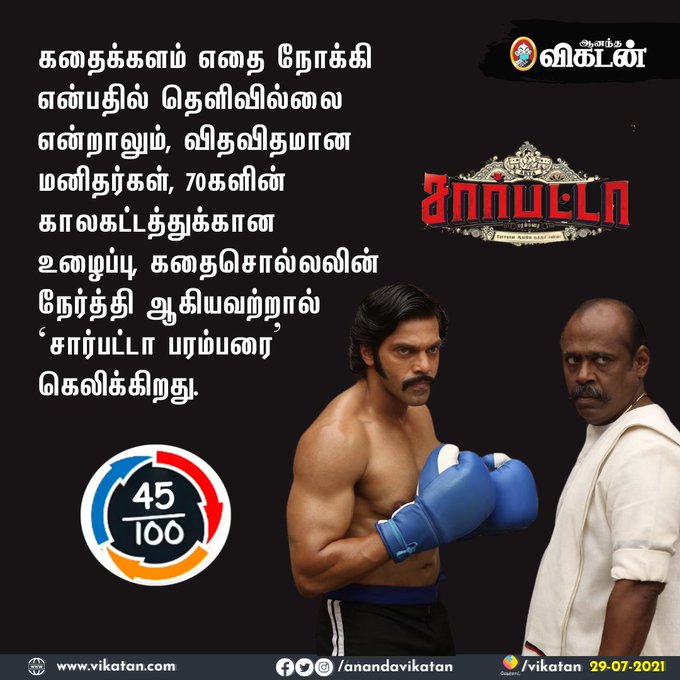 [wp_ad_camp_1]
They also provided 45 marks out of 100 for the film. Many who disagreed with the review and marks started expressing their opinions in the micro blogging social media site. Popular you tuber Gurubai compared the review of Vikatan for "Badri" movie and "Sarpatta" movie to expose the contradiction of their review process.
Check out some of the reactions below :
" பெருமாள் கடை மாட்டு பிரியாணி" னு வசனம் வச்சா எப்படி 😆 அதான் விகடன் பொங்கிட்டான்… 🤪😆

— முரளி_கீச்சு (@KeechuMurali) July 29, 2021
சார்பட்டா பரம்பரைக்கு விகடன் விமர்சனம். இடைவேளைக்கு அப்புறம் இலக்கின்றி பயணிக்கிறதாம். இடியப்பப் பரம்பரைய வீழ்த்துறது தான் படத்தோட இலக்கே. இடைவேளைக்கு அப்புறமும் அத நோக்கித் தான் போச்சு.. pic.twitter.com/CGMGqeypQA

— நிலாவன் (@nilaavan) July 29, 2021
ஒரு படத்தின் உள்ளடக்கம், செய்நேர்த்தி, அது கூறும் விசயம், காலகட்டம், உண்மைத் தன்மை இதில் எதையுமே அணுகத் தெரியாத.. ஒரு மிக மேலோட்டமான அறிவுடைய #விமர்சன_குழு-வை கொண்டிருக்கிறது @vikatan

அது இல்லையெனில், வேறு காரணங்களுக்காக இப்படி தங்களை வெளிப்படுத்திக் கொண்டார்களா?#Sarpatta

— Pa_Prem (@PaPrem3) July 30, 2021
இதே எவனா மயிலாப்பூர்ல இருந்து படம் எடுத்து இருந்தா 90 மார்க் கொடுத்திருப்ப அடேய் டாகல்டி …இதுக்குதான் ஒத்த செருப்பால அடிச்சார் பார்திபன் 😡🤦 pic.twitter.com/Or2BsA0YUp

— M⭕han🌈G🅰️ndhi 💃💃💃 (@gandhimohanr12) July 29, 2021
ஒரு ஆண் கூட்டத்தின் முன் அழலாம்,
பொண்டாட்டியிடம் மன்னிப்பு கேட்கலாம்,
பொண்டாட்டியின் காலில் விழலாம்,
தோல்வியை ஒத்துக்கொள்ளலாம்,
எந்த வயதிலும் தாயிடம் சரணடையலாம்,
இதை செய்வதனால் ஆணின் மீசை அழிவதுமில்லை… அவமானங்கள் ஏதும் நிகழ்வதுமில்லை.
இப்படி தரமான கருத்து சொல்லியிருக்காங்க pic.twitter.com/Y9ZZXUf1gT

— Prakash Ambedkar (@PBikka) July 30, 2021
[wp_ad_camp_1]
சிந்து பைரவிக்கு 55/100

சார்பட்டா பரம்பரைக்கு 45/100

ஒவ்வொரு அருமையான கேரக்டருக்கும் 1% கொடுத்தாலும்
60% தேறும். டைரக்டருக்கு?

— BarathiKalam (@barathikalam) July 29, 2021
மார்க் இருந்தாலும் ஒரு நியாயம் வேணாமாடா…இந்த நல்ல படத்துக்கு 45 மார்க் குடுத்திருக்கீங்க..😐😐😬 pic.twitter.com/WKelYYZ3CU

— Jeevanantham (@J_Since2000) July 29, 2021
உன் மார்க்கை தூக்கி குப்பையில போடு விகடா..

இதே படத்த "அவா" டைரக்ட் பண்ணி இருந்தா படத்துக்கு 70 _ 80 மார்க் கொடுத்திருப்பீங்க…🤪

— -ஸ்டீலி.😎 (@siddiq003) July 29, 2021
" கதைகளம் தெளிவில்லை"னு சொல்ர அப்புறம் நீயே "கதை சொல்லும் நேர்த்தி"யால கெலிகிறதுனு சொல்ர.. ஏலே பைத்தியகார மூதேவி விகடா…. பைத்தியம பைத்தியம்

— ஜெய் 🤘🏽🕴🏿🤘🏽Jai (@JayanRajini) July 29, 2021