After giving 29 marks for director Mohan G's second directorial "Draupathy", Vikatan magazine gave the same mark to his third directorial "Ruthra Thandavam" which got released in theatres recently. The film which reportedly acclaimed commercial success with in days of theatrical release is being criticized critically. Vikatan magazine which enjoys a huge readership across the state slammed the film's concept throughout its review and gave 29 marks out of 100. Director Mohan G who reacted to the magazine's review to his "Draupathy" film, is yet to react for this review of the monthly magazine.
[wp_ad_camp_1]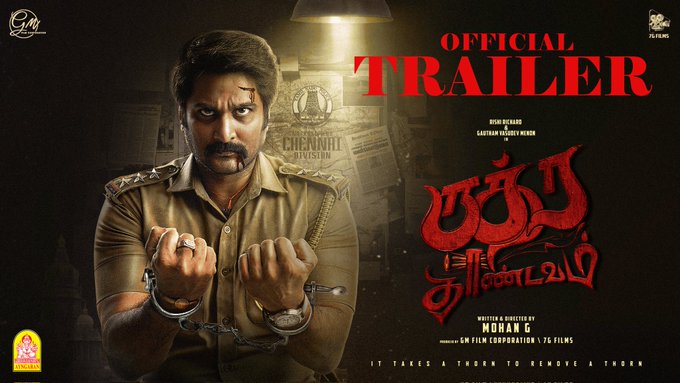 "Ruthra Thaandavam", directed by Mohan G of "Draupathy" fame released on theatres on 1st of October. The 2 minute 51 seconds long trailer showed the protagonist as a police officer who is being accused as a caste-fanatic for the way he handles one of his cases. With Richard playing the lead role, the film's caste includes Gautham vasudev Menon, Dharsha Gupta, Thambi Ramaiyah, Radha Ravi and others.
The trailer ends with Richard uttering the dialogue, "I was just doing my job. You people made others to say that I am a caste-fanatic. Why are you doing this dirty politics ?". The film has been censored as U/A. Reviews and reactions from fans and film critics are surfacing in Internet platforms, ever since the film got released. Review of Vikatan group emerged in their monthly magazine. Crew members of Vikatan gave just 29 marks for the film, saying that the film encourages caste discrimination by talking against "Protection of Civil Rights".
[wp_ad_camp_1]
Vikatan said that the film wrongly preaches about the PCR act and religious conversion and cites it as the reason for the protagonist's arrest. The review criticized the lead actor's performances and slammed the filmmaker for portraying wrongly about a leader through his own imagination. "The film ruined both art refinement and social understanding" the review of Vikatan said about Ruthra Thandavam film.
Check how the filmmaker reacted to this review :
Sir.. They decide whom to shine in cinema field and whom not to shine.. Don't take it so serious sir.. Am practiced with this biased media.. I whole hearted thanking you for the love and support for my #RudraThandavam from you Mr Arul sir ❤️🙏🏻 https://t.co/BLdniMBQgg

— Mohan G Kshatriyan (@mohandreamer) October 6, 2021
However, the film got huge support from the leaders of BJP party and group of people. Reviewing his previous film "Draupathy", Vikatan accused the filmmaker for sprinkling poisonous seed among the audience. "Exposing the fake marriages and the corruption in Register office is something to be welcomed. But accusing a particular community for all such crimes is regressive and a poisonous preach." the review of Vikatan said.
[wp_ad_camp_1]
On seeing this post from Vikatan, Mohan G, director of the film immediately replied to it by saying that it is not the mark his film deserves. "This is their pain on seeing a man from my community getting success. This is just the beginning. Many creators from Vanniyar community will emerge hereafter. You keep lamenting about it. Thanks for your review" he said in his reply tweet.
இது என் படத்திற்கான மார்க் இல்லை.. என் சமூகத்தில் இருந்து நான் வெற்றியாளராக வெளிவந்ததை தாங்க முடியாத வலி.. இது ஆரம்பம் தான்.. பல வன்னிய படைப்பாளிகள் இனி வெல்ல தான் போகிறார்கள்.. இப்படியே குப்புற படுத்து புலம்ப வேண்டியது தான் நீங்க.. உங்கள் விமர்சனத்திற்கு நன்றி @AnandaVikatan https://t.co/CTtZWUhrgi

— Mohan G Kshatriyan (@mohandreamer) March 5, 2020