Vijay Sethupathi's Clarification For Cutting Cake With A "Strap Knife" !!
Birthday
Vijay Sethupathi
2 years ago
By Dhiwaharan
Actor and Producer Vijay Sethupathi is celebrating his 43rd birthday on Saturday and wishes from his fans and colleagues are surfacing in the Internet since morning. Meanwhile, a controversial picture of the actor celebrating his birthday by cutting a cake with a long strap knife did rounds in social media platforms with many people condemning it. Now, the actor himself came up with a clarification saying that he will behave in a more responsible way in future and apologized to those who got hurt.
[wp_ad_camp_1]
Vijay Sethupathi, one of the busiest actors of Kollywood industry, loved by majority number Tamil cinema fans for his natural way of delivering performances. Irrespective of his market and fan base, the actor is portraying various characters and concentrating in content oriented films. The actor who is very much known for his versatility, played role of a transgender in Super Deluxe, 70 year old theatre artist in Seethakadhi, Police officer in Chekka Chivantha Vaanam. He also played villain for Super star Rajinikanth in Petta movie which was directed by Karthick Subbaraj. Now, his role in "Master" is being highly praised by the fans.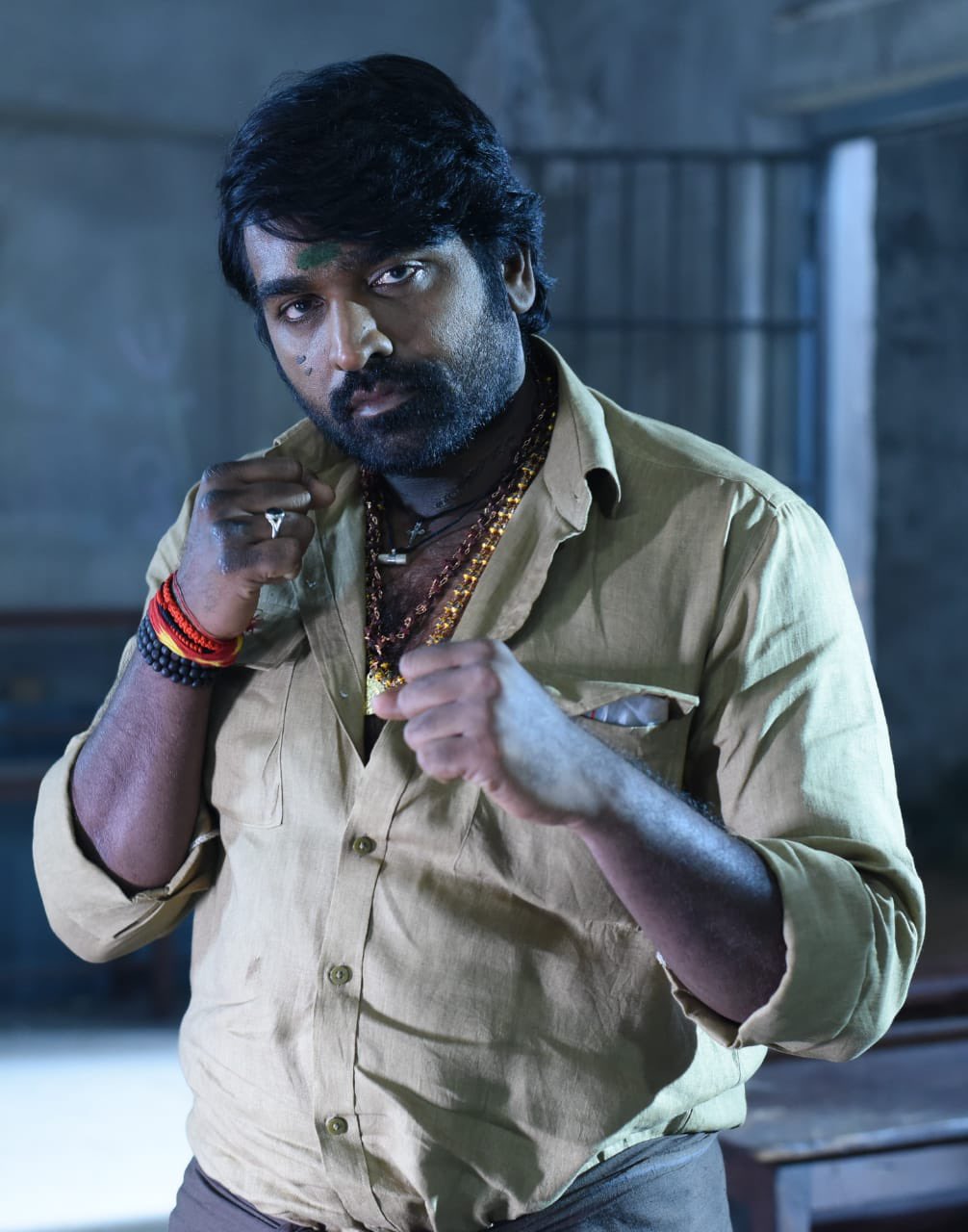 He who is currently committed to a dozen number of projects, celebrated his birthday with the crew members of director Ponram it seems. A picture of himself cutting a cake with a long strap knife went viral and created a huge controversy.
இதற்கு முன்னர் பட்டாக்கத்தியால் கேக் வெட்டி கொண்டாடியவர்களை காவல்துறை கைது செய்துள்ளது. அதே போன்ற நடவடிக்கை @VijaySethuOffl மீதும் எடுக்கப்படுமா? @tnpoliceoffl@copmahesh1994 @ipspolicetn@aravindhanIPS

இவரை பின்பற்றி ரசிகர்களும் இதே போல் கேக் வெட்ட துவங்கினால் என்ன செய்வது? pic.twitter.com/AduqH1Umro

— Prakash PN (@mannan_prakash) January 16, 2021
[wp_ad_camp_1]
Just like a actual rowdy he cut the cakes with big knife. It shows his character and responsibilities towards his fans and in general.. pathetic Vijay sethupathi..

— JAI SIYARAM நாகா(नागा) Single 🇮🇳🕉 (@nagsalways) January 16, 2021
#VijaySethupathi should be arrested under section

27 Arms Act & 290 IPC

The law is common to all

isn't it?

— ஆழ்வார்க்கடியான்💎 (@Green_Tamil) January 16, 2021
Now, responding to the reactions, the actor released a press note in his official twitter account. Starting his note by thanking his fans and colleagues for wishing him on his birthday, Sethu said "A picture that was captured three days ago in my office caused a debate. In that picture I could be seen cutting the cake with a strap knife. I am committed to a project that is going to directed by Ponram sir. Strap knife plays a prominent role in that film" said Vijay in his note.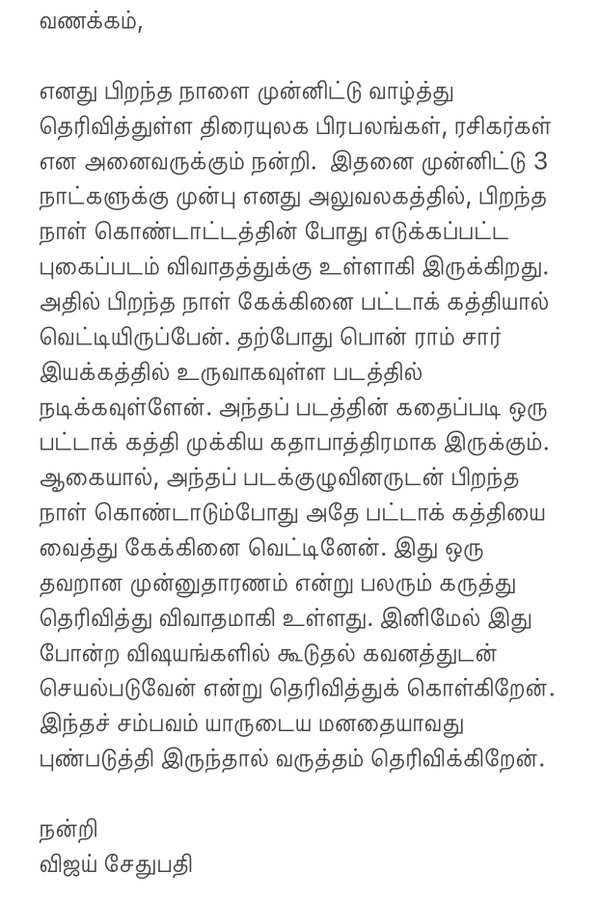 "So, I happened to cut the cake with a strap knife with the crew members of the film. Many people had condemned it saying that my act became a bad example and it caused a debate in public as well. I would focus more on such matters from now on. I apologize if this incident hurt the sentiments of anyone" read the press note of the actor.
[wp_ad_camp_1]
Check out his tweet below :
January 16, 2021
It is notable that Vijay Sethupathi was termed as one of the very few actors in Tamil cinema who has zero haters in Tamil cinema. Lately, he was criticized by a set of people for accepting to act in the biographical picture of Sri lankan spinner Muttiah Muralidharan. The actor opted himself out of the project after seeing the public outrage. On the work front, he is expected to be seen in "Kaathu Vaakula Rendu Kaadhal", "Thuglaq darbar", Hindi remake of Forrest Gump and many others.