Actor Vijay Sethupathi who is known for his sensible public statements has came up with a tweet. The two major problems of country India right now is, the fear of dying due to Coronavirus and the fear of dying due to starvation. The actor now came up with a tweet asking, how it could be if we manage to discover an injection as a solution for starvation.
[wp_ad_camp_1]
Being one of a very few cinema celebrities who speaks his heart out, Vijay posted this tweet after many people raised question against the government which asked them to stay at home to avoid spreading the COVID 19. People including daily wagers and those who ran an entire family with their daily income are suffering in big time due to this lockdown which came in to effect to avoid the spread.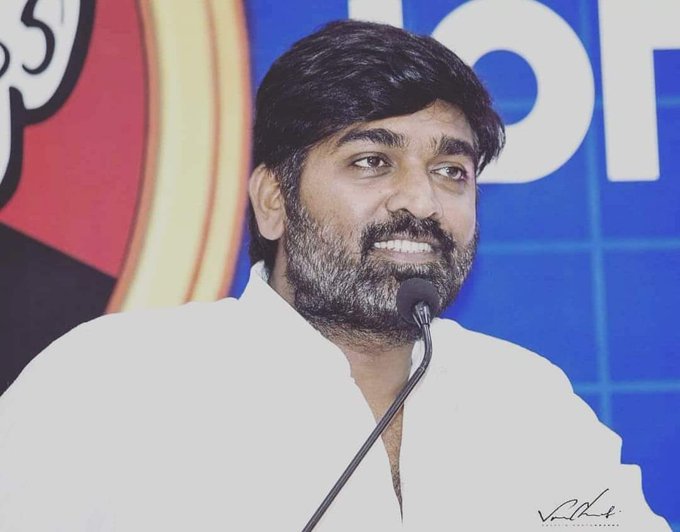 Many believed that it would end by 3rd of May but the centre has extended it for the second consecutive time on seeing the increase in positive corona cases in the country. Vijay Sethupathi who donated Rs.10 Lakh for the welfare of FEFSI members, will be seen in "Master" as an antagonist post lockdown.
The actor who enjoys nearly 10 lakh followers in Twitter, recently posted a tweet supporting actor Suriya's press release regarding the controversy of his wife Jyothika's speech in an award function. Now, the actor came up with this tweet writing "There is a disease called hunger. How good it will be if we manage to discover a vaccine for that disease.. Oh My Kadavule"
[wp_ad_camp_1]
"பசி என்றொரு நோய் இருக்கு… அதுக்கு ஒரு தடுப்பூசி கண்டுபிடிச்சா எவ்ளோ நல்லா இருக்கும்… ஓ மை கடவுளே!!!" read his tweet.
Check out his tweet below :
பசி என்றொரு நோய் இருக்கு… அதுக்கு ஒரு தடுப்பூசி கண்டுபிடிச்சா எவ்ளோ நல்லா இருக்கும்… ஓ மை கடவுளே!!!

— VijaySethupathi (@VijaySethuOffl) May 5, 2020
This tweet from the actor attracted wide attention from his followers and from the users of the social media platform. Check out some of their reactions below :
உன் இஷ்ட மயிருக்குலாம் கண்டு புடிக்க முடியாது… pic.twitter.com/Dn7DdWViRF

— டகால்டி (@Da_galti2) May 5, 2020
Adhellam nenacha avanga en tasmac ahh open panna poranga.. avangaluku tasmac business than mukiyam… Evan epdi sethalum prachanai illa ☹️😪#DontOpenTNTasmac

— VSP_Rasigan (@vsp_rasigan) May 5, 2020
Vijay Sir, pasikku vaccine irukku👇pudhusa kanndu pidikka thevai illa😀 pic.twitter.com/F4wMIV2gIQ

— Raju (@nbrengaraju) May 5, 2020
உனக்கு இப்ப எங்கயா சரக்கு கெடச்சுச்சு?

— Sangeeth (@Sangeethoffcl) May 5, 2020
[wp_ad_camp_1]
Thadupoosi thevai illa Anna. Vivasayathaium vivasaiyaium sariya mathichale ulagathula pasinu onnu irukathu na.

— Mohanamoni (@MohanaMoni23) May 5, 2020
ஏழையின் பசிபோக்க அரசு எடுத்த நடவடிக்கை மீண்டும் டாஸ்மாக் திறக்கப்படும்.
போதை எனும் பாதையில் பயணிக்க அவன் குடும்பமோ பாதையின்றி தவிக்குது நடுதெருவிலே

— prakash (@nellaiprakash7) May 5, 2020
Vijay Sethupathi, one of the busiest actors of Kollywood industry, loved by majority number of Tamil cinema fans for his natural way of delivering performances. Irrespective of his market and fan base, the actor is portraying various characters and concentrating in content oriented films. The actor who is very much known for his versatility, played role of a transgender in Super Deluxe, 70 year old theatre artist in Seethakadhi, Police officer in Chekka Chivantha Vaanam. He also played villain for Super star Rajinikanth in Petta movie and is all set to appear as Villain again in "Master".
The actor who has handful of films in various stages of production, recently interviewed Kamal Haasan through Instagram live and learnt many things from him.