Vijay Sethupathi who is known for speaking his heart, has came up with a twitter post slamming the baseless rumours regarding the raid of I-T officials in the locations belong to popular personalities of Tamil film industry. Sethupathi has posted a couple of screenshots under the heading "Key Truths Behind IT Raid On Vijay" and openly denied them by writing "போயி வேற வேலை இருந்தா பாருங்கடா…" as caption to his post.
Vijay Sethupathi is known for his bonding with his co-stars and he raised his voice for them in several occasions. Now, in the theories written on the screenshots Vijay Sethupathi shared, addressed several conspiracy theories regarding the IT raids at the house of actor Vijay.
Check out the screenshots Vijay Sethupathi shared below :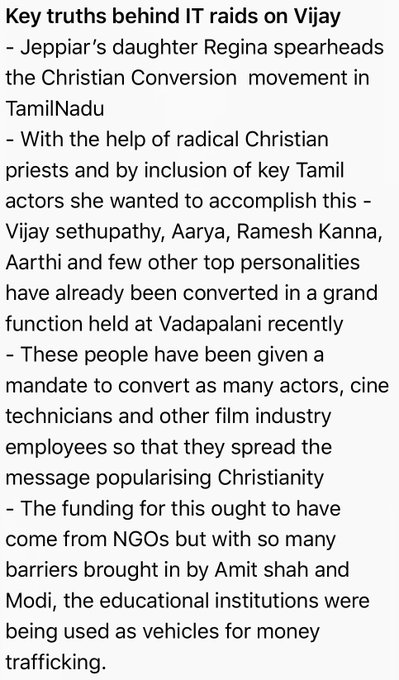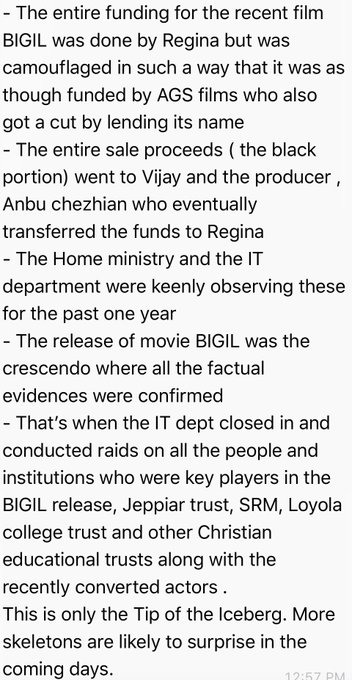 Check out the twitter post of Vijay Sethupathi here :
போயி வேற வேலை இருந்தா பாருங்கடா… pic.twitter.com/6tcwhsFxgT

— VijaySethupathi (@VijaySethuOffl) February 12, 2020
The screenshots shared by Vijay Sethupathi alleges that Jeppiar's daughter Regina is spearheading a Christian conversion movement in Tamilnadu. It said that the conversion did happen with the inclusion of actors like Vijay Sethupathi, Arya, Ramesh Kanna, Aarthi and few other top celebrities.
The statement further said that the funding for movie Bigil was done by Regina and AGS got a cut by portraying themselves as producers. It further states that the entire sale proceeds went to Vijay, producer and Anbu Chezhiyan and added that they transferred the funds to Regina. It said that the Home ministry and IT department were keenly watching this for past one year to take actions. The screenshot also said that more skeletons are going to get uncovered in the future.
Vijay Sethupathi who seems to be extremely dejected to come across such baseless rumours floating on social media apps such as whatsapp, kept a full stop with his single tweet through his official twitter account in which he enjoys more than 7 lakh followers.
During the shooting of Vijay's upcoming film "Master", I-T officials entered the spot and demanded Vijay to cooperate their operation. The I-T officials on Thursday said that raids at several properties linked with the biggest personalities of Tamil film industry, including actor Vijay, has led to the discovery of undeclared income in the box office collection of Bigil. This sudden visit of the income tax officials has instigated a huge furore in the digital platforms. Fans of the actor started expressing their support towards their idol and trended hashtags regarding the same.
The movie Master, in which Vijay and Vijay Sethupathi are going to act as protagonist and antagonist respectively, is slated to be released on April.The makers have released the first three posters of the film and it impressed the audience in big time. Apart from the leads Malavika Mohanan, Shanthanu, Arjun Das, Andrea Jeremiah are some of the other actors who are involved in the project. The makers have announced that a single titled as "Oru Kutti Kathai" is going to get released on the 14th of february.