"Vijay Is Working 250 Days A Year" – Bigg Boss Star Admired!! Check Reactions
Written by Dhiwaharan Published on Apr 08, 2022 | 02:47 AM IST | 30
Follow Us
Comments: 0
Popular movie reviewer cum Bigg Boss participant Abishek Raaja who is known for giving cinema updates in Twitter platform, recently, uploaded a tweet admiring actor Vijay's commitment of working 250 days a year to audience engaged. He posted the tweet after Vijay took part in the Pooja ceremony of his upcoming film which is tentatively titled as "Thalapathy 66".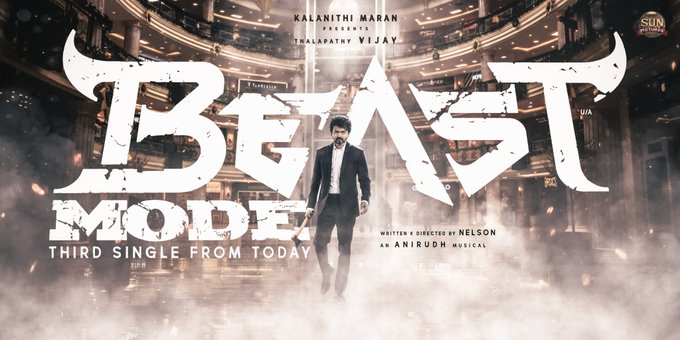 However, Abishek's tweet didn't go well with many of his followers as they could be seen confronting his tweet. Many said that it is the working style of every normal person and few even stated that the actor is getting paid a huge sum of amount as salary and there's no need to glorify it.
Having "Beast" to release in less than a week, actor Vijay already started working for his upcoming bilingual project. On seeing the commitment of the top tier actor, Raaja wrote "#Thalapathy66 Do we even realize how much of planning goes into the lives of such people @actorvijay works close to 250 days a year to keep us entertained" in his tweet by adding a picture from the Pooja ceremony.
Here's his tweet :
Do we even realize how much of planning goes into the lives of such people? @actorvijay works close to 250 days a year to keep us entertained. pic.twitter.com/qU7XuyPhWh

— S Abishek Raaja (@cinemapayyan) April 6, 2022
Most of the reactions that surfaced for the tweet, confronted Abishek questioning why he is exaggerating Vijay's normal work routine. The movie reviewer involved in an argument with a twitter user regarding the same as well.
Check out some of the other reactions below :
தங்களின் தந்தையும் வருடத்திற்கு 250 நாட்களுக்கு குறைவாக வேலை பார்த்திருக்க மாட்டார். Stop glorifying actors. Cinema is not a essential service. He is perfectly doing his plan with adequate future plan. What is special on this?

— Minimum Guy (@iamrk_kamal) April 6, 2022
Remaining 115 days of luxurious life that we couldn't imagine

— Mari (@Mariappan1) April 6, 2022
He is also earning big , not doing it for free. Likewise every family man works for 365 days.
Just treat actor as an actor and that respect is fine. Don't make them as larger than life persons.. ,they don't like it as well.

— ABTHUL RAZEETH (@abthulrazeeth) April 6, 2022
ille purille. Doctors who work a minimum of 16 hours a day 6x a week pun takde banyak cerita mcm nie… And they're actually doing their best to save peoples lifes 😅. https://t.co/VPFdazBFIE

— Vasanth Baskaran (@Vasanth278) April 8, 2022
Most ppl work for 300+ days https://t.co/UtkJPm8zWa pic.twitter.com/SbMhU3qJqK

— Sujan Venkat (@sujanv) April 8, 2022
1 crore for every 2 days of work or possibly more if parallel projects are happening..

insert that *cha evalo kashtam la* Vijay Antony meme here.. 😀 https://t.co/ChjygZVydv

— SomsG (@veravelai) April 7, 2022
Oru fan ah enakkey tension aagudhu. They receive so much money. Obviously they have to work. https://t.co/JXUdZlmak0

— Doc (@karthikadhaigal) April 7, 2022
நூறு கோடி சம்பளம் வாங்கிட்டு நடிக்கறவன எதோ பொது சேவை செய்ற தியாகி ரேஞ்சுக்கு பேசிட்டு, இவன் லாம் வயித்துக்கு சோறு தான் திம்பானா 😐😑😑 https://t.co/updnrF7fXk

— Lost Soul (@SoulaceV) April 7, 2022
Thats approx 5 days a week you stupid fuck. People work way more than that for way less. STFU https://t.co/huJmaCZcpZ

— dukesilver (@dukesilver_28) April 7, 2022
Why is working 250 days a year an achievement lmaooo.

He works hard, sure. I'll agree. Idhu too much 😂😂. Ig Cinemapayyan na works less than that so it's like a big deal for him. Good for him. Got things sort. https://t.co/3g2f6ztolg

— shantanu krishnan (@shantanu7878) April 6, 2022
100 கோடி சம்பளம் எனக்கு குடுத்து பாரு ஒரு நாளைக்கு 18 Hour வருஷம் ஃபுல்லா ஒரு நாள் கூட Leave எடுக்காம வேலை செஞ்சு காமிக்கவா…???? https://t.co/MQGTSP8mKt

— HeᎥຮen多erg♦️ (@V_I_P_E_R__) April 7, 2022
Actor Vijay debuted to Tamil film industry in the year 1993 and has faced criticisms for his looks during the initial stage of his career. The actor nurtured himself and became one of the highest paid actors in Indian film industry today. He has slowly started to venture into Politics by letting his party members contest in the local body elections as Independent candidates. The actor is expected to officially announce about his political party ahead of the upcoming Tamil Nadu election.