With Cristiano Ronaldo making headlines globally, users of social media platforms are busy making memes, trolls and opinions about his gesture of subbing a couple of Coca Cola bottles away from the camera. He gestured people to drink water instead and they couldn't keep cal ever since the video surfaced on Internet. Recent reports emerged saying that Coca cola faced financial loss as an impact to the gesture of the Global.
[wp_ad_camp_1]
Meanwhile, active online fans of actor Vijay started making memes comparing Ronaldo with their idol. Pointing out the fact on Ronaldo endorsing brand Coca Cola through advertisements during the early days of his career and advising people to ignore the product now after realizing the harm it could cause, Vijay fans say that the "Bigil" actor also acted in Coca Cola advertisement earlier and talked against it in his recent film "Kaththi".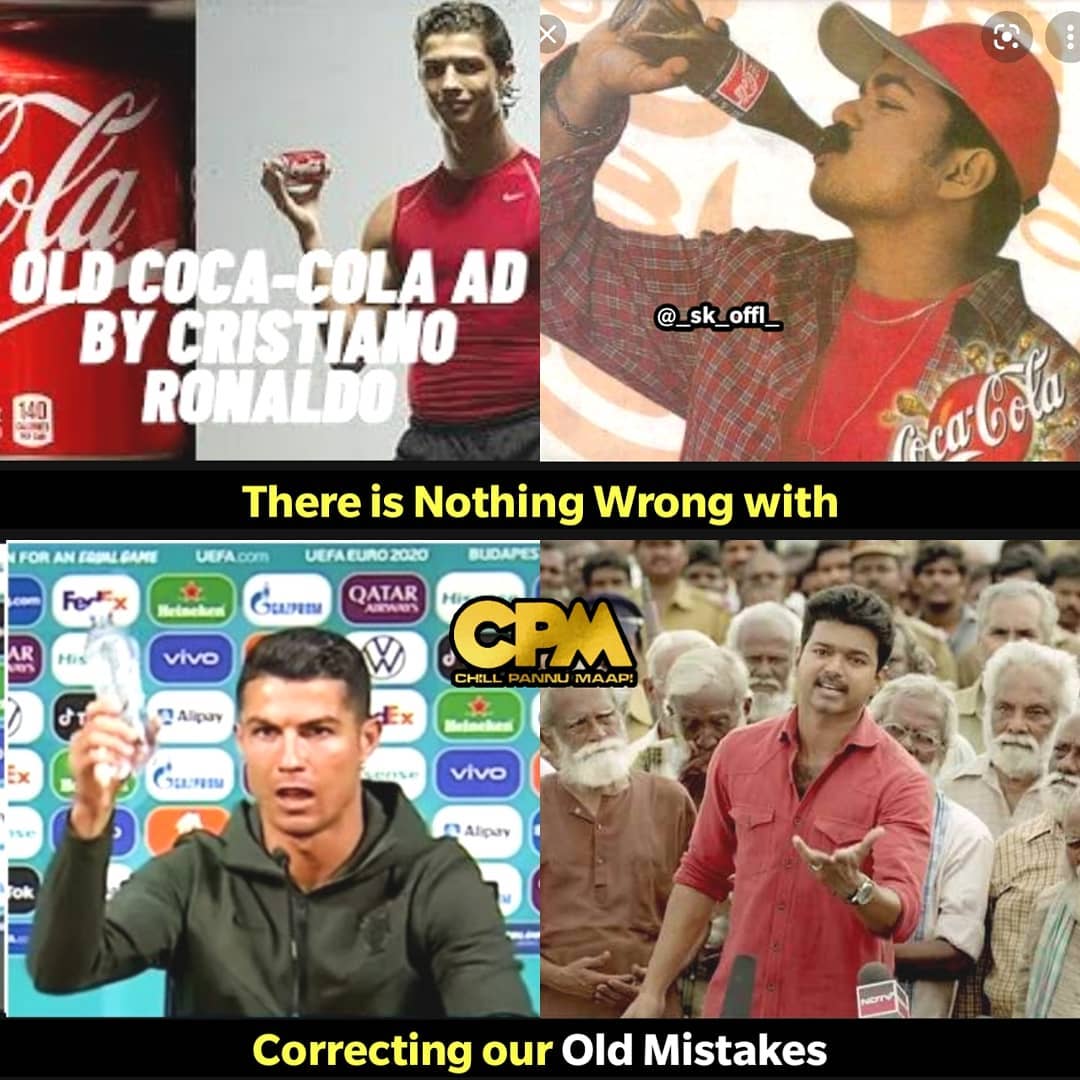 The brand Coca cola faced a financial loss of USD 4 billion which is equal to Rs. 29,333 crore after Footballer Cristiano Ronaldo moved a couple of Coca Cola bottles away from the camera and gestured people to drink water instead. It is reported that Coca-Cola's stock price dropped 1.6 % after the gesture of Ronaldo. The Daily star has reported that the worth of the company was dropped from USD 242 billion to USB 238 billion in one day.
Cristiano Ronaldo was angry because they put Coca Cola in front of him at the Portugal press conference, instead of water! 😂

He moved them and said "Drink water" 😆pic.twitter.com/U1aJg9PcXq

— FutbolBible (@FutbolBible) June 14, 2021
After appearing in the press conference with Coach Fernando Santos. After arriving to attend the press conference, Ronaldo who saw two Coca Cola bottles placed in front of him, removed them and placed it away so that it couldn't get captured with him in camera. Further, the man who enjoys a huge fan base across the world, lifted a water bottle and suggested people to "Drink Water". He literally said "Be with water" in Portuguese. His gesture surprised many including his coach who was sitting beside him.
[wp_ad_camp_1]
As the video gained global attention, fans of actor Vijay has been sharing tweets comparing him with Ronaldo. In the year 2014, after acting in "Kaththi", a fan asked Vijay why he acted in Coca Cola advertisement and talked against them in Kaththi movie. Replying to him Vijay said that he is also a normal human being who rectifies his mistakes. "I feel happy to have done that now. Ennoda Thavarugalai thiruthikolgira Sadharna Manushan thaan naanum" the actor said through his tweet.
Here's the screen shot of the reply :
Further, the actor added that he don't endorse the product from that period. "When I heard Kaththi script, it did make sense to me and I voiced it through Jeeva character." he said who also accepted that he did an ad earlier which was endorsed by high profile celebrities like Sachin and Aamir Khan. "I would be extremely happy if people start questioning political parties like this when they make electoral alliances" the actor wrote.
Check out some of the tweets of Vijay fans through which they compared the gestures of Ronaldo and their favourite actor :
It takes guts and humility to admit mistakes, which Vijay and Ronaldo have in abundance. They rectified it. ❤️👏🏻#Master @actorvijay @Cristiano pic.twitter.com/EJz7sZg50a

— DHFV Bioscope (@DHFV_Off) June 16, 2021
Hatsoff for your guts@actorvijay @Cristiano 👏#Master #CristianoRonaldo pic.twitter.com/CliDSOkGaz

— ASSAULT SETHU (@AssaultSethu_0f) June 16, 2021
[wp_ad_camp_1]
தப்ப திருத்திக்றவன் தான் பெரிய மனுஷன் 🚶 pic.twitter.com/gOJMSndF5u

— டைனோசர் 🦖 (@DinosaurOffcial) June 16, 2021
Then Now pic.twitter.com/1Ihdo9rKdJ

— Troll Cinema ( TC ) (@Troll_Cinema) June 16, 2021
These two ♥️🔥#thalapathy #thalapathyvijay #ronaldo #ronaldo7 #vijay #thala pic.twitter.com/26BTnV9CNT

— Chill Pannu Maapi (@chillpannumaapi) June 16, 2021