Articles
Vijay Fans Can't Keep Calm After Seeing This Tattoo Of A KKR Player !!
Fans of actor Vijay couldn't keep calm after seeing a tattoo printed on the arms of mystery spinner Varun Chakravarty who is playing for Kolkata Knight rider. He who recently grabbed headlines after taking the vital wicket of Mahendra Singh Dhoni in a match between Kolkata Knight riders and Chennai Super Kings, was seen wearing actor Vijay's tattoo in his arms. Fans of the "Gilli" actor started trending hashtag in the micro blogging social media site after realizing that Varun belongs to them.
[wp_ad_camp_1]
Varun Chakravarty rose to fame by playing matches in the TNPL league with a bowling action resembling Sri lankan spinner Ajantha Mendis. Varun started his cricket career as a wicket-keeper in his school days. Then turned into a medium-pacer as he grew up before quitting a high profile architect job and eventually settled with bowling spin, thanks to his knee injury.
After Tamil nadu selectors enrolled him for the TN state side for the Vijay Hazare trophy 20198/19, he was snapped up by KX1P in the IPL auctions for a whopping sum of Rs.8.4 crores ahead of the 2019 season. Now, he is playing for the Kolkata Knight riders team under Tamil nadu's Dinesh Karthik's captaincy.
Now, in a series of pictures uploaded by the official twitter account of Kolkata Knight riders team, fans zoomed into the tattoo of Varun and discovered that it is a pose Vijay gave for the film "Thalaivaa".
Here's the picture uploaded by KKR's twitter handle :
Thank you for making millions of our fans smile! 😁

Welcome onboard @ColgateIndia.#SmileKaroAurShuruHojao #KKRHaiTaiyaar #Dream11IPL pic.twitter.com/x4IpV3F12P

— KolkataKnightRiders (@KKRiders) October 15, 2020
Here's the picture that grabbed the attention of Vijay fans :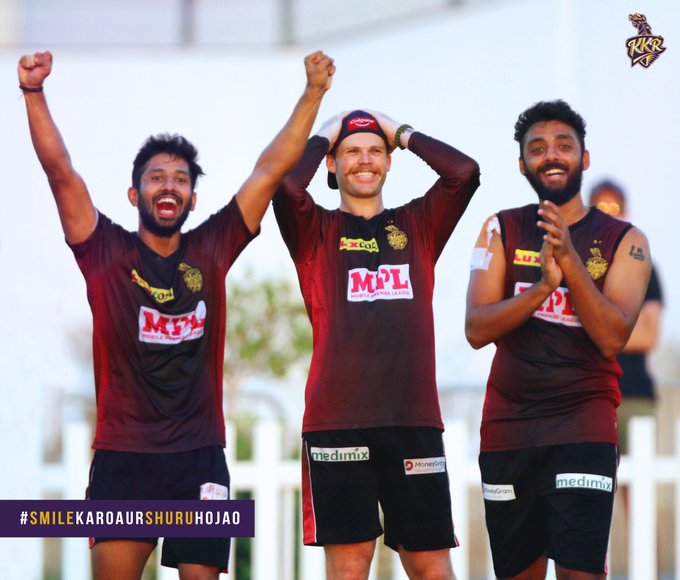 [wp_ad_camp_1]
Fans started digging the old interviews and tattoos of Varun Chakravarty to share them in the micro blogging social media site under the hashtag "Varun Chakravarty". In one of a video shared by a follower, Varun can be seen saying that his favourite song is "All is well" from Vijay's "Nanban" film.
Check out some of such reactions from Vijay fans below :
Take a Look at Varun Chakravarthy's Left Hand Shoulder😉 You can See Thalaivaa Tattoo!💥 'A Die Hard Vijay Fan usually watch Only FDFS Movies' – #VarunChakravarthy 😊 Thalapathy @actorvijay !❤️ #Master pic.twitter.com/e3kIb8IuKz

— T V A™ (@Itz_Pandaaa) October 15, 2020
#AllIsWell Song From #Master's Nanban Movie Is His Favourite Song And He Use To Hear It Often As It Boosts Him 🤩

All Is Well தான் எனக்கு பிடித்த பாடல் – #VarunChakravarthy pic.twitter.com/G3Zo7QrhbI

— Vɪᴊᴀʏ_Fᴀɴꜱ_Mᴏᴅᴇ 💜 (@Vijay_Fans_Mode) October 15, 2020
How many Remember this Edit..!
This Edit was done by Our Very Own TN Cricketer #VarunChakravarthy bro…Present @KKRiders
player..! 😎🔥 Proud Of You Brother..! #Master @actorvijay pic.twitter.com/Lc7jzqVTll

— Online Thalapathy Fans Club (@OTFC_Off) October 15, 2020
#KKR cricketer #VarunChakravarthy about #ThalapathyVijay! #Master @actorvijay @MasterMovieOff pic.twitter.com/AqereCVi71

— Online Thalapathy Fans Club (@OTFC_Off) October 15, 2020
KKR Player #varunchakravarthy Having Thalaiva Tattoo In His Hand 😍💥@actorvijay @VijayFansTrends pic.twitter.com/5LhqxQdctw

— Arun Vijay ᴹᵃˢᵗᵉʳ (@AVinthehousee) October 15, 2020
[wp_ad_camp_1]
#VarunChakravarthy is a #Thalapathy fan 😍😍#Thalaiva tattoo in his arm 💪💪#Master pose too 👌👌 @actorvijay#KKRHaiTaiyaar#KKR pic.twitter.com/OyT1565J6L

— Iʀsʜᴀᴅ (@irshad5005) October 15, 2020
Remember that interview where a Tamil Nadu cricket player representing #KKR, #VarunChakravarthy said he's a huge fan of #ThalapathyVijay and never misses to watch his film FDFS?

See #Vijay's Thalaivaa tattoo on his arm. A true-blue #Thalapathy fan! pic.twitter.com/sWMaROzM0q

— THALAPATHY VIJAY TRENDS ™ (@Vijay_TrendsTm) October 15, 2020
After taking Dhoni's wicket in a crucial match, Varun said that used he to go to the Chepauk stand and sit with the crowd just to see Dhoni batting. Now, I bowled against him, it was a surreal moment for me. After the match, I took a picture with Dhoni sir." said Varun Chakravarty. He went on to say that he wants to say just one thing in Tamil and said "Thala Thala Thaan"
Kolkata's (K)night Riders starring Varun and Rahul

One watched #Dhoni play from the stands and took his wicket, the other scored a brilliant half century at the top of the order. Listen to their story from Abu Dhabi.

📹📹https://t.co/CiDuudOgms #Dream11IPL pic.twitter.com/wsa9IRBXVQ

— IndianPremierLeague (@IPL) October 8, 2020
Comment your views on these reactions from the fans of actor Vijay after seeing varun's tattoo !!