Vignesh Shivn Raised Voice For His Girlfriend Nayanthara Against The Misogynist Comments Of Radha Ravi !!
CM / Updated: 2019-03-24
21:12 IST
By Dhiwaharan
Starting his speech with thanking the Internet, Radha Ravi mocked the actors of Kolayuthir Kaalam for not attending the press meet function and asked the producer of the movie to get an agreement sign from the actors to ensure their presence in the promotional activities of the movie.
Veteran actor Radha Ravi is known for his controversial speeches and using derogatory words on the dais of promotional events. This time, he was invited as the chief guest to the press meet of Nayanthara-starrer Kolayuthir Kaalam, which has been in the making for a couple of years now.
[wp_ad_camp_1]
When Radha Ravi was invited to speak, he took sly digs at Nayanthara, who wasn't present at the event. It is a known fact that Nayanthara, like Ajith, doesn't attend promotional events, which is a clause in the agreements she signs.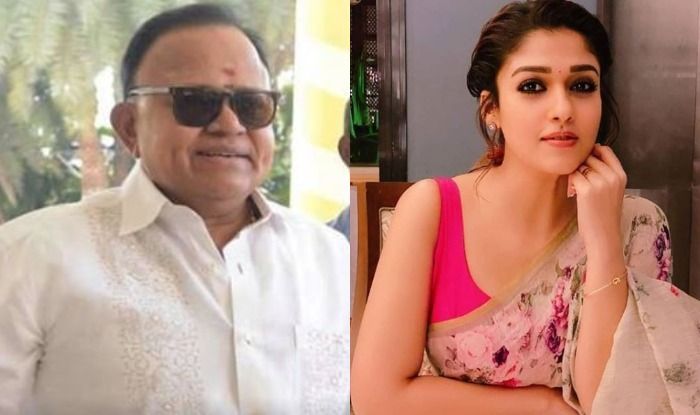 He speech lasted more than 20 minutes in which he talked about how she gets paid for the film but doesn't attend events of her own films. Radha Ravi also spewed hateful comments such as how there have been several reports about her, yet people give her a chance to play roles such as Goddess Sita.
Radha Ravi asked everyone not to compare Nayanthara with Superstar Rajinikanth or MGR or Sivaji ganesan as they are legends. He said that it hurts him while hearing such things. "Nayanthara sustains in industry till today despite everything that happened in her personal life. People of Tamilnadu will forget everything easily. She acts as a devil in Tamil films and as Seetha in Telugu movies. In my days makers will cast only K.R Vijaya for such roles but today anyone can do those roles irrespective of their character." Radha Ravi indirectly mocked Nayanthara based on her personal life. To express his thoughts he used the words Paatha udane kumbudravangalayum podalam, paatha udane koopadravangalyum podalam (We can cast those who are respected and those who sleep around)."
#Radharavi on stage#KolaiyuthirKaalam Trailer launch #Nayanthara#KolaiyuthirKaalam #KolaiyuthirKaalamTrailer @EtceteraEntert1 @DoneChannel1 @rajshriofficial @thisisysr pic.twitter.com/u21PLfkuFN

— Thiyagu PRO (@PROThiyagu) March 23, 2019
[wp_ad_camp_1]
Vignesh Shivan, boyfriend of Nayanthara who seemed to be disturbed by the comments of the veteran actor took to twitter to express his thoughts. In a series of tweets Vignesh condemned the actor severely for his cheap comments :
Clueless and helpless cos no one will support or do anything or take any action against that filthy piece of shit coming from a legendary family .. he keeps doing this to seek attention! Brainless !
Sad to see audience laughing& clapping for his filthy comments!
None of us

— Vignesh Shivan (@VigneshShivN) March 24, 2019
None of us had any idea that this event was going to take place for an incomplete film .. the actual producers or directors left the film few years back I guess! Inappropriate event wit unnecessary people sitting and knowing not what to speak ! If this is called promoting a movie

— Vignesh Shivan (@VigneshShivN) March 24, 2019
Then it's good to stay away from such events which don't have any need but jus to give opportunities like this for jobless people to vomit 🤮 some senseless , useless stuff on stage !
Anyways no one from Nadigar sangam or any sangam will take any action against him #Sad #state

— Vignesh Shivan (@VigneshShivN) March 24, 2019
Later the filmmaker also mentioned the crimes committed by the actor and tagged DMK president Stalin and Kanimozhi to take action against him :
In 2018, there was a sexual harassment complaint against Mr.Radha Ravi by a distressed actress, who feared to reveal her identity. He walked scotfree. A little later Mr.Radha Ravi scandalously & insensitively mocked at the #MeToo movement.

— Vignesh Shivan (@VigneshShivN) March 24, 2019
In 2017, Mr.Radha Ravi made a crass insensitive comment about children with disabilities. It is men like Mr.Radha Ravi who perpetuate & glorify the violence against women & children.

— Vignesh Shivan (@VigneshShivN) March 24, 2019
@mkstalin sir & @KanimozhiDMK Madame, both respected leaders have voiced vociferously against Pollachi Sexual Harassment case. Please , Why don't you take stringent action against male chauvinist, crass sexist & bully Mr.Radha Ravi?

Kindly acknowledge and take action 🙏🏻

— Vignesh Shivan (@VigneshShivN) March 24, 2019
[wp_ad_camp_1]
Radha ravi's sister Radhika who acted in the director's Naanum Rowdy Thaan movie expressed her thoughts as well :
Nayanthara is one of the few dedicated actors we hav today, have the pleasure knowing her and sharing professional space with her, she is above all this, did not watch full video , but met Ravi today and told him it was not in good taste at all. https://t.co/zTUVSa4fWC

— Radikaa Sarathkumar (@realradikaa) March 24, 2019
Apart from those who clapped for him, many people in social media disliked his speech as he intentionally made obscene comments on Pollachi issue and the personal life of some celebrities.