Vignesh Shivan's First Reaction After Seeing Nayanthara In This New Avatar !!
Written by gokul krishnan Published on Jul 18, 2023 | 18:16 PM IST | 120
Follow Us
Comments: 0
Bollywood superstar Shahrukh Khan's highly anticipated movie 'Jawan,' directed by Tamil cinema's renowned commercial filmmaker Atlee, is set to release in multiple languages on September 7th. The film marks the Bollywood debut of the talented actress Nayanthara, who has garnered a massive fan following in the South Indian film industry. Recently, Shah Rukh Khan unveiled the character poster of Nayanthara, showcasing her in a striking commando look, armed with a rifle. This captivating visual left Nayanthara's husband, Vignesh Shivan, immensely proud and prompted him to express his joy on social media. Vignesh Shivan's heartfelt message conveyed his admiration for Shahrukh Khan and his excitement at seeing Nayanthara act alongside the Bollywood superstar in such a significant project.
The upcoming film 'Jawan' boasts an impressive cast, including Shah Rukh Khan, Vijay Sethupathi, Deepika Padukone, Nayanthara, Priya Mani, among others. The combination of these talented actors and the film's production under Shah Rukh Khan's Red Chillies Entertainment has heightened the audience's anticipation. Let us delve deeper into the details of this exciting development and explore the significance of Nayanthara's journey as she embarks on her Bollywood venture.
also read: Taapsee Pannu Indirectly Took Dig At Alia Bhatt For Getting Pregnant Before Marriage ??
Nayanthara, often referred to as the 'Lady Superstar' in the South Indian film industry, has established herself as one of the most sought-after actresses due to her exceptional talent and on-screen presence. With a repertoire of successful films in Tamil, Telugu, and Malayalam cinema, Nayanthara's decision to enter Bollywood has generated immense excitement among her fans. The opportunity to make her debut in a film helmed by Atlee and sharing screen space with Shahrukh Khan is undoubtedly a significant milestone in her career. Nayanthara's impressive character poster in 'Jawan' exudes strength and confidence, reflecting her transformation into a commando. The stylish look and her powerful stance have already captivated the audience, further fueling the anticipation surrounding the film.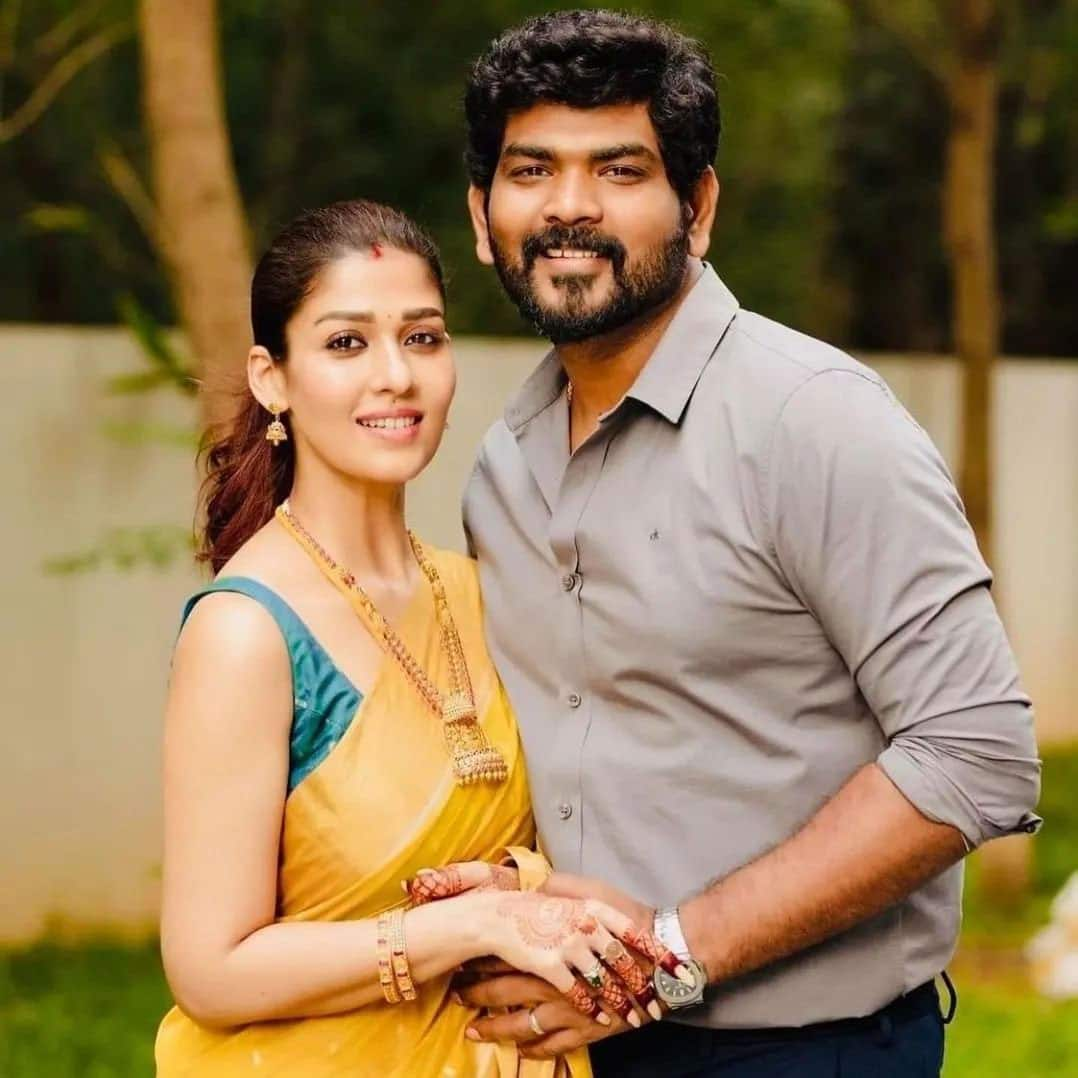 Vignesh Shivan, a celebrated director in the Tamil film industry and Nayanthara's partner, couldn't contain his happiness upon seeing the remarkable character poster of his wife. In a touching social media post, he expressed his joy and pride for Nayanthara's achievements. Vignesh Shivan's note highlighted the awe and admiration he holds for Shahrukh Khan as a fan and the surreal feeling of seeing his wife act alongside the Bollywood icon. He acknowledged Nayanthara's inspiring journey and commended her for this remarkable opportunity. Vignesh Shivan's words resonated with the sentiments of their family and served as a testament to the immense support Nayanthara receives from her loved ones.
also read: Abhishek Raja Replied To A Troll Based On Director KV Anand !!
'Jawan,' produced by Shah Rukh Khan's Red Chillies Entertainment, has already generated considerable buzz due to its star-studded cast and the involvement of acclaimed director Atlee. The film brings together powerhouse performers like Shah Rukh Khan, Vijay Sethupathi, Deepika Padukone, Nayanthara, and Priya Mani, promising an enthralling cinematic experience. Shah Rukh Khan's decision to produce this pan Indian project has heightened expectations, as his production house has consistently delivered successful and quality films in the past. The collaboration between Shah Rukh Khan and Atlee has created immense anticipation, with fans eagerly awaiting the release of 'Jawan.'
Music plays a vital role in enhancing the cinematic experience, and 'Jawan' has roped in the exceptionally talented Anirudh Ravichander to compose the film's music. Anirudh, known for his chart-topping melodies and energetic compositions, has carved a niche for himself in the music industry. His inclusion in the film adds an extra layer of excitement and promises a stellar soundtrack that will further elevate the overall impact of 'Jawan.'
Here is the tweet below:
Happy & Proud of you thangamey #Nayanthara ❤️❤️

From being a fan of Shahrukh sir & binge watching only his movies ! Like literally only his movies !!!

To

Acting opposite to him in such a big film!
Your journey is jus starting ❤️🫡😇☺️

You are soooo inspiring dear wife… https://t.co/6ZkGJtwrir

— VigneshShivan (@VigneshShivN) July 17, 2023
Nayanthara's entry into Bollywood with the film 'Jawan' has sent ripples of excitement throughout the industry. The character poster showcasing her in a powerful commando avatar has piqued the audience's curiosity and set high expectations for the film. Vignesh Shivan's heartfelt message exemplifies the immense pride and support that surround Nayanthara's Bollywood debut. With an ensemble cast featuring Shah Rukh Khan, Vijay Sethupathi, Deepika Padukone, and Priya Mani, 'Jawan' promises to be an unforgettable cinematic experience.
also read: Vijay TV Serial Actress Opened Up About Her Relationship Status with TTF Vasan!!
The collaboration between Shah Rukh Khan and Atlee, along with the musical genius of Anirudh Ravichander, adds an extra layer of anticipation. As September 7th approaches, fans eagerly await the release of 'Jawan' to witness Nayanthara's exceptional talent and the magic created by this incredible team.