Director Vignesh Shivan came up with a number of social media posts thanking his crew members for the success of his short film "Love Panna Uttranum" that got featured in the Netflix anthology series "Paava kadhaigal". He thanked Anjali, Kalki who played the lead roles in the film and also mentioned the prominent members of his crew to thank them through his social media post. Vignesh also replied to the negative comments he received since the release of "Love panna uttranum"
[wp_ad_camp_1]
Paava Kathaigal of Netflix consists four stories named Oor Iravu, Thangam, Vanmagal and Love Panna Uttranum written and directed by Vettri Maaran, Sudha Kongara, Gautham Vasudev Menon and Vignesh Shivan respectively. The four stories of "Paava Kadhaigal" are trying to expose the dark side of our society where people are obsessed with caste, pride and honour.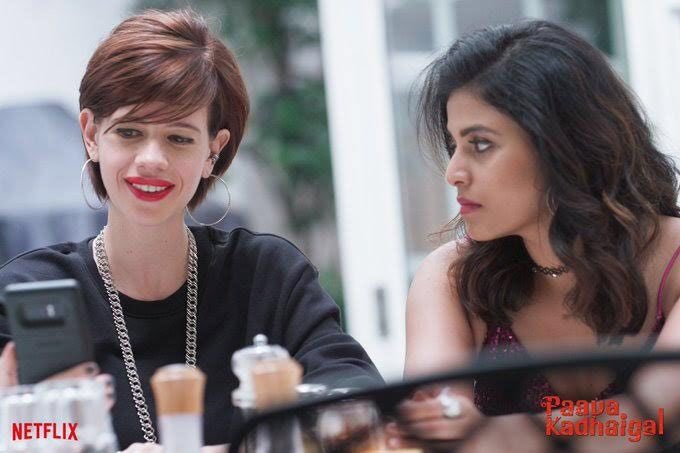 The film directed by Vignesh Shivan talks about the relationship between a caste obsessed father and his twin daughters. It shows the father killing his elder daughter with the help of his henchmen for involving in a romantic relationship with his driver. When the younger daughter arrives the village to tell his father about her love relationship, they (father and his henchmen) are trying to kill a guy who accompanied her as well.
However, the daughter, to save the guy from them, would lie to her father saying that she fell in love with her another friend who is a woman. Believing the lie, the father would let them go. In the climax, after leaving her father, Anjali and her friend would reveal that Anjali is not a lesbian. They would also reveal that the guy whom her father and his henchmen tried to kill earlier is Anjali's love interest. Convinced father would accept the reality and would laugh at himself. The end credits would suggest that the father settles with Anjali in a foreign country and would start learning rap from her boyfriend.
[wp_ad_camp_1]
Though the black humour and climax twist worked well with many people, a set of people felt that the end credits could have been avoided as the father is a murder accused. They said that the film didn't merge with the emotions provided by other three films. Independent filmmaker Leena manimekalai criticized the film for a particular dialogue as well. Read : Leena manimekalai criticized Vignesh's "Love Panna Uttranum"
Check out some of the reactions below :
What if they were Left Lesbians? What do you want to say there?
A twist? It sounded more Confident before the twist! @VigneshShivN #Paavakathaigal #LovePannaUttranum pic.twitter.com/3xIjlJqhAF

— Selena Hasma S (@selena_hasma) December 18, 2020
#PaavaKadhaigal in a nutshell!

(Found on Instagram) pic.twitter.com/StNhJrJU7A

— R Taj (@blue_kitkat09) December 18, 2020
And then there was #LovePannaUttranum by @VigneshShivN… Seriously? V confusing why the producers felt this short that seemed to make light of honour killings had a place in #PaavaKadhaigal. And that "rap" song! Disappointed actors @yoursanjali & @kalkikanmani were part of this

— Dilani Rabindran (@dilani_r) December 20, 2020
Love Panna Uttranum — I understand if you intended to reflect the mundanity of such a violent act. But the whole thing just seemed really off? Was that a redemption arc that you gave to the father? Uhm he did not kick his daughter out, he KILLED her? Am I missing something here?

— S (@inxccurate) December 18, 2020
[wp_ad_camp_1]
#LovePannaUttranum directed by #VigneshShivan conveniently offsets against the serious subject. It's like he wants you to find humour in bad situations. I admit a couple of moments genuinely made me chuckle, but his inconsistency and lack of any human emotion left me cold.

— George (@VijayIsMyLife) December 19, 2020
Now, replying to all such criticisms, Vignesh shivan came up with a post saying that he noted down the points and promised to make it more tighter next time. After thanking those who loved his film, the filmmaker wrote "For all those who didn't like it, I've noted down the points & Will make sure it's more tight next time"
Here's his post :
Thanks for the overwhelming response for #PaavaKadhaigalOnNetflix 😇

To everyone who loved my film #LovePannaUttranum 😌 thank u guys for ur views,opinions&support as always🤗

For all those who didn't like it,I've noted down the points&Wil make sure it's more tight next time😇 pic.twitter.com/00qFaIxzKg

— Vignesh Shivan (@VigneshShivN) December 24, 2020