Video Of Vijay Fans Getting Beaten For Damaging Theatre Properties Goes Viral!!
By Dhiwaharan
A viral video shows fans of actor Vijay damaging a theatre property and getting beaten by a theatre authority. It is believed that the incident which was shot during the screening of the trailer of Vijay's "Beast", happened in Ram Muthuram Cinemas, Thirunelveli. Many other photos of chairs being broken inside the theatre are doing rounds in social media platforms.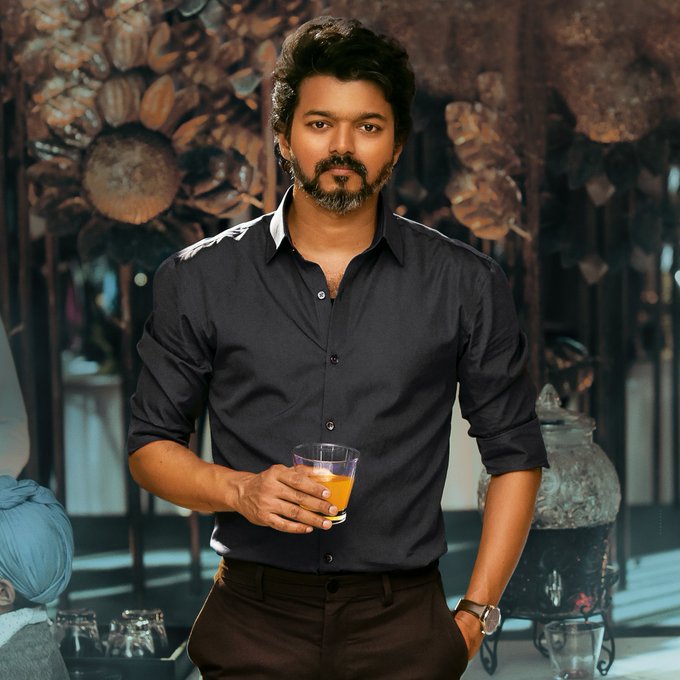 "Beast" trailer which last for 3 long minutes released on 2nd of April at 6 PM. Fans of actor Vijay witnessed the actor onscreen after "Master" which was released last year. To treat the fans, a number of theatres in state Tamil nadu streamed the trailer in their premises. Rohini theatre in Koyambedu, Chennai screened the trailer in big screen which gathered thousands of fans in that area.
#BeastAtRohini on #Beast mode 🔥🔥

Idhu just trailer dhan pa. Apr 13th gonna be 🔥🔥 pic.twitter.com/9Jwuk7Ta1s

— Rohini SilverScreens (@RohiniSilverScr) April 2, 2022
Ram Muthuram Cinemas in Thirunelveli screened the trailer inside their theatre. Out of excitement, fans who thronged the theatre premises to witness their idol in the big screen after one long year, started damaging the properties of the renowned theatre.
Earth Shattering Response for #BeastInRamCinemas 🔥 #Beast Mode is on 😎
pic.twitter.com/aSOt8NrvW7

— Ram Muthuram Cinemas (@RamCinemas) April 2, 2022
A video which is going viral shows a number fans breaking the glass kind of door while trying to breach the normal entry into the theatre hall. A theatre authority who was letting the fans in, could be seen giving a beating to the fans who fell down after breaking the door.
Watch the video below :
வெளியே சொல்லாம உள்ளே அழுகுறேன் டா… https://t.co/LEfJgoEBho pic.twitter.com/auq0ggCpvo

— Bala Jith (@ThalaBalaJith) April 3, 2022
Here some of the other posts on other properties of the theatre such as chairs being broken after "Beast" trailer screening :
Nellai Ram Cinemas is damaged by Vijay fans during the screening of Beast trailer release yesterday. Seats and glasses were ransacked – Source: News TN.#Beast#BeastTrailer #BeastFromApril13th #actorvijay #SunPictures pic.twitter.com/o5Fs1M82Zc

— Blue Sattai Maran (@tamiltalkies) April 3, 2022
This is what happens when 5 sense creatures gets into theaters….

Ram cinemas deserves it😂.. pic.twitter.com/YPQ7loUQ0q

— Rooney (@rooney_aj_) April 3, 2022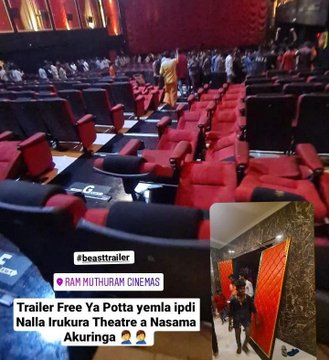 Ram cinemas be like ~ #Beast https://t.co/8GbnKrYhas pic.twitter.com/U7hGVvKHnq

— Kαииαи Kя (@krrkannan94) April 3, 2022
It has been reported that some of the theatres charged ticket price to let fans in to watch the Beast trailer. The film is scheduled to release on 13th of April and the trailer promised an action-hostage thriller. Vijay has played role of a spy saves people stranded in an hijacked shopping mall. Selvaraghavan, Pooja Hegde, Yogi Babu, Redin Kingsley led the supporting cast with Aniruth composing music for the film. Directed by Nelson Dileepkumar of "Doctor" and "Kolamavu Kokila" fame, the film ia bankrolled by Sun Pictures.