Video Of Viewer Talking About Johnny Sins To Sun Music Anchor On Live Goes Viral !!
Written by Dhiwaharan Published on Feb 05, 2019 | 19:35 PM IST | 179
Follow Us
Comments: 0
Hilarious video of a sun music viewer talking to a Sun Music female anchor about porn actor Johnny Sins surfaced in Internet and receiving hilarious reactions from the same.
Since childhood we have came across many TV music shows where the host of the show would ask the caller his favourite song in order to play it in the channel following the call. In a similar way some shows started asking general desires of the caller to keep the audience and the caller engaged.
In this recent video clip, the female host asks her caller to tell his favourite song to stream to which he asks to play a song from Viswasam. Following that the anchor started her Question & Answer session.
"You must thought of changing into some one else in your life for atleast once. Who is the person you want to change yourself into??" asked the host to the caller with a happt face.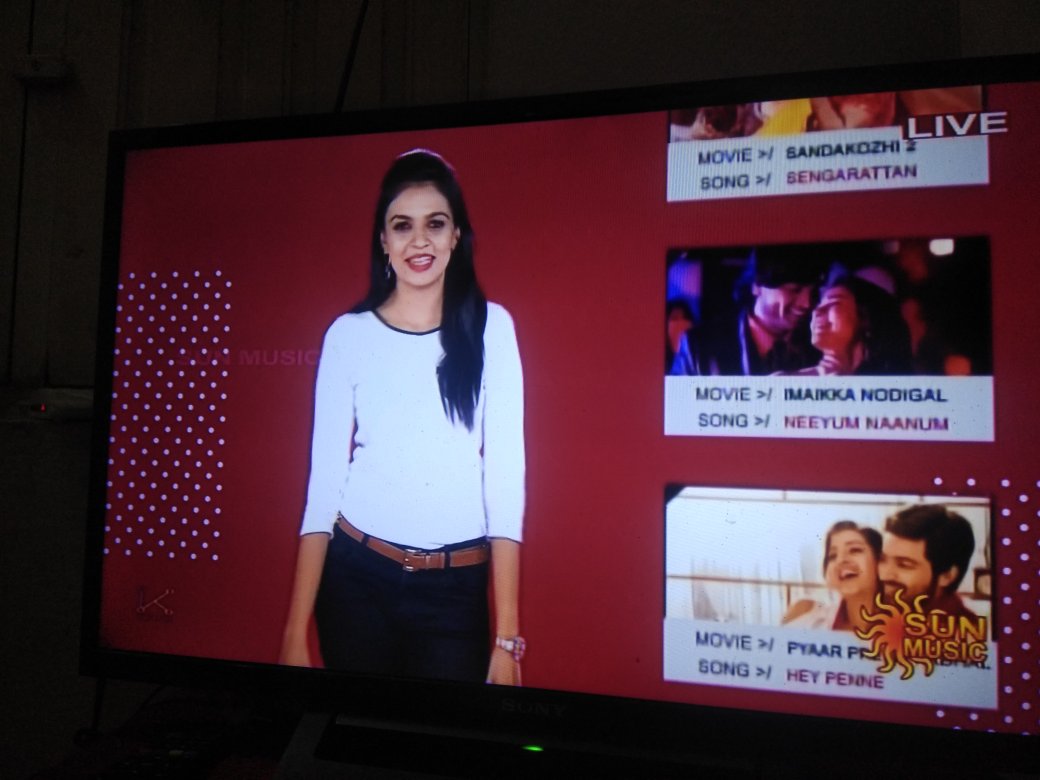 To this the caller politely answered that he want to become as Johnny Sins. The host who seemed that she hasn't heard what the caller said asked him to say it again with a typical Sun Music anchor modulation. He then repeated the same in a hesitative tone.
Johnny Sins is a International celebrity known for various various roles in porn films such as plumber, doctor, teacher, boyfriend etc. His real name is Steven Wolf known professionally as Johnny Sins. He has received nominations for numerous adult industry awards, including the AVN Award for Male Performer of the Year twice. He is consistently among the most popular pornography searches.
The Sun music host who seemed or pretended that she is not aware of the name Johnny Sins, wished her caller a very best wishes to become a popular actor like Johnny sins in future. The operators who works behind the camera also missed to disconnect the call abruptly. The song he requested also played.
Watch the video here :
Johnny sins in yesterday's sun music show 😂😂.

Feeling soo pitty for that anchor pic.twitter.com/PisIB2iuw1

— Thejas T (@Thejas_Pts) February 5, 2019

Check out some of the reactions below :
Actinga? Enathada Kanda avanta full action thanda avanta 😂😂😂 dai vayiru valikuthu da dai 😂🤣😁

— Riyaz ahamed (@Riyazah61126399) February 5, 2019
Ah'daiiiii 😂#Johnnysins 'uh 😂@SunMusic live atrocities 😂🙄 https://t.co/HWDqyzqVqL

— Jrajrahmaniac (@Jayarajcr17) February 5, 2019
😂😂😂 yaaru samy Avan enakae avana paakanum Pola iruku…

— ராட்ச்சசண் (@engineer_daa) February 5, 2019
Anchor Appavi Pola😂😂😂 @johnysins1bir11 @SunMusic pic.twitter.com/5WG2H1Tu2o

— Bala Jith (@balAjithMsd) February 5, 2019
View this post on Instagram
This is Savage ….Such an inspiration – Johny Sins forever 🤣🤣

— Ganesh sha (@Im_GSha) February 5, 2019
Do you also think that this is funny ?? Or you think the caller is a pervert for trying a embarrass a female host in live show ?? Comment