While 300 government college students continue to protest in Chennai over the Pollachi sexual abuse case alleging government's inaction, a shocking incident has been caught on camera.
In the video, a Supreindented of police can be seen slapping a student who was demanding protection for women in the state. The video has gone viral with state leaders condemning the police officer's actions.

[wp_ad_camp_1]
Police official tried to disperse the protest as they were protesting during college hours. However, the students continued the protests which led to an argument. The SP lost his cool and slapped a student named Aravind Samy, which made the situation worse.
People will start feeling for others if only they have experienced it. 😤
Eppo thiruntha poreenga ?#law #tamilnadupolice pic.twitter.com/BwybLoST5R

— Kiruba Shankar (@editor_kiruba) March 18, 2019
While talking about the incident to The News Minute Aravind said that the police has used abusive language to him at first infront of the protesters. When I was asking him about his rude behaviour, SP entered and started assaulting me and other police officers grabbed me to the jeep and also caught hold of my private parts to hurt me"
People around started to surround the police jeep asking to release Aravind Swamy after which he was admitted in Pudukottai Medical College for treatment from where he was discharged on Saturday.
"Due to protest they could not take me into their custody." said Aravind Swamy. On Saturday protest held outside the SP office to which SP Selvaraj reacted as "I intervened the protest they conducted infornt of my office today and settled the issue. I asked them to question individually and raise demand accordingly instead of instigating many students to protest" he told The News Minute. 
Many students were later detained by the police. This is not the first incident where police have been manhandling students protesting against the shocking crime.
[wp_ad_camp_1]
On Friday, a petition was filed in the Supreme Court seeking a court-monitored probe into the Pollachi sex scandal. The petition, additionally, sought transfer of all the Pollachi sex scandal related cases outside Tamil Nadu.
In the Pollachi sex scandal, more than 50 women were allegedly lured and sexually harassed by a gang of four and the acts were filmed.
In Coimbatore, students of the Government Arts College formed a human chain seeking fair investigation. The protesting students shouted slogans that if justice were to be denied to the victims, they would consider boycotting election. Around 200 students participated in the protest.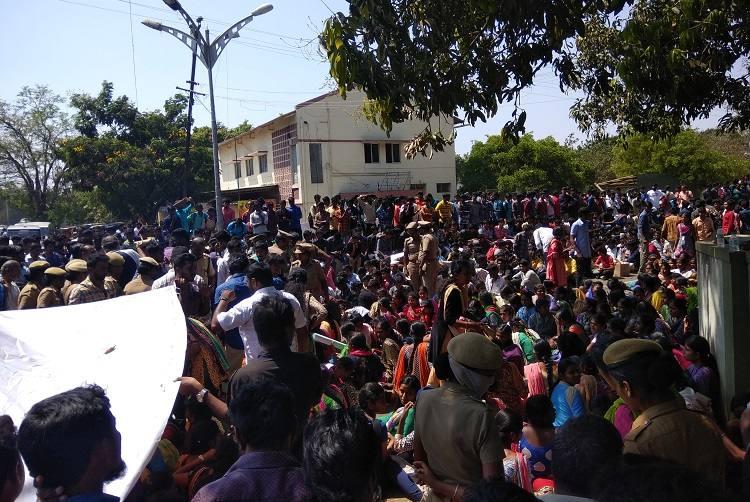 In the evening, Tamil Nadu Towheed Jamaath staged a protest in front of the South Taluk office. Around 600 persons led by district president Syed Abuthahir raised slogans demanding justice to the victims of the Pollachi sexual abuse case.
[wp_ad_camp_1]
Four accused persons identified as Sabarirajan, Sathish, Thirunavukarasu and Vasan Kumar were arrested in the case. They have been arrested under Section 392, 354 (A), 354 (B) of the Indian Penal Code and 66A of the Information Technology Act.