Video Of Hardik Pandya Abusing Rohit Sharma Divided Fans !!
Written by Dhiwaharan Published on Jul 10, 2022 | 18:56 PM IST | 86
Follow Us
Comments: 0
A  viral video alleging that India's all round Hardik Pandya abused Indian Captain Rohit Sharma is going viral in social media platforms with fans dropping various kind of comments and opinion from the users of micro blogging social media site.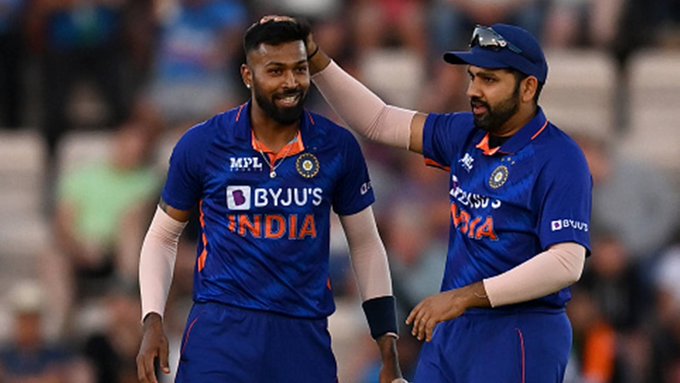 Indian team has been up in terms of it's performance in the ongoing Twenty 20 international series against England, where it has taken an unassailable 2-0 lead in the three match series. The team which won the Southampton t20 match by 50 runs got the job done in the second game in Birmingham on Saturday by 49 runs. However, what grabbed the attention of fans the more is, a viral video that shows a rift between Hardik Pandya and Rohit Sharma.
Though the players were not visible, a audio from the mic stump, it seemed like Hardik was not happy about the field placements. The incident happened after the end of fourth iver. Through the audio, we could hear the youngster expressing his displeasure.
Pandya can be heard screaming at one of the fielders, saying that he should not be paying heed to Rohit but to him as he is bowling. It is notable that the cricketer also got involved in abusing his senior Mohammad Shami while captaining Gujarat Lions. Also Read : WATCH : Hardik Pandya Is In The Receiving End For Abusing Shami !
Watch the video below :
Rohit Sharma getting abused by Hardik Pandya 😭😭😭pic.twitter.com/r8MLJhmWds

— A l V Y (@9seventy3) July 10, 2022
The video garnered various kind of reactions from a different set of fans who expressed their displeasure over Pandya's attitude. Few even made fun of the duo who played together for Mumbai Indians till last season of IPL. As a result hashtag "Hardik Abuses Rohit" is trending in twitter.
Here's some of the reactions that surfaced :
Hardik pandya to Fielder :- qWhen I'm bowling, listen to me & not to that motherf….r(Rohit)#HardikAbusedRohit
pic.twitter.com/3u90a4UuXp

— 133*𓃵 (@133_NotOut) July 10, 2022
Hardik Pandya is that alpha guy who speaks facts without caring for anyone. Said Kohli is better than Sachin and now he doesn't Bootlick Rohit just because he is the Captain. He just showed levels to Rohit yesterday.#HardikAbusedRohit

— Sai Krishna🏴󠁧󠁢󠁥󠁮󠁧󠁿 (@SaiKingkohli) July 10, 2022
HARDIK Pandya had to abuse Rohit Sharma…..
This shows that players are not getting the freedom they want… Rohit is trying to overrule everyone. It seems that insecurity is at its peak in this BEW ERA.

I'm worried about team and dressing room tbh. 😶😶#HardikAbusedRohit pic.twitter.com/iMTyEA50e8

— O. ࿗ (@Oomittedd) July 10, 2022
No fifty in last 15 Matches
No Fifty in IPL since 2021
Finished at No.10 in IPL 2022

Hardik Pandya abused rohit sharma just because he is better than Rohit Sharma??#HardikAbusedRohit

— Gaurav 🏴󠁧󠁢󠁥󠁮󠁧󠁿 (@Kohli4ever) July 10, 2022
Rohit won't react to that Hardik abuse. He knows what fight to pick and what not.

Hardik Pandya is not the guy to pick a fight with.

— IPL 2022 (@iplthebest) July 10, 2022
#HardikAbusedRohit
This hardik pandya against Rohit Sharma incident is a a true example of "Respect is deserved, not demanded" well-done 👍❤️#HardikAbusedRohit pic.twitter.com/K23DoNPf5X

— Bobby 💗 (@bobbymehra_17) July 10, 2022
This is shameful by Hardik Pandya !
Just because you're better candidate to captain and just won a domestic trophy doesn't mean that you can abuse Indian kaptaan on national television. We stand with Rohit Sharma being a hard-core Rohitians since birth ! 💔#HardikAbusedRohit pic.twitter.com/lnova2DUW2

— 𝐒𝐚𝐮𝐫𝐚𝐛𝐡 𝐓𝐫𝐢𝐩𝐚𝐭𝐡𝐢 (@SaurabhTripathS) July 10, 2022
Hardik Pandya abusing the national captain Rohit Sharma only shows his upbringing and personality. Rohit remains a gentleman on and off the field & that's why youngsters feel comfortable around him. This kind of attitude will only lead to Hardik's downfall. #HardikAbusedRohit

— ` (@FourOverthrows) July 10, 2022
During April, while captaining Gujarat Titans, was in the receiving end for abusing his senior player Mohammed Shami for not going for a catch at the third man fielding position. The all rounder is also guilty of slamming Sai Sudharshan for his poor fielding efforts and fans, at that time, remembered about the Indian player abusing senior South African batsman David Miller in the previous match.
Hardik Pandya slams Mohammed Shami during the yesterday's match against SRH#SRHVSGT #GTVSSRH #HardikPandya #HardikPandyaScoldsShami #MohammadShami #Shami #SeniorBowler #Newstn pic.twitter.com/xPdHlchKVA

— NEWS TN (@newstnofficial) April 12, 2022