Video Of Amit Shah Asking OPS To Make NDA Highlight Goes Viral !! WATCH
By Dhiwaharan
BJP president Amit Shah on Friday set an ambitious target to win more than 35 seats for the ruling alliance in the upcoming Lok Sabha polls in Tamil Nadu, where the Bharatiya Janata Party and the All India Anna Dravda Munnetra Kazhagam have joined hands for the parliamentary elections.
[wp_ad_camp_1]
In the meeting of Amit Shah and Tamilnadu Deputy Chief minister O.Pannerselvam, The BJP president made it clear that the Lok Sabha election in Tamilnadu should be called as National Democratic Alliance.
The video released in Internet and went viral on Internet :
Don't miss this one. Please listen carefully 🙂 pic.twitter.com/jq3npv2A04

— Sriram (@SriramMadras) February 22, 2019
The BJP is contesting five Lok Sabha seats as part of the alliance – four in Tamil Nadu and one in Puducherry. The AIADMK, the senior alliance partner in the state, is likely to contest 28 Lok Sabha seats. The third constituent PMK has been given seven Lok Sabha seats to contest in the upcoming general elections.
[wp_ad_camp_1]
The message was that though the AIADMK was the leader of the alliance, in which the BJP was a minor partner, having been allotted five seats, it cannot be called an "AIADMK-led alliance".
Mr. Shah told Mr. Panneerselvam, who met him twice at the Madurai airport during the day, that, "now every programme will be NDA programme".
BJP State president Tamilisai Soundararajan, who was present at the time, reiterated the same in Tamil. A clip of the conversation was widely shared on social media platforms.
[wp_ad_camp_1]
The BJP president said that the Chief Minister, the Deputy Chief Minister and leaders of all alliance parties must be present at the NDA's Kancheepuram rally, which was likely to be held on March 1. Mr. Panneerselvam, on his part, conveyed to Mr. Shah that when it came to other rallies, local leaders could attend.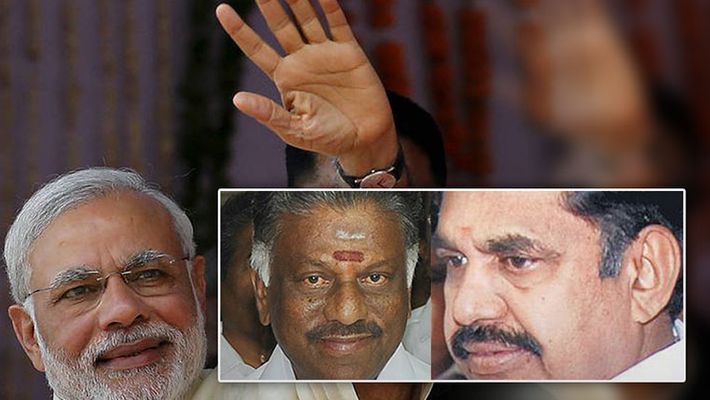 Check out the reactions it is receiving in Internet :
ஜெயலலிதாவின் ஆத்மா இப்போது சாந்தி அடையும்..

எப்பேர்பட்ட ஆளுமை இருந்த கட்சி 😢😢😢😢😢

# RIPAmma

— niranjan kumar (@niranjan2428) February 22, 2019
Is AIADMK turning into literal slaves?! https://t.co/I4l2sPtJQT

— Lakshmi Subramanian (@lakhinathan) February 22, 2019
Exactly. OPS became RSS-BJP Slave.

— Ashok kumar (@ashokece05) February 22, 2019
Shame to Tamil Nadu politics and aiadmk

— Ravishankar G (@ravishankarg97) February 22, 2019
That was already done but now it is more blatant during the election season.

— kaarthik Mohan (@KaarthikMohan) February 22, 2019
மக்கள் மொத்தமா கழுவி ஊத்த போறாங்க… இதில யார் பேனர் லே போனா என்ன…

— Arun (@aru_kiddo) February 22, 2019
Dear @OfficeOfOPS @EPSTamilNadu ur party is the nation's 3 rd largest party.. do u remember that!!

And u r the rulers of the great Tamilnadu state. Do u remember that!!#AdmkAshamedJayalalitha #RIPAmma #RIPjayalalitha https://t.co/ovOxhMl2V9

— niranjan kumar (@niranjan2428) February 22, 2019
நினைத்துப்பார்த்தாலே படுகேவலமா இருக்கே செயல்படுத்தினா முக்காடு போட்டுத்தான் தேர்த்தல் பரப்புரைக்கு போகனும் OPS-EPS &ALL ADMK உள்மனது

— RAMESH TIRUVARUR (@RameshTiruvarur) February 23, 2019
மிரட்டல்!

அ.தி.மு.க. தலைமையிலான அணி என்பதை விட தேசிய ஜனநாயக கூட்டணி என்றே அழைக்க வேண்டும் என்று ஓ.பன்னீர்செல்வத்திற்கு அமித்ஷா மிரட்டல்!

— அருணா இராமச்சந்திரன் (@AArchandran12) February 23, 2019
அப்படியே ஆகட்டும் எசமான்.சமூகம் எப்புடி சொல்றீயளோ அப்படியே செய்வோம்.

— jamal (@jamaralb) February 23, 2019
அடிமைகளிடம் வேறு என்ன எதிர் பார்க்க முடியும், மானம் போகிறது

— vimal (@vimalan_twit) February 23, 2019
ஏண்டா இத்தன நாள் ஜெயலலிதா ஃபோட்டோவ டேபுள்ல வெச்சிதாண்டா முக்கிய முடிவுகள் எடுத்துட்டு இருந்தீங்க? இப்ப என்ன ஒரு ஏத்தம் இருந்தா போட்டோக்கு பதிலா ஒத்த ரோசாவ வெச்சு பண்ணுவீங்க? 😡 pic.twitter.com/0nNljbFrPA

— 𝔰𝔲𝔭𝔢𝔯 𝔡𝔢𝔩𝔲𝔵𝔢 (@SuDLX) February 23, 2019
Can we consider this a proof of @AIADMKOfficial officially taken over @bjp!?!?

'From now, every program should be #NDA program', says @AmitShah while @OfficeOfOPS sits quietly..#RIPjayalalitha #RIPDharmaydham#RIPAIADMK pic.twitter.com/bMNwiytULJ

— Pramod Madhav (@madhavpramod1) February 23, 2019